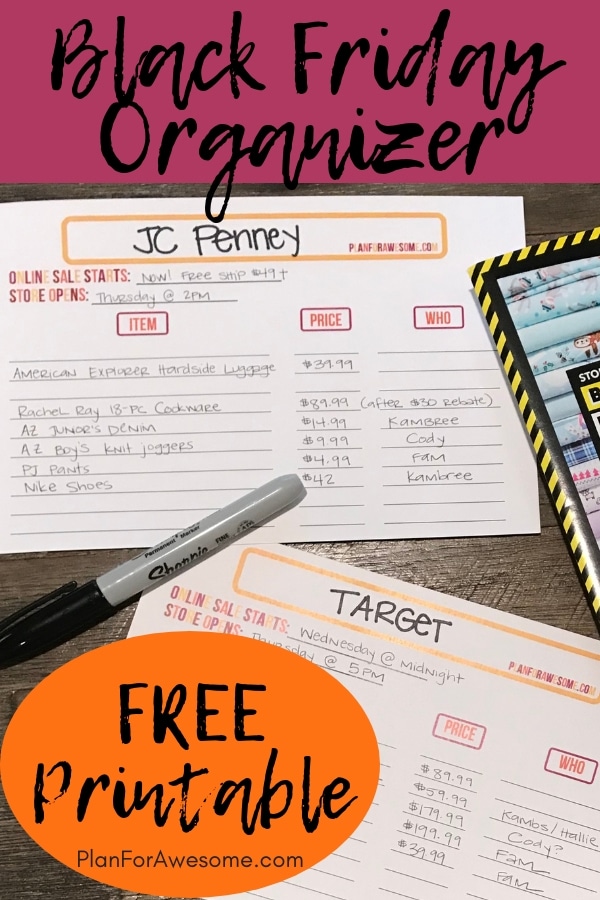 Hands up if you love Black Friday!  I love it and I hate it.  I used to love it.  Now I hate it because stores have started opening on Thanksgiving, which is totally lame.  However, I do still love the screamin' deals I can score by shopping on this horrificly beautiful holiday.  One thing that has evolved right alongside the earlier open times has been online availability. 
Snag All the Deals Online That You Can!
Last year my JC Penney list had 6 things on it, and I was able to score 5 of the 6 things online the SUNDAY BEFORE THANKSGIVING!  The  6th item on my list was also available online…just not until Thanksgiving Day.  So that is one store I completely avoided going to, but still cashed in on the deals.
In fact, I have never gone to JC Penney on Black Friday.  But it has been in the top 3 stores I have shopped at each year for the past several years.  They have killer rebates on their kitchen appliances, making them the cheapest and best deal around.  (They aren't even paying me to say that – I am just giving you tips!)
Some stores (like Target) will have most of their deals available online, with a few that are only available in stores.  I always take advantage of the online deals as soon as they become available, and then I just see how things are going and if I feel like going to the store to get the in-store only deals.  But honestly, by the time I score all of the online deals, I am usually out of money and much less motivated to load up and go to the actual store for the couple things that are left on my list.
Another note about finding good deals…check around.
I saw an X Box 1 S Minecraft Bundle for $199 at Target that was available in stores only.  Guess what?  I saw the same exact bundle for the same exact price available on Costco.com.  Why go fight the crowds when you can have it delivered to your door for the same exact price?  Be smart about where you get what!
Do THIS Right Now!
***BEFORE YOU DO YOUR ONLINE BLACK FRIDAY SHOPPING, GO SIGN UP FOR THIS CASH BACK PROGRAM!!!  It is FREE, it is EASY, and you earn cash back for online purchases.  There's no catch.  None.  It's the easiest paycheck I've ever earned.  I earned 10% cash back on my JC Penney purchase last night, and I had some big ticket items in that order!  Certain stores do great cash back offers for Black Friday online purchases.  Don't miss out on this free money! ***
Free Printable Black Friday Shopping List Organizer
Mapping out your plan of attack for Black Friday can get tricky.  Some stores have some things available online early, some stores open on Thursday, some on Friday, etc.  I have created a free printable to help you navigate this process.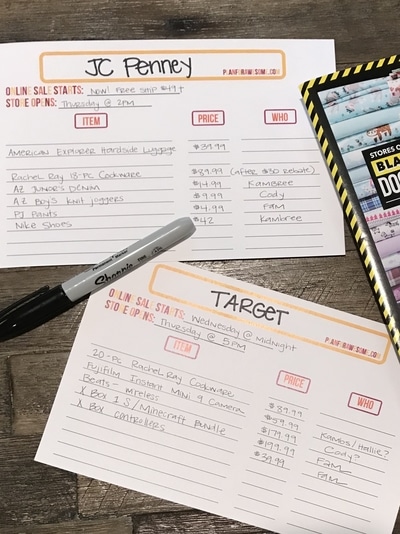 Each page has two of the same form on it, so cut your pages in half at the beginning.

The box at the top is the place to fill in the store name.

Just underneath the store name is a space for you to fill in if there is an online sale, and if so, what time it starts.

Under that is a space to write in the store opening day and time.
Then comes the place for you to make your shopping list for that store.  Write in the item, price, and who it's for (or use that column for any extra notes.  As you can see on my example, I wrote rebate information there for one of my items).
Once you've made your lists, put them in order (I would recommend stapling them, so they're all in one spot).  

You'll want to put the lists in order of how they will happen.  Many stores will have an online sale as well as in-store.  Put your lists in order of the first time anything is available, so you're sure you won't miss it (usually this will be the online option). 

Once you've purchased everything you can from the online option, cross those items out, and put the remaining list back into the mix, using the store open time.
To get your FREE PRINTABLE, just subscribe to the blog and the download will be available on your Confirmation Page.  (If you are already a subscriber, it is available on your Subscribers Only Page).  By subscribing to the blog, you will be granted access to all of Plan For Awesome's Subscribers-Only Free Printables.  That's it!  To subscribe, scroll down to the bottom of this page.
Happy Black Friday shopping!!!
DON'T FORGET TO SIGN UP FOR THE FREE CASH BACK PROGRAM BEFORE DOING YOUR BLACK FRIDAY SHOPPING!  Get the offer HERE IN THIS POST.
If you enjoyed this free printable organizer, check out my post on Meal Planning, and go snag the free printable that goes along with it!