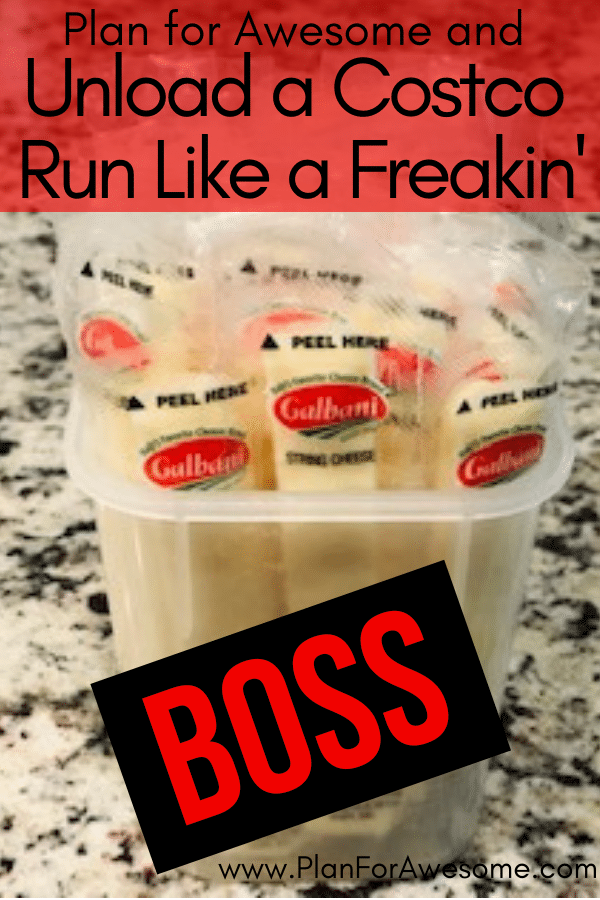 Okay ladies. It's time to talk about Costco. This really applies to all grocery shopping, but Costco is the one that it applies to the most (or Sam's Club).
How do we plan for awesome? We freaking nail it on the unload. That's how.
A Costco run has just begun when you load your loot into the car and drive out of that parking lot. The real magic happens when you get home.
Now don't get me wrong. I have been known to have my groceries (the nonperishable ones, of course) sit on my kitchen floor for up to 4 days. I think that's my record. I am not perfect. None of us are. But here's the important thing. I don't put my groceries away until I have the time to do it right.
Let me explain.
Quite a few of the food items I get from Costco need preparation before being put away, and I do it ALL before I properly put things away. This is planning for awesome. Because if you don't do this, you will find yourself constantly trying to catch up. By throwing things in the pantry/fridge without proper preparation, you are sabotaging your own chances of success.
I think giving some examples here is best.
String Cheese
When I buy a big bag of strong cheese, I don't just put that bag in the fridge. I open the bag and separate every single last one of those cheese sticks, and stick them in a container that holds them upright and ready to grab.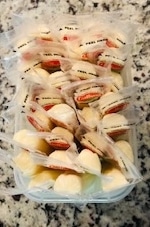 It takes me about 2 minutes to do an entire Costco pack of string cheese. Not only does this make it as easy as humanly possible for my kids to get themselves a snack, but it also prevents those moments when you grab yourself a cheese stick, only to learn as you're driving down your street that the person before you must have ripped the packaging on your cheese stick yesterday when they were getting themselves the one next to it, so now 3/4 of it is dried up and gross. If you don't know what I'm talking about, then I bet you separate the little packages of string cheese yourself before your kids get to it, don't you? Yep. I knew it.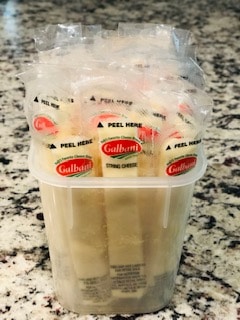 Hamburger Meat
This one is a biggie. If you want to save money on meat by buying it in bulk at a place like Costco, you're going to have to separate that meat out before freezing it. If I don't have time to bag it as soon as I get home, I stick it in my garage refrigerator (not freezer) and set an alarm on my phone to do it once kids are in bed that night. The alarm is key. If I don't set an alarm, I tend to forget things…
I separate the meat into portions that I will want to be able to grab and use. I usually bag a couple different amounts. Some bags have a good amount for a meal just for our family, and other bags are totally loaded for when I double a recipe for a freezer meal or to give away, or whatever the case may be.

I like how Costco has the rectangular packages of hamburger meat, and how they are separated into little sections. I have gotten used to how many of those sections I want in some bags versus others. It makes eyeballing my amounts easier.
Once I have the amount of meat I want in the bag, I push the air out, zip it, and then smash it against the counter to flatten it out. This helps it thaw quicker and more evenly than just leaving it in a big block when it comes time to thaw.
If you are buying meat just for the next week or two, you'll want to think ahead and make sure you bag the correct amount for the specific meals you plan on making (see my Meal Planning post for my method for that!)
Chicken
I buy the bags of individually frozen thinkly sliced chicken breasts. These bags already come in a zipper bag, but I hate them because they are kind of crappy and it takes 4 tries for me to get it to match just right and actually seal.
I like to bag even the already individually frozen chicken breasts in ziploc bags. I have two different quantities that I bag. The majority of my bags have the right amount for a normal dinner for our family. Then I do a couple bags with an extra 1 or 2 in there for when a kid has a friend over, or if I am making soup with chicken in it or something like that.
Then out to the garage freezer they go.
Fresh Fruit/Vegetables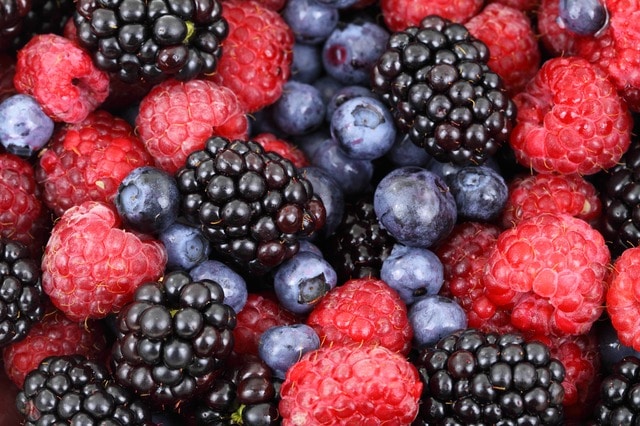 If I don't prepare the fruit I buy, half of the fruit goes bad and gets wasted. We are so busy and always on the go, that if it's not ready to literally grab and eat as-is, it doesn't get eaten. So I wash everything that will need washing and put it in the fridge ready to grab. I cut up all melons so they are ready to go. I package little snack-sized portions for school lunches, and/or put all of it in one container, depending on my plans for the item.
apples
nectarines
grapes
berries
melons
tomatoes
cucumbers
Muffins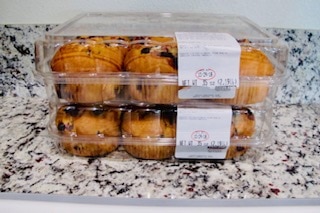 My kids love the muffins from Costco. I get them every once in a while to mix things up. But leaving them in the packaging they come in, to sit on the kitchen counter and waste away, is just downright shameful. Plan for awesome! Cut those bad boys up, bag them, and spread the love.
Cut 'em

I still haven't decided how many cuts I prefer to make in each muffin. I think I have settled on quartering them. But it just depends on my mood. Making 4 cuts is also kind of nice (making 8 pieces), because then they have little slices like apple wedges, which are very easy to eat.
Bag 'em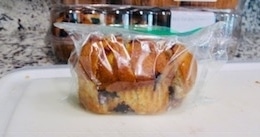 After cutting the muffins, bag them up! I use sandwich-sized Ziploc bags and put different amounts of muffin in bags. I put whole muffins in some and half of a muffin in others. That way we already have a variety of the amount we can grab on the go or stick in a lunch bag.
Store 'em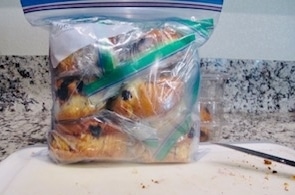 I like to put some of the muffins in the fridge and some in the freezer. If you leave these on the counter, they don't last very long before growing some questionable fuzz.
I just grab a gallon-sized Ziploc and make sure to get about half of the whole-bagged muffins and half of the half-bagged muffins in one. I zip it up and stick it in our freezer out in the garage. Then I gather up the remaining muffins and stick them in another gallon-sized Ziploc bag and stick that one in the fridge.
This makes it SO EASY for kids of ALL AGES to grab their own muffin for a snack or to stick in their lunch.
Bagels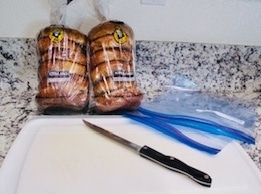 Bagels are easy-peasy to prepare to store. But if I don't, they start growing fuzz within a couple DAYS! All I do is grab a knife, slice them all in half, and bag them. You have to really smash the last one in there, but you can get 6 sliced bagels in one gallon-sized Ziploc if you really want to. I stick one of them in the garage freezer and one of them in the fridge inside the house.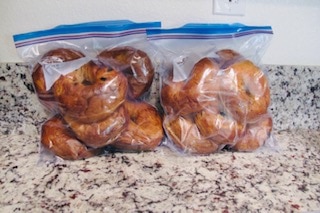 It may seem silly, but having a pre-sliced bagel elimates bagel-slicing anxiety in the mornings. It just cuts out that one extra annoying step, and it also makes it more kid-friendly if you have already precut the bagels. I can tell a kid of any age to grab their own bagel and not have to worry about a trip to the ER. Totally worth it to do it before even bagging them!
Diet Coke
My husband is what some would consider … addicted … to Diet Coke. We keep a fair amount of Costco packs of Diet Coke in our garage and restock the fridge in the garage as needed. When the stash in the fridge is getting low, I like to cut the wrapping off of 2 new packs and stack them in the fridge. That way we never completely run out of cold Diet Coke, and the wrapper is out of the way and the cans are easy to grab. I do still keep them in the cardboard because it keeps them organized and contained.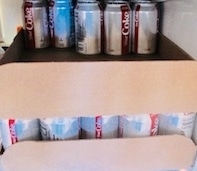 I do the same thing for Gatorade and water.
Snack Stuff
I typically just use the boxes that prepackaged things come in, to keep them organized and accesible in the pantry. Things like granola bars, fruit snacks, etc. Some of the boxes have a cool little perforated flap to rip out, but lots of them don't. For the ones that don't, I usually just rip off the top flaps of the boxes and stick them in the pantry as-is.
I used to bag things that I bought in bigger quantities that weren't individually packaged (like goldfish or pretzels), but now we usually just do that on Sunday evenings when my kids make their School Lunch Plans. But that's something you may want to consider doing as well.

Plan for Awesome!
So that's it. That's how I unload a Costco run. It really does make SUCH a difference to put things away as ready-to-use as possible.
As I mentioned at the beginning, I don't do this all right after coming home every time. Life is busy. But the important thing is, I don't put it away until I've prepared it (with the exception of refrigerated or frozen food – but I set an alarm for those so I remember to do it that night before I go to bed).
If you do this with all of your groceries, I promise smoother sailing on even the most hectic of days!
For more tips on helping your days go smoother, see this post about Meal Planning, and this post on Calendaring.
Also be sure to check out the Free Printable School Lunch Plan and 5 Back-to-School Hacks to Eliminate After-School Chaos.