This is such a great graduation gift idea for someone special in your life! Have their teachers, coaches, church leaders, and mentors write a note in this book throughout the years and then give it to them as a graduation gift.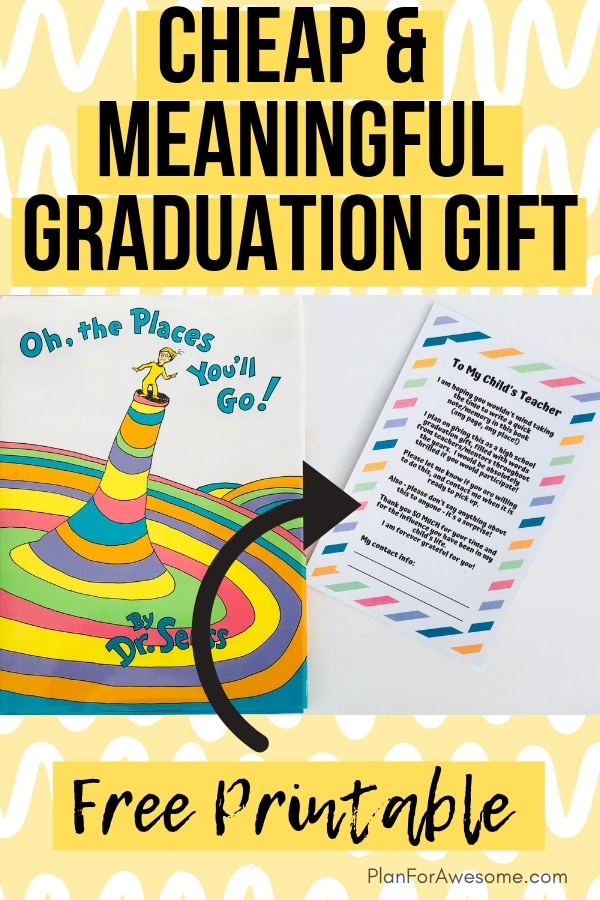 I just want to be clear: this was not my idea. It was spreading across Pinterest like a wildfire when my kids were teeny tiny. In fact, I believe my oldest was in kindergarten when I first saw this, which was perfect timing for me to start. I just didn't want you to think I am the creative genius that I'm not.
Now that we have that out of the way, here is the idea.
**This post contains affiliate links; using my links helps support this blog, so thank you for your support!**
Purchase one copy of "Oh, the Places You'll Go!" (or a different book…I have a couple recommendations under the "What You Need" section) for each child you would like to do this for. Quietly slip it to your child's teachers, coaches, church leaders, and mentors throughout the years, and have each of them write a little note in it to your child. Then present the book as a gift at their high school graduation.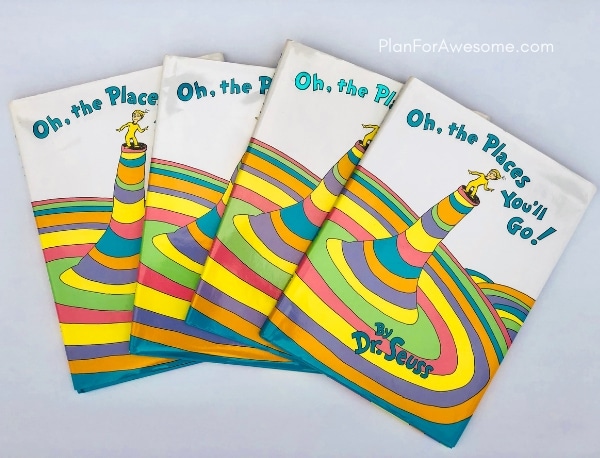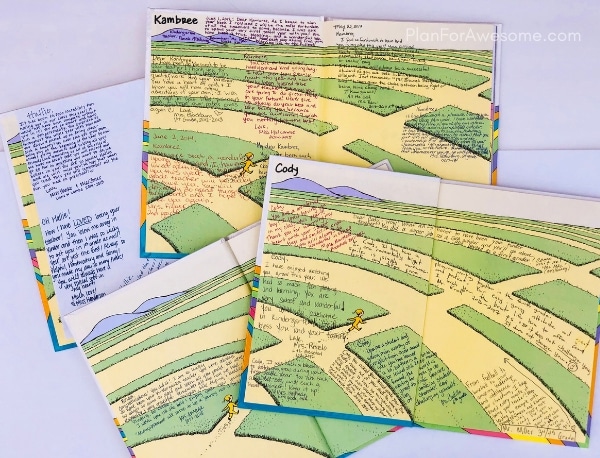 How cool is that?!!?
I am SO EXCITED about this! I have been doing it since kindergarten for all of my kids. When I married Tyler, I started a book for each of his kids as well. Since his oldest was already a junior in high school, I just took it to a few of his favorite teachers, church leaders, and his golf coach. It was still a meaningful gift, even though it hadn't been started when he was little. So don't feel like you have missed the boat if your kids are older!
You can also always go back and get old teachers, coaches, etc to sign it.
Now that my oldest is in middle school, it's a lot trickier. She has 7 teachers and I have virtually zero contact with any of them. I have tried to nonchalantly ask her if she has a favorite teacher, but she really doesn't feel a connection with any of them. So this year, I am going to focus on her church leaders and gymnastics coaches. When I started this book for her, I had a vision of getting all of her school teachers from every single year. But now that I'm here, in a year where she has multiple teachers, I see that branching out to other significant and impactful adults in her life will mean much more to her in the long run.
So whether you choose to keep it strictly to school teachers, or if you branch out and ask other mentors in your child's life, I think this is an absolute treasure of a graduation gift for anyone!
Now for my contribution to the idea: Every year I compose some sort of text, email, or handwritten letter to each of my kids' teachers, explaining the book and asking for their participation.
This year I finally designed a printable for this very purpose! I worded it in such a way that it can be used for any gender/age of child, and any mentor in his or her life. So you can print this off one time, slip it in the book, and it can be used year after year for anyone you would like to participate. The downloadable file comes in color or black and white (the black and white version looks super cute printed on colored paper).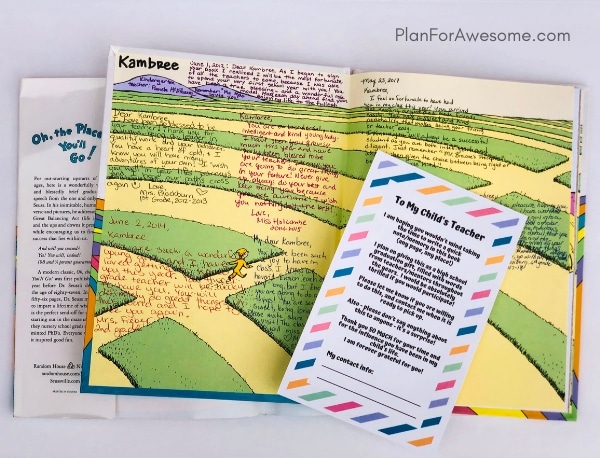 For school teachers, I just slip the book with the note in their teacher box about a month before school gets out. I do it toward the end of the school year so they really know my child by the time I ask them to write something, but I also try not to leave it until the last week of school. I have found that about a month before school gets out is a good time.
So that's it!
What You Need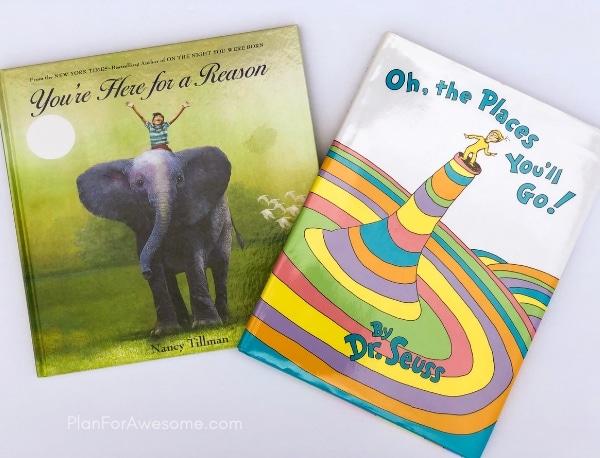 One book per child. Here are some options (some of these are available on Amazon Prime. Get it delivered TOMORROW, in plenty of time for getting teachers to sign it before school gets out this year!)
Free printable note to the teachers / coaches / mentors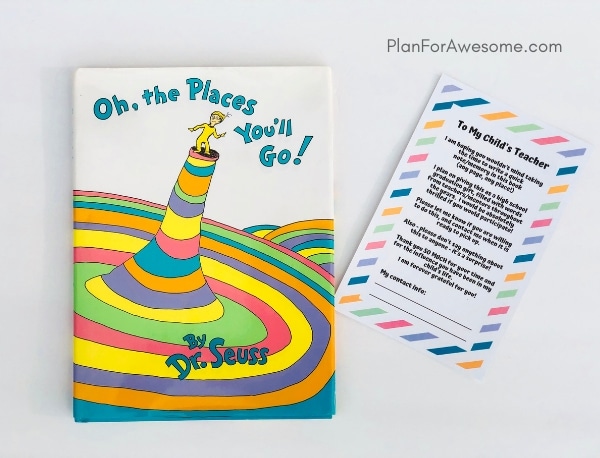 To download your free printable note, all you have to do is subscribe to this blog (it's free!), and the printable PDF will be on the confirmation page. Subscribing to this blog gives you access to free printables that are only available to subscribers. You will also receive a newsletter every Tuesday that will tell you of the new posts on the blog that week. That's it ♥
If you are already a subscriber, this printable is available to you on the subscriber-only printables link that is included in every newsletter.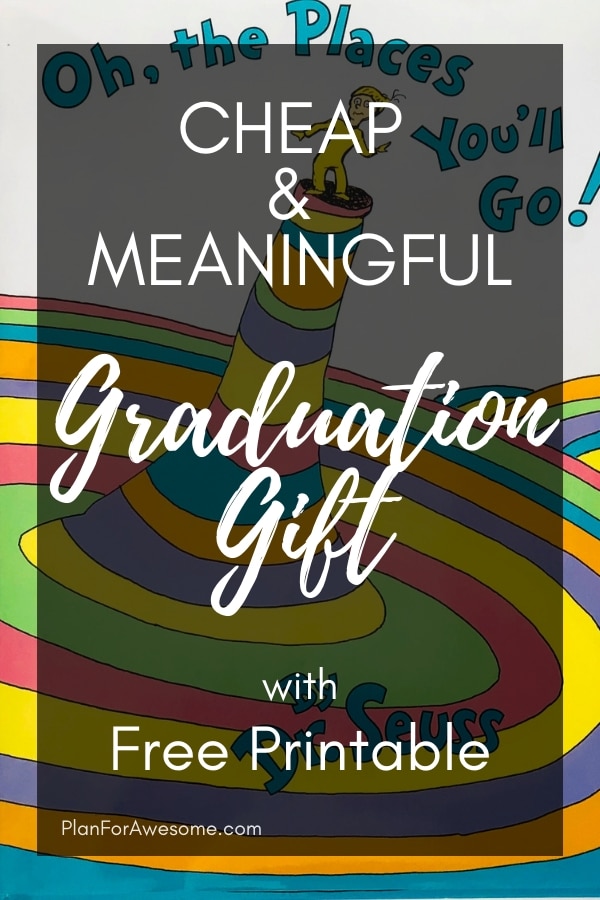 What are you waiting for? Start this today! Don't be discouraged if your kids are older! Start now and get all the special teachers, leaders, and coaches from here on out. I haven't found a more meaningful graduation gift idea than this one, and it costs $10! ??