With a little bit of planning and bringing a few extra things from home, you can make a romantic night at a hotel a whole lot more enjoyable and affordable.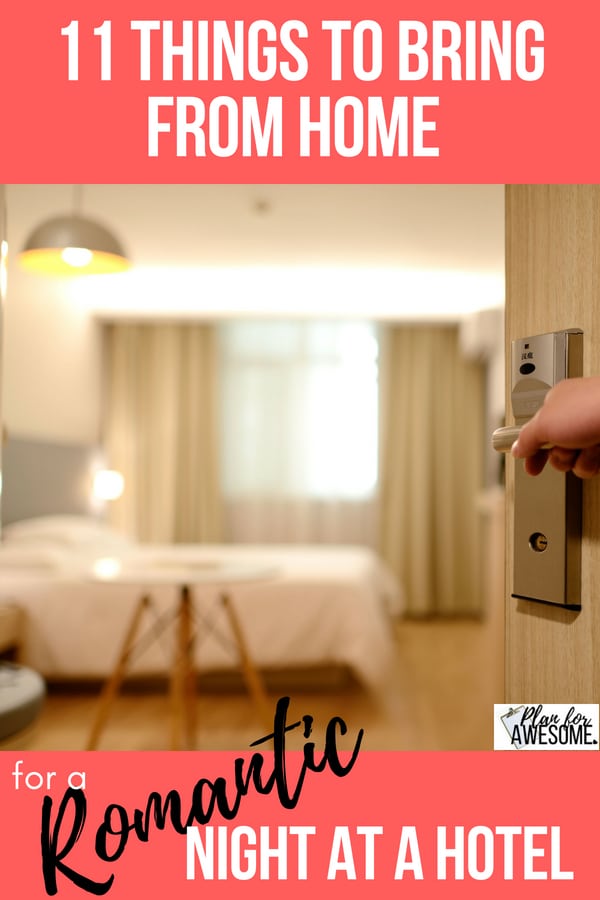 **This post contains affiliate links, which means if you click on a link and make a purchase, I may make a small commission at no extra cost to you.
We are lucky; our anniversary is in August.  This is the only reason we were able to make leaving for our anniversary weekend a tradition, because leaving town  is just not an option during baseball season! 
Since this weekend is typically the only time we leave town as a couple each year, I try to really make it count!  Because of that, I thought I would share 11 things that I always am sure to bring from home, to make the most out of our romantic getaway.
Disclaimer: This is not a typical packing list.  This is just to cover the EXTRAS.  However, I would recommend checking out my Travel Tote post, which covers a lot of little things you may typically not think of when you are packing for a quick overnight trip.  I am usually able to have most of my packing done in a few minutes, thanks to having a travel tote with everything ready to go!  This post today is specifically for a romantic night at a hotel.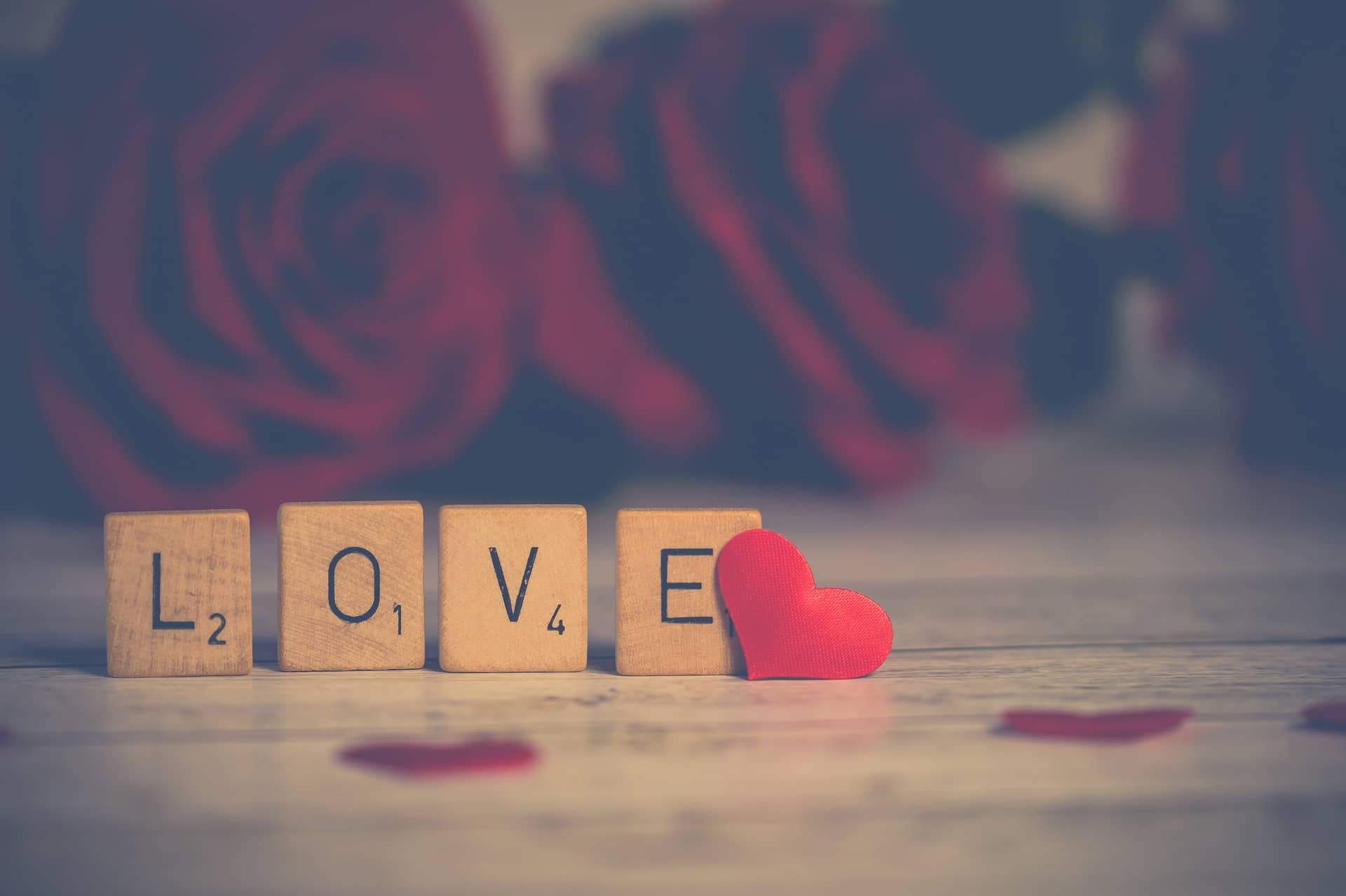 First of all, preparation can start well in advance. 
1. Anything that will make you feel pretty is worth your time the week before (or day of, depending on your schedule).
2. If possible, leave a clean house.
This one is mainly for me, but I also felt really good having my husband come home from work to a clean house and a packed suitcase.  I feel like it started the weekend off with as little stress as possible.  While it isn't necessary, it sure doesn't hurt.
3. Call the hotel and request things in advance.
If you are going to want a microwave or a mini fridge, you usually have to request those things.  Some hotels will set one aside for you if you call in advance, while others ask that you make your request upon arrival.  It's always worth a call in advance, in case they will take requests beforehand and have them in your room for you when you arrive.
Things to Bring From Home
This wouldn't be a true-to-character post from me if we didn't start with the GERMS…
1. Handsoap
I mentioned this in my Travel Tote post.  If you are like me, having handsoap will make a world of difference on your trip.  Just being able to really wash your hands with normal handsoap, rather than the little facial soap bar they leave on the counter at most hotels, is SO refreshing to me.
2. Clorox Wipes 
Wiping down the hotel room takes less than 5 minutes, and lowers my anxiety level by about a million.  I wipe the light switches, remotes, table surfaces, lamp switches, bathroom counter, sink, toilet, and bathtub.  If you plan on taking a bath with your spouse, this is important!  Because…ew!
Now moving on to the ROMANCE…
3. Bubble Bath
If you plan on taking a bath, don't forget the bubbles!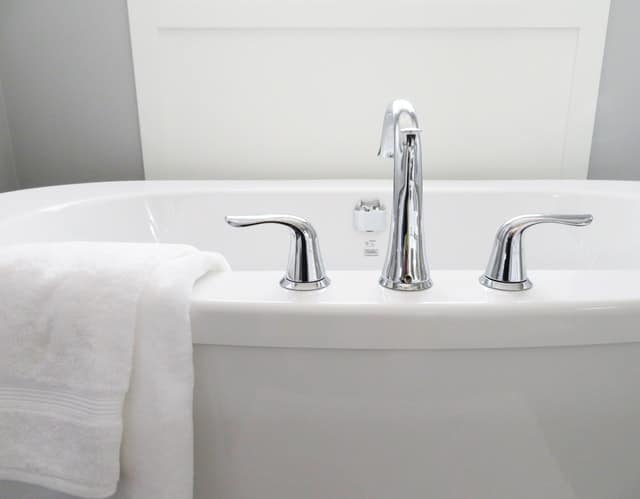 4. Fake Rose Petals
These are just fun to spread on the bed or on the tub
5. Candles
Make sure they are battery-operated!
6. Music
If this is your thing, be sure to make a playlist ahead of time and have some way to play the music.
This is our favorite bluetooth speaker for SO MANY REASONS.
It's small (but not so small that it gets lost)
It fits perfectly in a cupholder
It's waterproof, shockproof, basically family-of-9-proof
It is LOUD (or can be anyway…)
It's only $50-$60ish, depending on the color you choose
7. Massage Oil / Lotion
Don't forget the SNACKS…
8. Drinks
Bring whatever you want to be drinking over the weekend. Even if your hotel room has drinks available for purchase, bringing your own can save you SO much money! And then you don't have to feel guilty for drinking as much as you want. I pack plenty of Diet Coke for my husband and a couple Dr. Peppers and waters for me. I also fill some insulated water bottles with ice, so we can add water or soda whenever we want a cold drink.
9. Snacks
Be sure to bring a few things to snack on. I like some of them to be healthy, and some of them to be total junk. We love popcorn. From my experience, hotel microwaves are pretty crappy and really struggle to pop a bag of microwave popcorn. Sometimes it works and sometimes it doesn't, so unless you've been to that specific hotel before, you may want to pop your popcorn at home and pack it with you.
10. Breakfast Foods
Depending on your preference, bringing breakfast foods can be a GREAT way to save money and actually be more convenient than eating out anyway. If you can find a hotel with a continental breakfast, that is ideal. But if not, or even if you just prefer to stay in your room rather than going down to the continental breakfast, bringing your own food is a great alternative.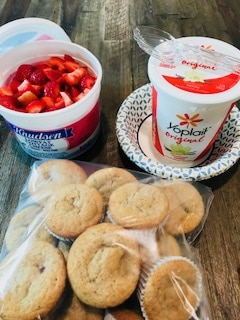 Muffins are a great thing to bring because they don't require refrigeration or microwaving. I love these muffins from MyMommyStyle.com. Give them a try…they will not disappoint!
Yogurt with Strawberries/Granola is one of my favorite things to eat for breakfast. If you will have access to a mini fridge, this is a great option. Be sure to wash and cut up any fruit ahead of time, and pack it in a disposable container so you can throw it away when it's gone.
Don't forget papers and plastics! Some bowls and plastic spoons are really helpful if you are packing yogurt and fruit.
And a little miscellaneous…
11. DVD/Blu-Ray Player / Movies / Redbox
Don't laugh, but I keep an old DVD player to take with us on trips for a late-night movie in bed. The on-demand movie prices in hotels are outrageous, and this way we aren't at the mercy of whatever is available on demand at the time. We can take a movie from home or stop at a Redbox on our way out of town. It's perfect 🙂
Well…what did I miss? What do you take with you on a romantic weekend getaway? Comment below!
And be sure to plan your weekend getaway when you have the chance, in between baseball seasons!