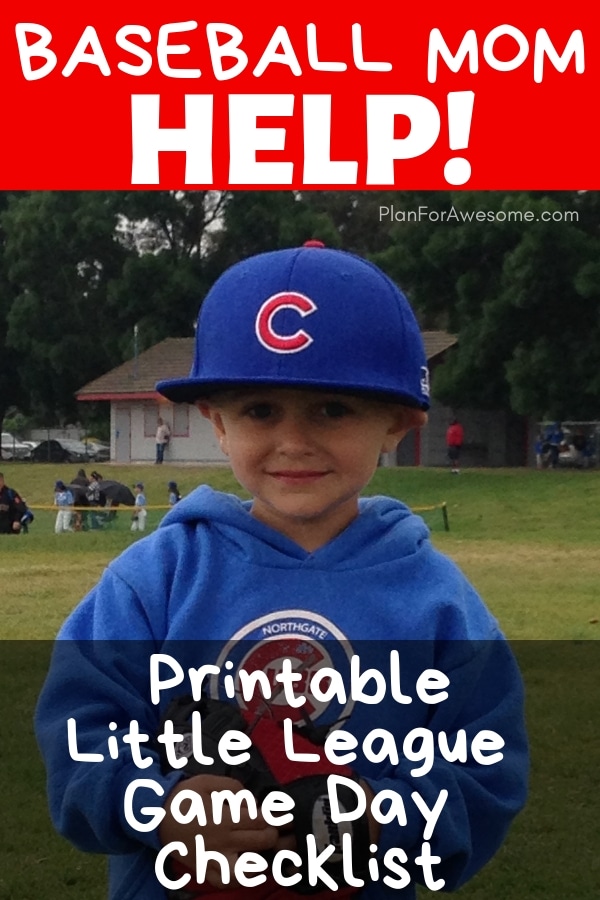 I am a fan of lists. I would fall apart without lists. Getting ready for a day at the Little League Field is no exception.
If you haven't read Baseball Mom Wagon: The Ultimate List of Things to Bring on Game Day, you should read that before reading this. I am going to continue as if you have read that, and you have organized your own baseball wagon (or something like it – you don't have to have a wagon, but I would recommend having a bag of some sort with some essentials that are always packed and ready to go, even if it just sits in your trunk).
Pre-Packed Wagon
I leave my wagon fully intact between games. I lift the entire wagon into the back of our van when it's time for a game (and when we had a suburban, I did the same), and then lift it out and stick it in our garage when we get home. That makes it SOOOO SUPER EASY to get ready for the next game. If there is something we need the wagon for in between games, I just take all the bags out and set them in the garage, and then they're ready to stick back in the wagon when it's time for another game.
After a Game…
When we get home from a game, I take out the few things that need to be refreshed for the next game, but leave everything else exactly where it is.
Here is my routine when we get home from a game (it takes less than 5 minutes)!
Take out anything that needs to be aired out if it was used (umbrellas, cooling towels, etc)
Take out anything that needs to be recharged (the mini fan and the external cell phone charger)
Take out any clothing/blankets that were used and throw them in the laundry
Empty the cooler bag and stick the ice block in the freezer
Either throw away or re-freeze water bottles
Then everything is ready when I go to re-stock the wagon for the next game.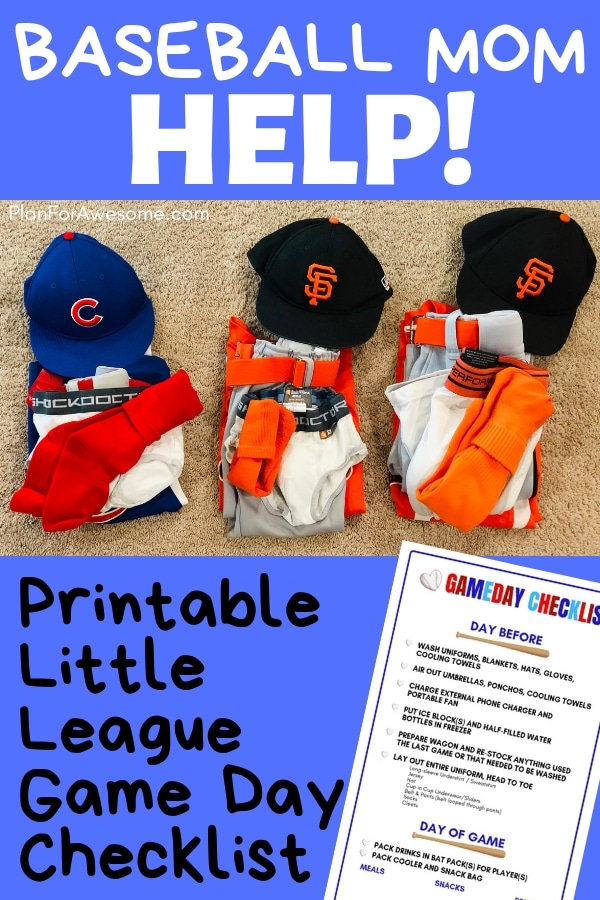 Printable Game Day Checklist
This checklist is assuming you have all of your stuff packed and ready to go from game to game. See the Baseball Wagon post.
I like to have a list that I can actually write on and cross things off as I do them, so I get a fresh checklist for each game day. Because of that, I made each checklist cover a half sheet of paper, so you get 2 per page.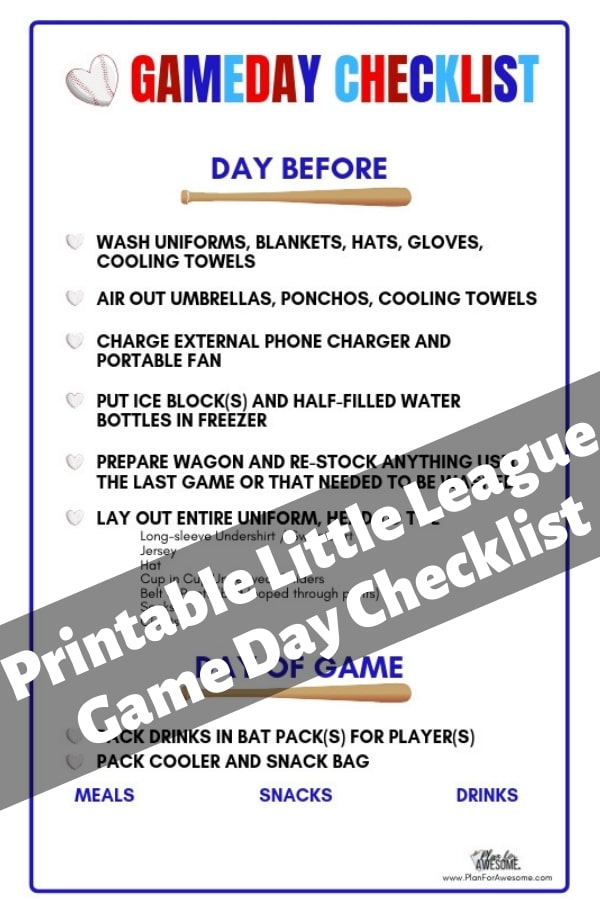 If you do everything you can do the day before the game, then game day really isn't very stressful at all! Notice that the actual day of the game only has 2 things to do on it – it's just the cold stuff. Everything else can be taken care of the day before. I love that!
To get your free printable checklist, all you have to do is subscribe to this blog (it's free!), and the printable PDF link will be on the confirmation page. Subscribing to this blog gives you access to free printables that are only available to subscribers. You will also receive a weekly newsletter every Tuesday that will tell you of the new posts on the blog that week. That's it ♥
If you are already a subscriber, this printable is available to you on the subscriber-only printables link that is included in every newsletter.
For more baseball mom hacks, tips, and tricks check out the posts below!
10 Baseball Mom Hacks for Little League You Haven't Heard Before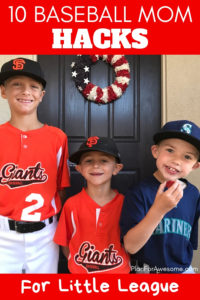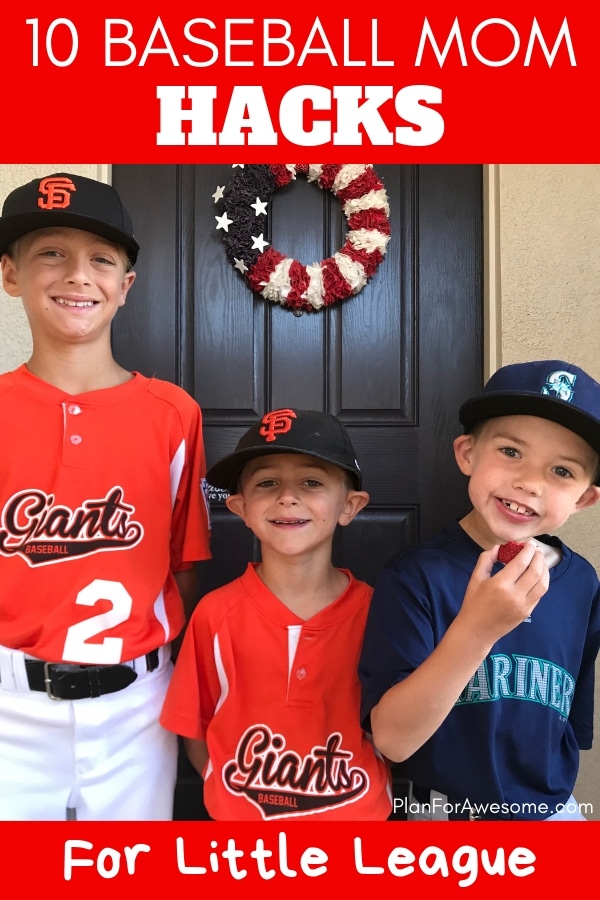 Baseball Mom Wagon: The Ultimate List of Things to Bring on Game Day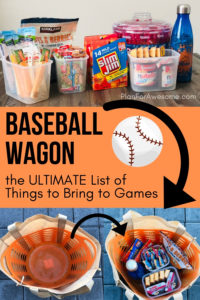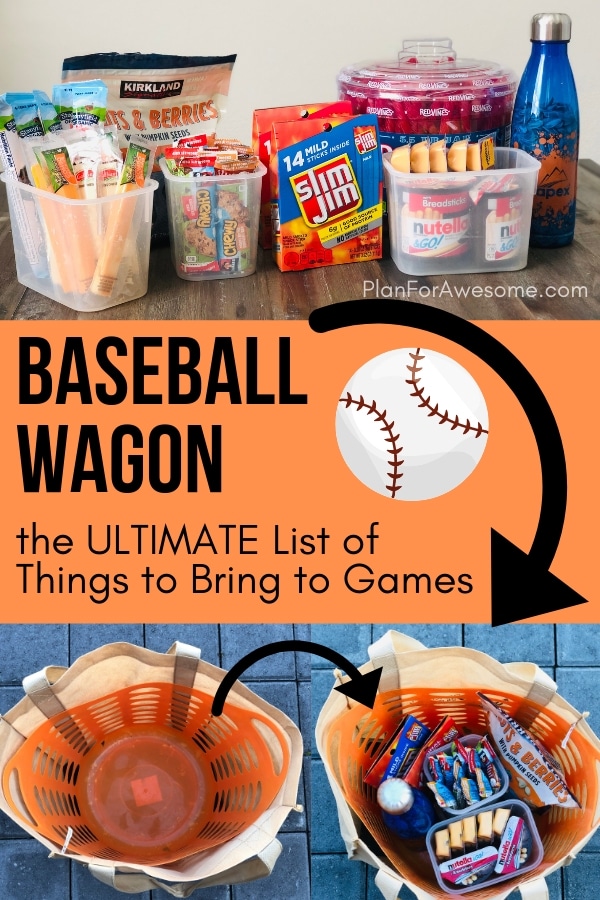 The BEST GIFT EVER for Baseball Lovers (plus a $20 off coupon)