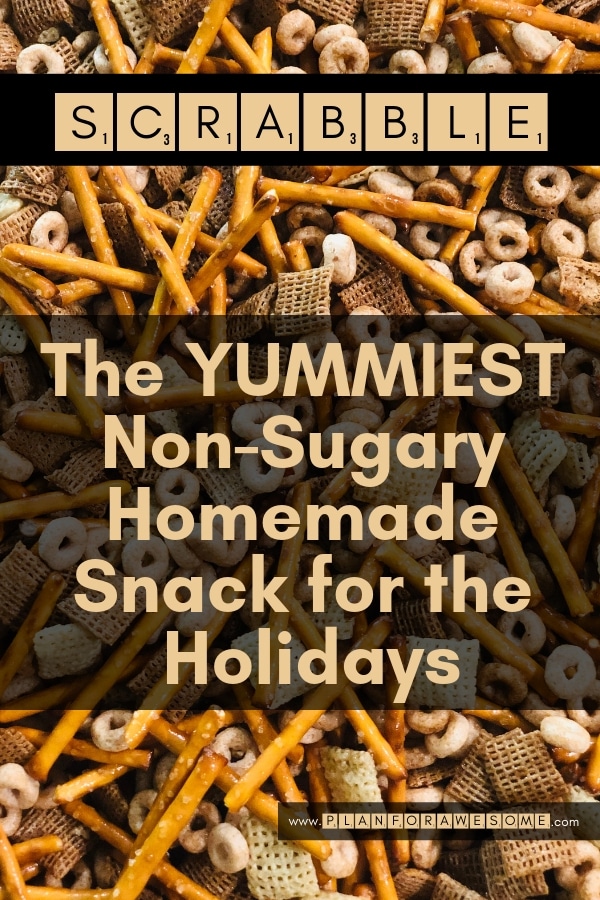 I love food. I love sugary food. But sometimes you need something that feels festive without all the sugar. Just enough to keep you from puking, and then you can go back to the sugary stuff.
So for those in between moments when you need something a little more solid than ten sugar cookies and a glass of milk, this stuff is perfect.
It's also perfect for parties, teacher gifts, road trips, and pretty much anything around the holidays. Anything year-round, actually. But for some reason, my family always made this during the holidays.
Most people know it as Chex Mix. But this is soooooooooooo much better. It's HOMEMADE Chex Mix. And it's the amazing kind. And it's called Scrabble. I don't know why…it just is. Don't question perfection. Just roll with it.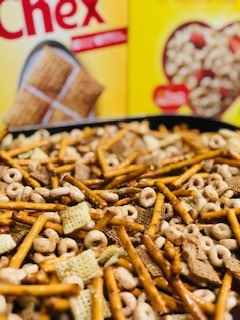 Kind of like the Cranberry Salad recipe that I shared last month, this is a family recipe that has been handed down from generation to generation. No one really knows its origin. While I have seen similar recipes, I have never seen this exact one. And I've never had the desire to stray from this one. I am confident you won't either.
Ready for the magic? Here it is.
(Scroll to the bottom of this post for the printable recipe)
Get all your stuff together, and make sure you have a LARGE roasting pan. A glass 9X13 isn't going to cut it here.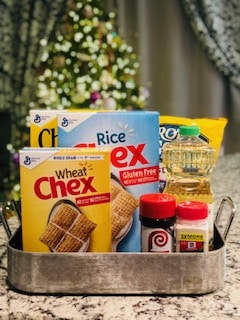 Pour an entire box of Cheerios (the smallest box they sell) into the roasting pan.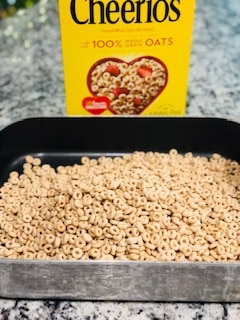 Pour an entire box of Wheat Chex (the biggest box they sell – 14 oz) into a large roasting pan.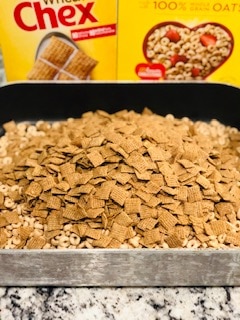 Pour an entire box of Rice Chex (the smallest box they sell – 12 oz) into the roasting pan.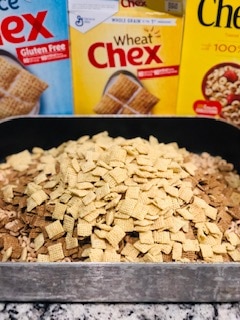 We interrupt this amazingly delicious and equally simple recipe to point out a key benefit of this process.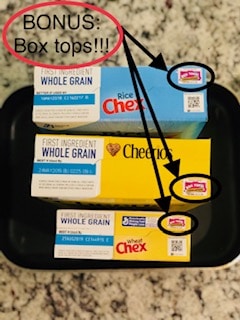 Pour an entire bag of pretzels (16 oz) into the roasting pan.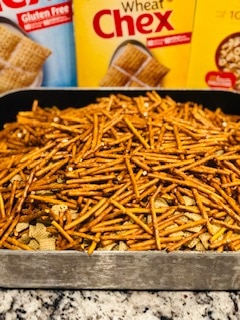 Pour 3-4 cups nuts (cashews, almonds, macadamias) into the roasting pan. **We skip the nuts at my house because none of use really like them very much.**
Mix all of the above ingredients (using your hands is okay and highly encouraged here, for efficiency's sake).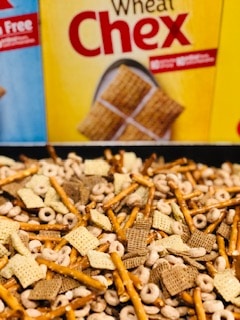 Pour 2 1/4 Cups oil (I use vegetable oil or canola oil) into a measuring cup.
Pour 2 Tbsp Lawry's seasoning salt into the measuring cup.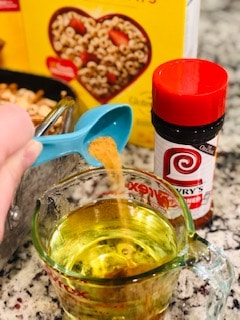 Pour 1/2 Tbsp garlic salt and 1 Tbsp garlic powder into the measuring cup.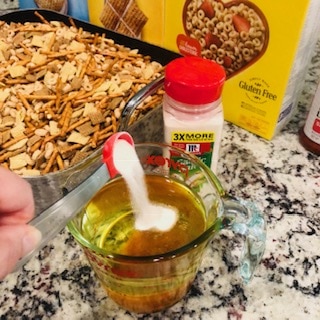 Pour 2 Tbsp Worcestershire Sauce into the measuring cup. And just for fun, try to say Worcestershire Sauce fast 5 times. Or even say it slowly. Or even just try to say it once. I still can't do it after all these years.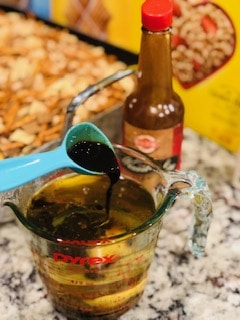 Vigorously whisk the liquid with a wire whisk (or blend it in a blender).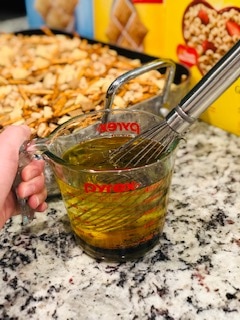 It will turn a dark brown color.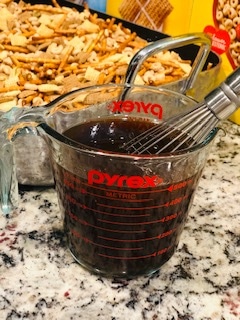 Pour the liquid over the dry ingredients and mix. I use my hands here – it just seems to get the job done faster and more thoroughly.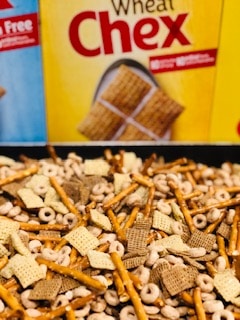 Bake for 2 hours at 250 degrees, stirring every 15 minutes or so.
Store in an open bowl for about a week and watch it disappear before your very eyes. (I just leave it in the roasting pan)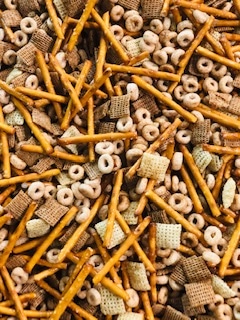 So there you have it. My favorite non-sugary homemade snack for the holidays.
Bag it up for a road trip, package it all cute and fancy for teacher gifts, or just eat it like savage cavemen straight from the pan.
Any way you choose, I promise a little more happiness this holiday season if you print out the recipe below and make it ASAP!
And look at how adorable it is.  Even if you never make it (which you would be crazy not to), this recipe deserves a spot in your cookbook just because it's so fun!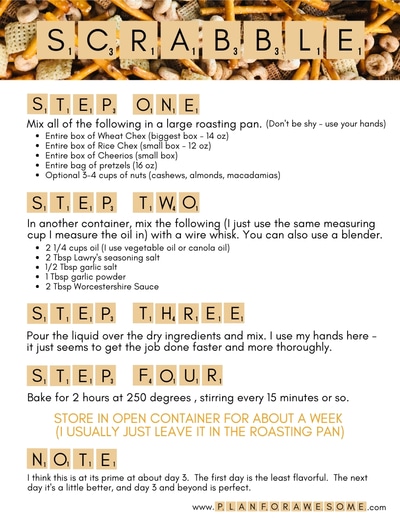 **Print out the PDF HERE by clicking download…the above picture is low quality**
**My Printables are always free! All I ask for is a kind follow on Instagram / Facebook / Pinterest or a share/pin of this post. Also, don't forget to subscribe so you don't miss another free printable like this one! Thank you for your support!**
For another great printable holiday recipe, click here for the Freaking Bomb Cranberry Salad!
For more holiday posts, check these out...FREE PRINTABLE Date Nights for Christmas – The Perfect Gift!
6 Totally Random but Totally Awesome Christmas Hacks
How to Host an Unforgettable (White Elephant) Gift Exchange Party