If you live in California, you are probably wondering where to start to get prepared for the planned public safety power outages this fire season. With the first official outage going into effect today, lots of California residents are left to figure out how to prepare, in case their county is next!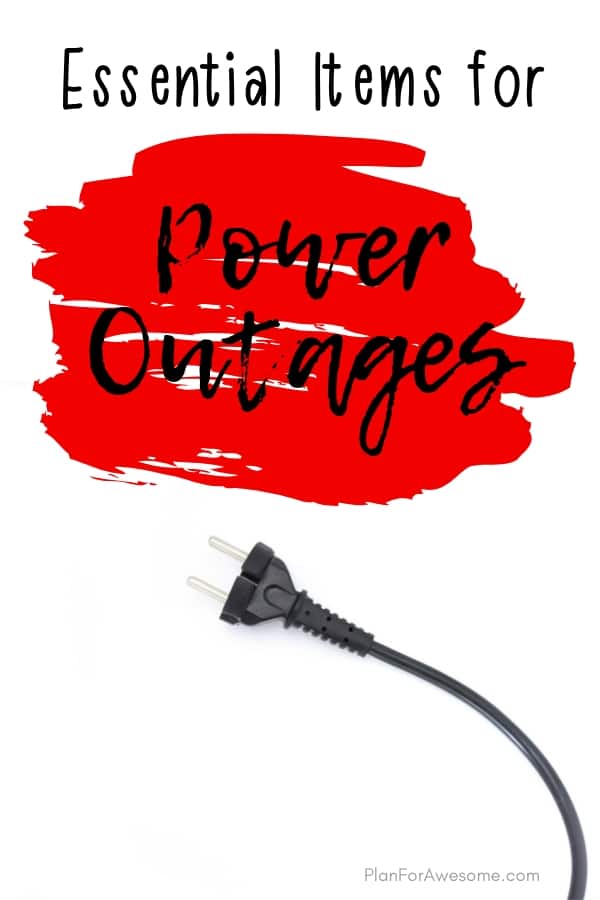 I have had several people ask for a list of items by cost, to help them prioritize what to spend money on. The information below is simply a "shopping list," broken down into price categories.
For a more sequential list and approach to preparing for lengthy power outages, see How CA Residents can Prepare for PG&E Power Outages in 2019 – PART 1. Parts 1 – 4 of this series take you through all of the things you can purchase, as well as what you can DO to prepare. Please don't overlook these things! Many of them are free and will serve you very well if you find yourself without power for several days.
**This post contains affiliate links, which means if you click on a link and make a purchase, I may make a small commission at no extra cost to you**
DISCLAIMER: I will be using prices as they appear on Amazon and at other locations TODAY. All prices are subject to change, and that is out of my control. However, this should give you a good idea of what things generally cost.
So let's dig in, shall we?!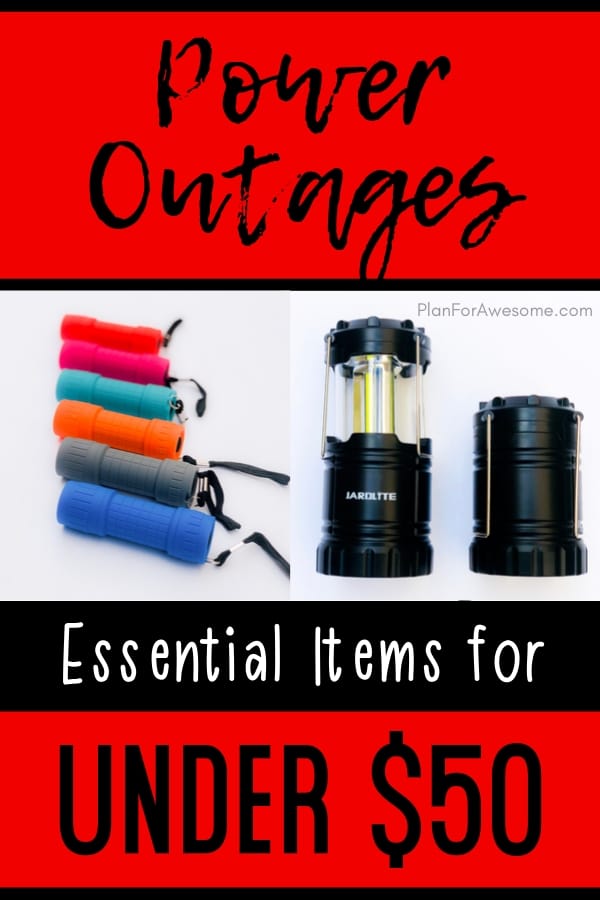 Products for Power Outage Preparedness UNDER $50
For more details on why you would want these items and when they come in handy, see PART ONE.
N95 Masks – YOU WILL WANT THESE!! Maybe not for the power outage itself, but for this fire season. We live 2 hours from Paradise and school was canceled HERE because air quality was so bad during the Paradise CampFire last year. Make sure you have masks that are rated N-95; anything lower is useless against smoke. Valves are preferable. This 10-pack makes them $1.33 each.
Corded Phone – Corded phones ($12.95) still work, even when the power is out. If you pay for a landline, you will still have access to make phone calls, even if your cell phone is dead. If you don't have a landline, find a neighbor who does, and offer for them to use your corded phone in exchange for a few minutes of use of their landline. 😉
Fridge/Freezer Thermometer – You will want to know the temperature of each fridge and freezer you own, so you can tell if your food is spoiled or not. For more info on this, see How CA Can Prepare for PG&E Power Outages in 2019 – Part 4. I like this one because, although it isn't as fancy as the digital ones, this kind doesn't take batteries. I made the mistake of purchasing the fancier digital ones, only to be disappointed that when I went to see the temperature, the battery had run out! Be sure to get one for each fridge and freezer that you own. Don't forget the ones in the garage!
Reusable Ice – this is definitely not necessary, but it does stay colder longer than normal ice cubes, and this 4-lb ice pack (affiliate link) is amazing and huge and stays frozen for days (literally) ($29.99 whether on Amazon or YETI.com).
Consumables

Medicine (prescription and over the counter)

Toilet paper
Feminine hygiene items
Paper towels
Hand soap
Toothpaste
Deodorant
Medicine (Infant, Children, and Adult)
First aid supplies
Paper and plastic dinnerware, so you don't have to do dishes
Manual can opener (this one is my favorite) if yours is electric!
Food (nonperishable)

Extra Propane Tank (filled) – this will come in handy if you plan on cooking with your BBQ ($48.99 at Home Depot).
Camping Stove – This one is reasonably priced ($22.99) and easy to use.
Fuel for Camping Stove (the type of fuel will depend on the type of stove) – You can't order the butane (fuel canisters) on Amazon because they wouldn't deliver it to a California address. So you'll need to get the fuel at a physical store. Note: you should not use a butane stove indoors. The fumes can cause carbon monoxide poisoning. Always use these outside!
Foldable Stove & Canned Heat – This fuel is AWESOME (6-pack for $17.86) because you can use it inside. You can purchase a foldable stove for $9.99, and then stick the canned heat under the foldable stove. If you are only going to get one type of stove, I would suggest this. It isn't as powerful as a butane stove is, so it isn't ideal to actually COOK foods, but it can heat food up and boil water, and you can't beat the price/amount of space it takes up!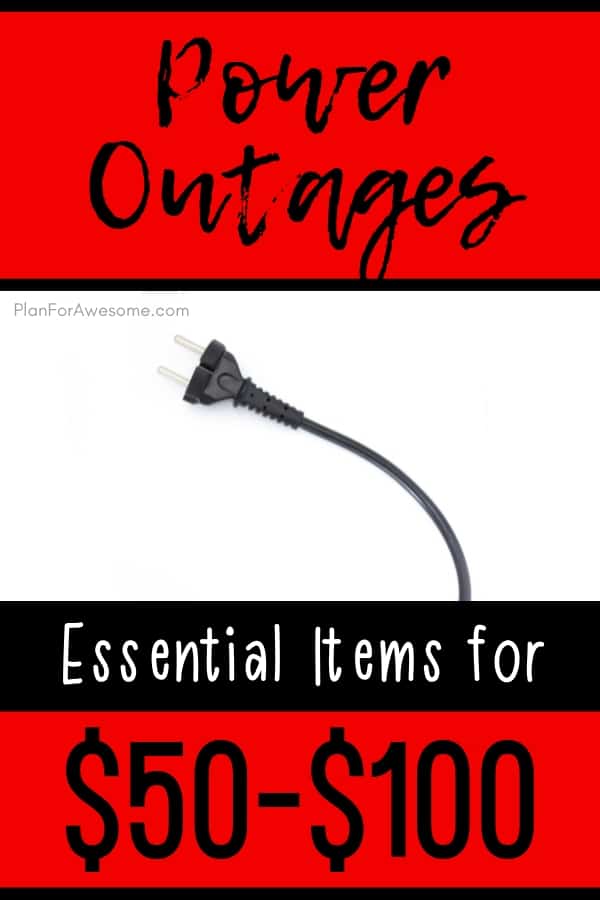 Products for Power Outage Preparedness Between $50 and $100
Crank flashlight/radio – this is the one we have and we are happy with it ($54.80). I'm sure there are better ones out there, but this was a good price point for us, so we went with it. We feel better knowing that once our cell phones die, we will still be able to get updates about current conditions via radio.
Cooler – a good middle-of-the-road cooler is this Coleman. ($81.41) For an explanation of why a cooler is so important, see How CA Can Prepare for PG&E Power Outages in 2019 – Part 4. This particular cooler would best be used for the purpose of storing food that you plan on using during the first several hours of the power outage. If you are looking for a cooler that will keep your food cold longer than your fridge or freezer, you will likely need to spend more than $100 (see the $200+ category below).
Full Tank of Gas – starting out a power outage with a full tank of gas is a really really great idea!
Gas Cans – these are the gas cans ($89.99 for a pack of 4) I settled on after reading reviews and pricing them out. They are pretty basic, they fulfill California's guidelines (yep – California even has their own standards for gas cans), and they are a decent price. The reviews are great except for the spouts on the cans, which ironically, are new due to California's stupid guidelines.
Pump for Gas Cans – $59.99 – this pump is seriously worth its weight in gold. Lifting a 5-gallon can full of fuel and pouring it into a teeny little hole without spilling can present quite a challenge. It is virtually effortless to use and all but eliminates the danger of spilling fuel. It works in 5-gallon gas cans just as well as in a fuel caddy.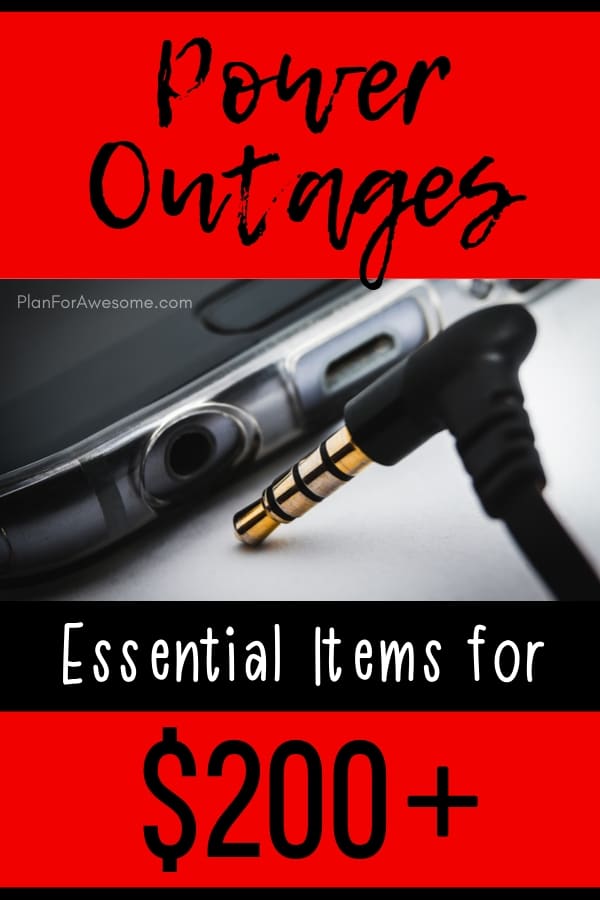 Products for Power Outage Preparedness Over $200
Cooler – My favorite cooler is a Yeti (lots of Yetis don't have wheels but this one does). This one is $399.99 and it is the same price at sporting goods stores and anywhere else I have seen them. So you might as well get it on Amazon and get the color you want and get it delivered to your door. For an explanation of why a cooler is so important, see How CA Can Prepare for PG&E Power Outages in 2019 – Part 4. This quality of cooler can be counted on to keep your food cold much longer than your fridge (4 hours) or freezer (48 hours). But you definitely pay for the quality…
Generator (and Fuel) – this is my choice of an awesome portable generator ($4449). The Honda EU series has a great reputation (just click here and read the reviews!) and they are about the quietest portable generator out there. This one has a 7000 Watt maximum capacity / 5500 Watt continuous capacity which is a dang large capacity for a portable generator. It has an electric start (which means you press a button and it starts, unlike a pull-start). This is just a top-of-the-line, user-friendly, reliable brand, high output machine.
CASH! – any amount of cash is great to have. Depending on the store and situation, credit card machines, ATMs, etc may not be operational.
Remember: this is just a shopping list. There are LOTS of things you can do to prepare for a power outage that don't cost anything. So be sure to read PART 1 and work through all 4 parts to make sure you have done all you can do to prepare!