This unique way to #LightTheWorld is fun for all ages and families, and is a great opportunity to get others involved. Not only is it a way to #LightTheWorld this holiday season, but it also gives us a reason to pause and to think about the sacrifices others are making every day to preserve the freedoms we enjoy.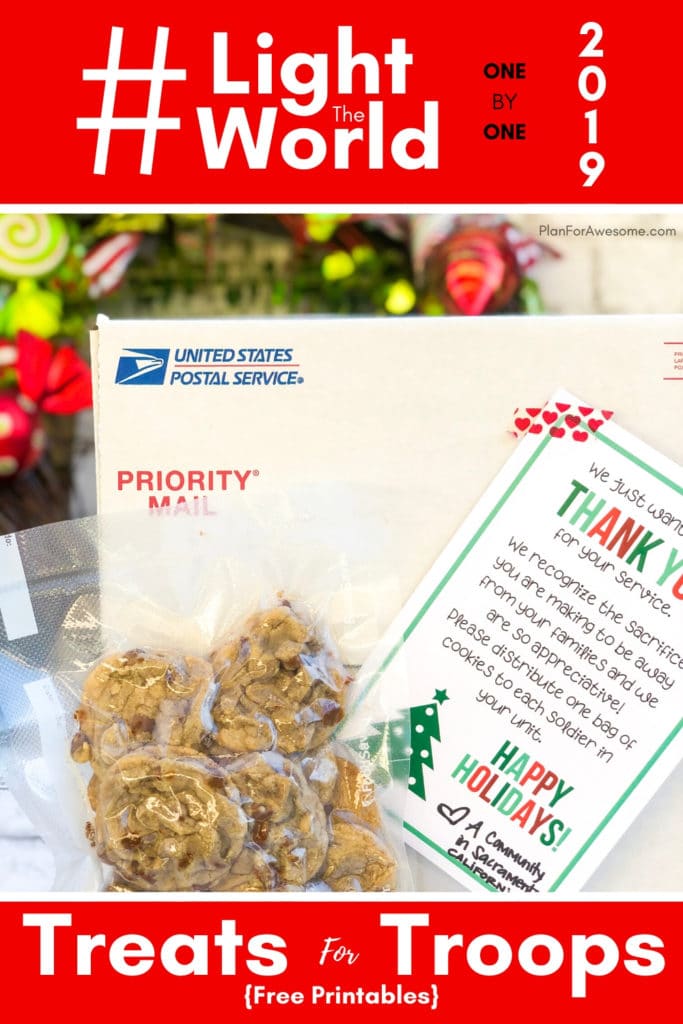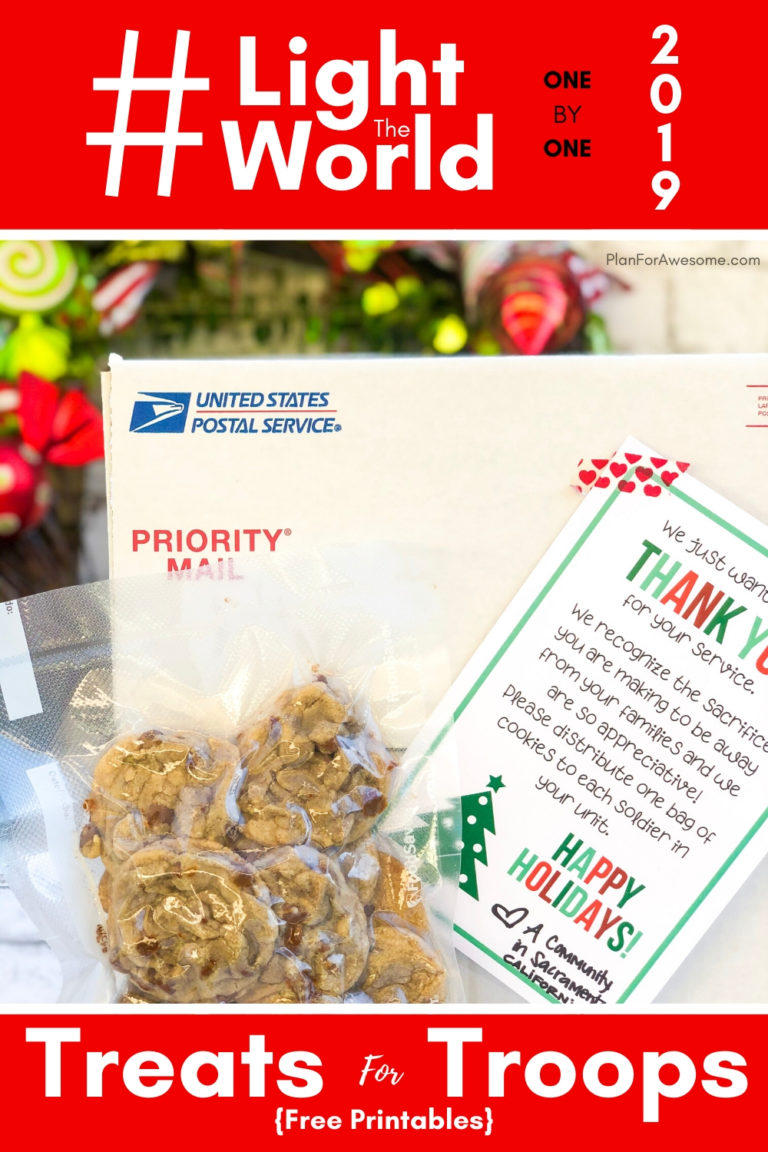 For the past few years, the Church of Jesus Christ of Latter-Day Saints has initiated a challenge for the month of December called Light The World. I have loved participating in this worldwide effort to focus on different areas of service and growth each December.
Some years have consisted of a calendar of daily tasks/challenges. Other years have had a weekly theme, with a new area of focus each week for the month of December.
#LightTheWorld One by One
For the year of 2019 the theme for our #LightTheWorld efforts is "ONE BY ONE." I love this theme. I love how even the title captures the spirit of how we can make a difference, even if we are just serving one person at a time.
Most of the suggested tasks are soooooo simple. Many of them take less than 5 minutes.
However, there are a few tasks that require a little more effort. Several of them will take some creativity to fit the ages/circumstances of some participants. I have been brainstorming for a while now, and am excited to share an alternative option for those who can't physically do what is suggested for December 3rd (but really, you could do this any time)!
Tuesday, December 3rd: Donate Blood Treats for Troops
I absolutely LOVE that one of the tasks this year is to donate blood. This is such a wonderful way for those who are able, to impact the life of another in a profound way.
For those who physically aren't able to donate blood, whether it be due to age, weight, or other physical limitations, my daughter came up with an awesome alternative! We're calling it "TREATS FOR TROOPS."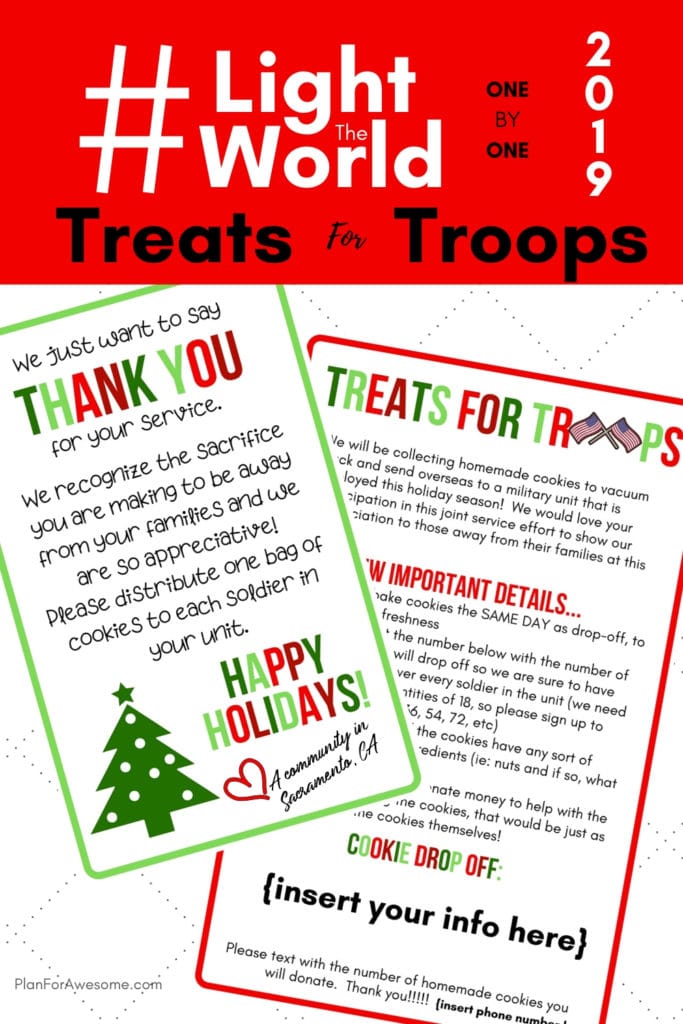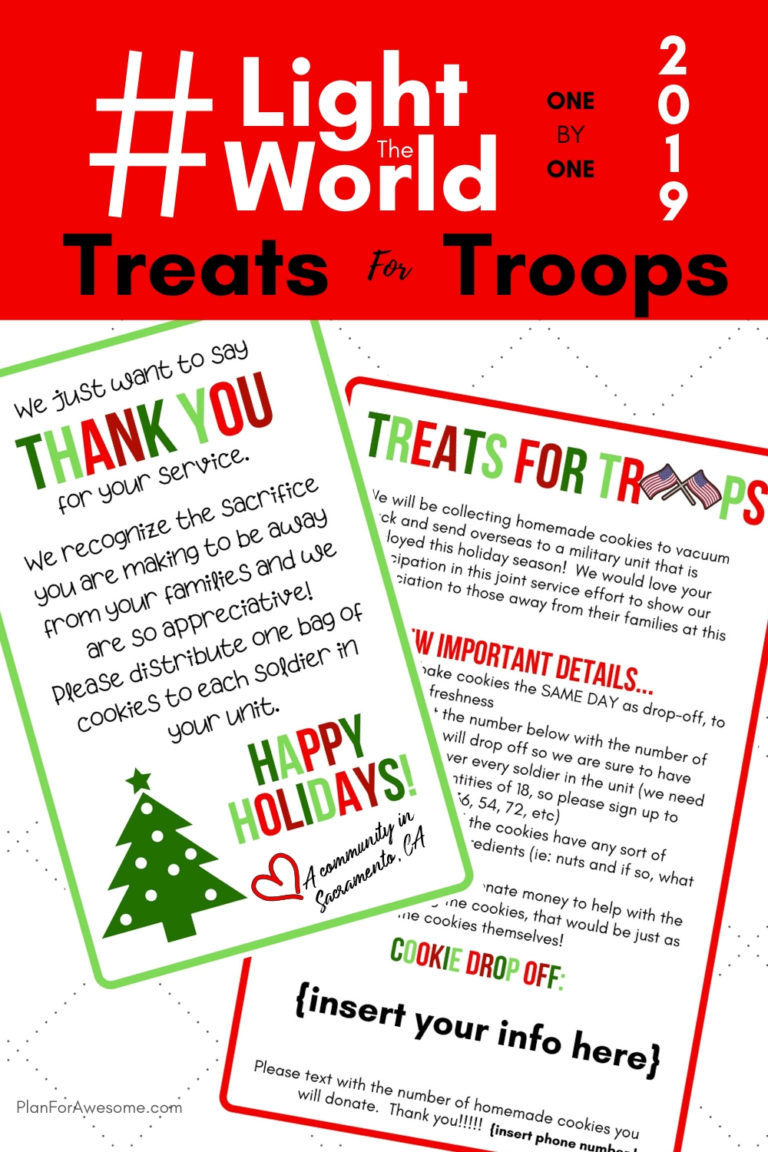 The idea is, to solicit the help of local friends, neighbors, church members, or even your old baseball team, to collect a bunch of freshly baked cookies, vacuum seal them up, and ship them overseas to soldiers to spread a little Christmas cheer. How fun is that?!
Having a dad who has deployed twice in her lifetime, my daughter has a special place in her heart for soldiers and their families, and I just love that she came up with this idea. ❤️
**This post contains affiliate links, which means if you click on a link and make a purchase, I may make a small commission at no extra cost to you.
Treats for Troops – How to Do It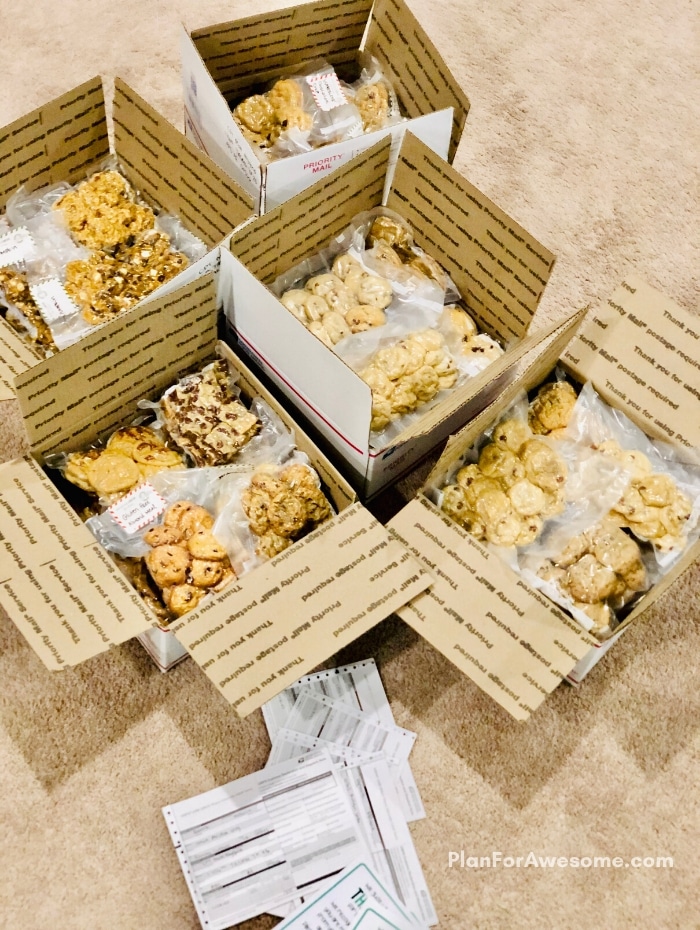 Contact a military service member or someone who has a military connection, and ask for help finding a unit that is currently deployed.
Obtain the number of soldiers that are in the unit, as well as the address for the unit and the name of a soldier to address packages to, on behalf of the entire unit (this could be the solider you have a personal connection to, the commander of the unit, the XO, etc).
Fill out the free printable flyer at the bottom of this post with information for a cookie drop-off (or, subscribe to my blog and then email me with the exact wording you want me to plug in to the flyer and I will send you a personalized file for FREE). Also print out the printable note to slip in each box of cookies so the soldiers know what the heck this is all about (also at the bottom of this post)!
Go to the post office and get some LARGE FLAT RATE boxes (they are free), as well as one customs form per box (yes, you have to have one per box, even if all the boxes have the same stuff in them).
Vacuum seal (affiliate link) all of the bags of cookies the same day they were baked.
Pack them up and ship them off!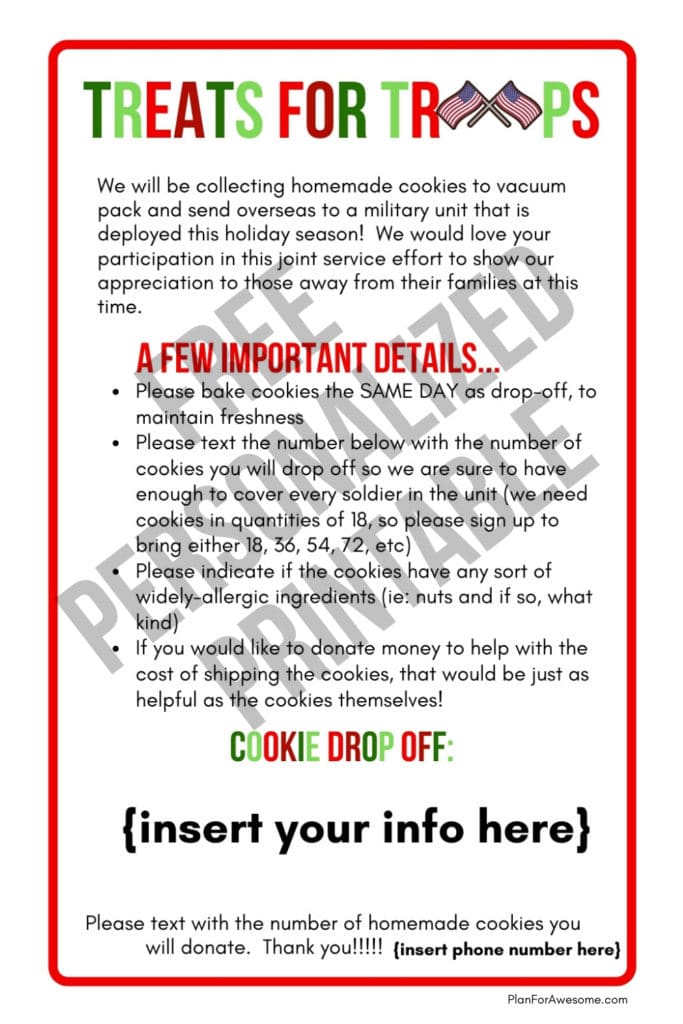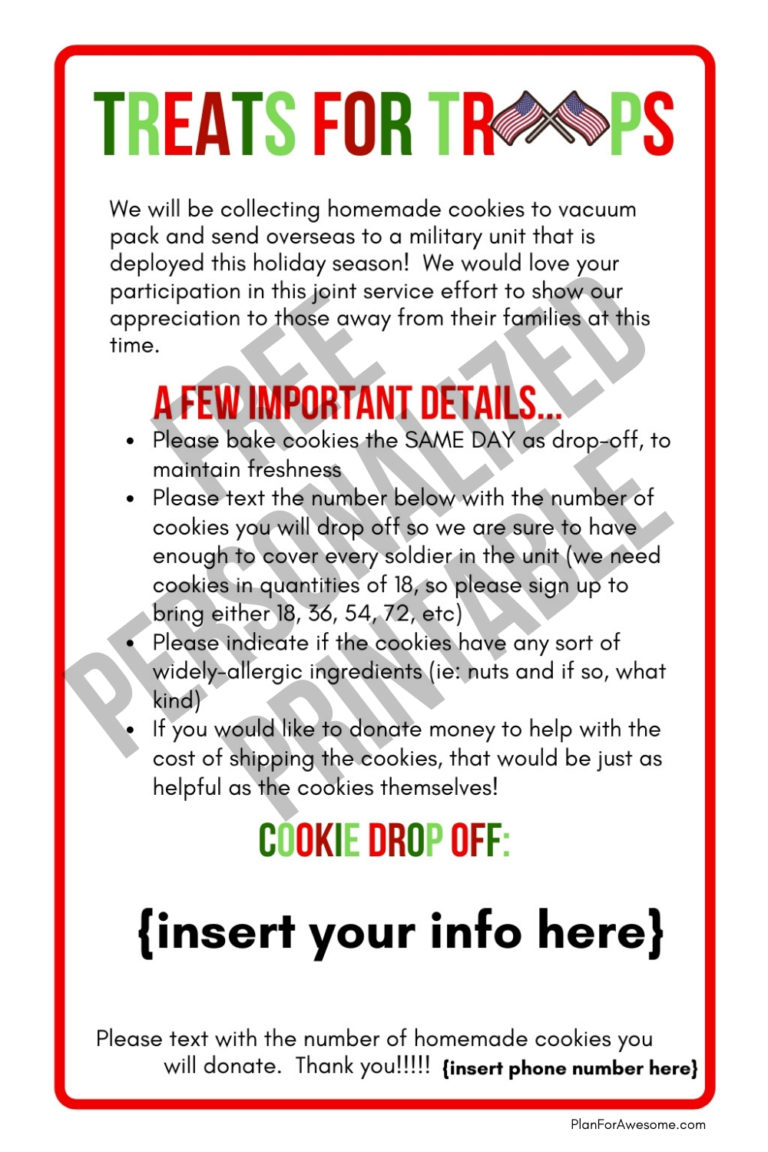 Treats for Troops – The Nitty Gritty
I am going to give you the details of how we organized this in our area. Of course, you could adapt this idea however you would like for your area.
We decided we wanted to put 1 1/2 dozen cookies in each bag for each soldier. The unit we chose has a little over 50 soldiers, which meant we needed almost 1,000 cookies! The response to this effort was so positive, we ended up with more than enough cookies! Don't forget – all those friends, neighbors, and ward members who aren't able to donate blood will likely be looking for an alternative too, and will be eager to help with this effort!
We were open to any type of cookie, as long as they came in in multiples of 18. (For instance, people could sign up to bring 18 cookies, 36, cookies, 54 cookies, etc).
We asked that the cookies be freshly baked the day of the drop-off, to preserve freshness.
We offered a 2-hour drop-off window at our home. You could have a few different homes open for drop-offs or even do it at the church if that makes more sense for you.
With the size of the unit we did this for, we needed to ship several boxes (it ended up taking 5 boxes), so we accepted monetary donations to help with the cost of postage (but we were prepared to pay the postage ourselves, if no one donated).
Tips for Packaging Cookies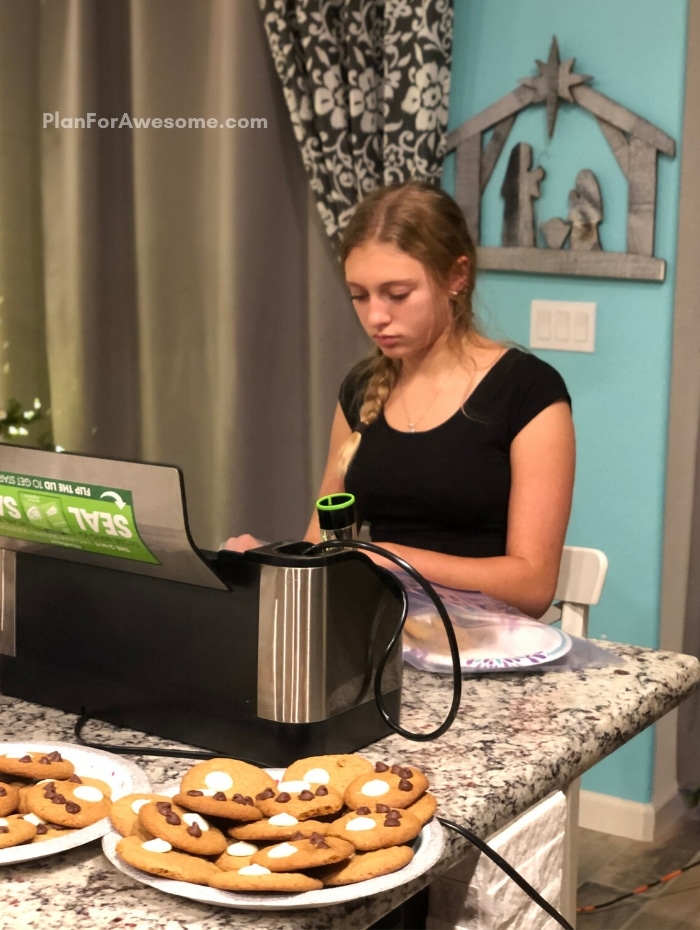 Do not mix cookies! You will want to put the same type of cookie in one bag and seal it up. If you put different kinds of cookies in the same bag, they will all taste like a mixture of each other and this typically does not end with a favorable outcome.
Use the "PULSE" function on your Food Saver (affiliate link), rather than "AUTO." If you use the "AUTO" function on a FoodSaver, the cookies will get smashed to smithereens. You want to pulse it until it's really tight, but stop before the cookies start to crumble/break. In fact, you want to pulse it til the cookies get smashed together; you don't want any air left in the bag. You just don't want to keep pulsing til the cookies break.
Tips for Mailing Packages Overseas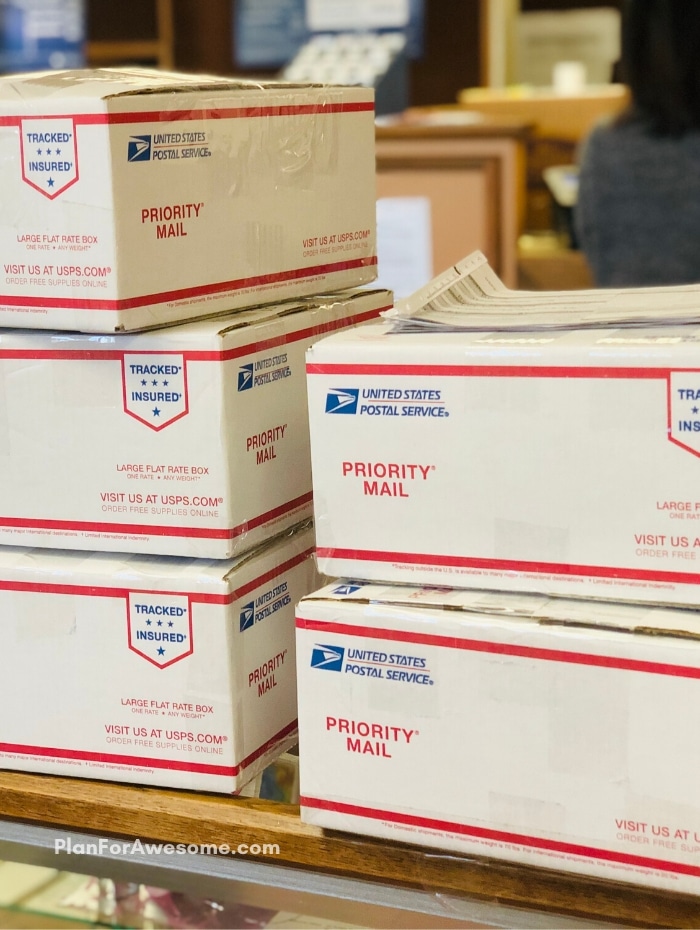 You will want to go to the post office ahead of time and have the boxes ready to go. You want to get the LARGE FLAT RATE BOXES. They used to have boxes that said MILITARY on them, but that doesn't matter. Most post offices don't carry those anymore. If they do, great, but if not, just get the large flat rate box. The measurements of these boxes when assembled, is 12 X 12 X 6.
Be sure to pick up the customs forms you will need to fill out as well. You will need one for each box, even though each box has the exact same thing in it. Doesn't matter. Get enough for one per box.
These boxes cost $19.95 each to mail. You do get $1.50 off for sending them to an APO box, so it'll cost you $18.45 per box.
See the picture below of how to fill out the customs form 🙂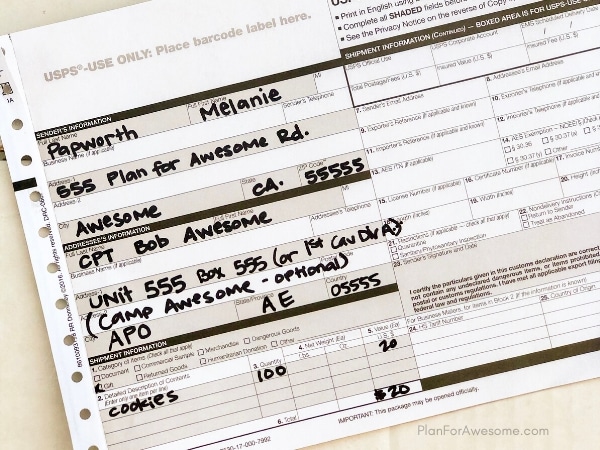 Free Printable Flyers and Notes
Don't forget – I am offering free editing of these flyers, so if you don't want to handwrite the cookie drop-off info and phone number, email me the info you want inserted there, and I would be happy to send you a printable PDF and a textable JPEG to help #LightTheWorld this holiday season!
Just be sure to subscribe to the website and then email me: melanie@planforawesome.com with the details!
And now are you ready for the coolest pictures ever? This is the end result. Soldiers, away from their families, with smiles on their faces, on Christmas Eve. I can't believe they arrived on Christmas Eve. What luck! We will definitely be doing this again!