I love Christmas.  I really do.  But December is the craziest month of the year, and I have found a few ways to make it a little more enjoyable, a little less chaotic, and even a little easier on the checkbook.  I hope that at least one of these tips will make your December a little better ♥
**This post contains affiliate links; using my links helps to support my blogging and my family at no extra cost to you.**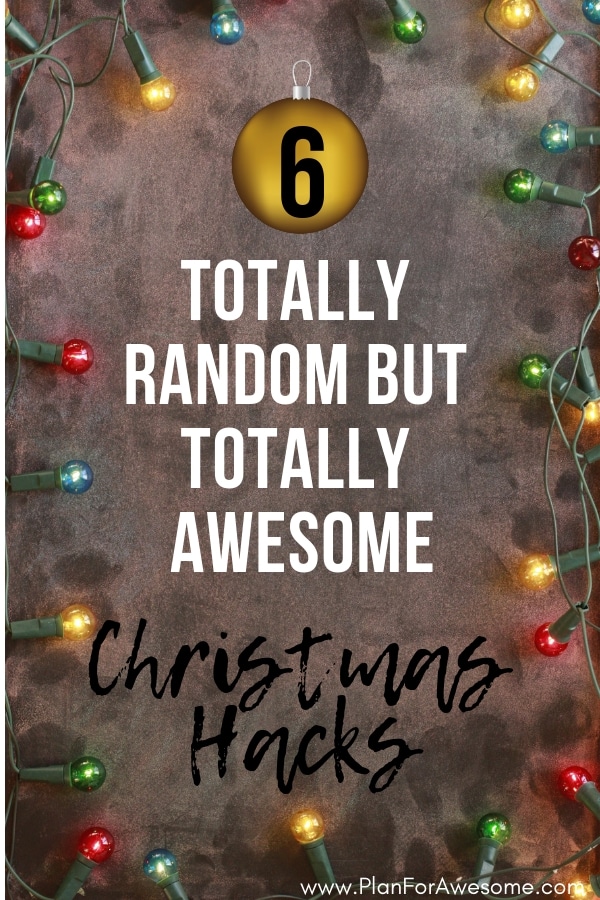 #1 – Have Santa Bring Everyone Their Own Box of Their Favorite Cereal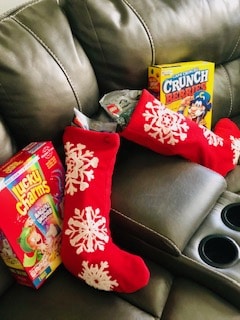 I LOOOOOOOOOOOOOVED this tradition growing up!  I always got Cookie Crisp (although, I would have LOVED to have gotten these Just Cereal Marshmallows)!  It was a cereal my mom rarely bought normally, so it was a fun treat.  And something about having an ENTIRE box of cereal be ALL MINE was magical in itself.  I wrote my name 12 different ways on the box with different colored Sharpies and did the mazes on the back of the box and didn't even feel guilty about doing it before my siblings got to it.  It was mine.  All mine.  I ate as much or as little as I wanted; I could eat the whole box on Christmas Day, or savor it and spread out the goodness as long as I wanted.  No one else was allowed to touch it.  It was mine.
Now fast-forward 30 years.  Oh!  My! Gosh!  30 years!  I am so old.
Now that I am the mom…this tradition is SHEER GENIUS!  It eliminates the pressure of having to cook a Christmas breakfast amid the Christmas morning chaos.  I mean, I guess part of me thinks it would be a great morning for a nice big family breakfast.  But let's get real.  No kid wants to sit down to a nice breakfast while staring at all those presents under the tree.  Nope.  Not gonna happen.  And I don't want to feel rushed to get through all the presents AND make breakfast before people get hungry.  If you're hungry, go grab a bowl, kids! Genius.  Santa is soooooooo smart.
#2a – Wrap Ready-to-Roll Gifts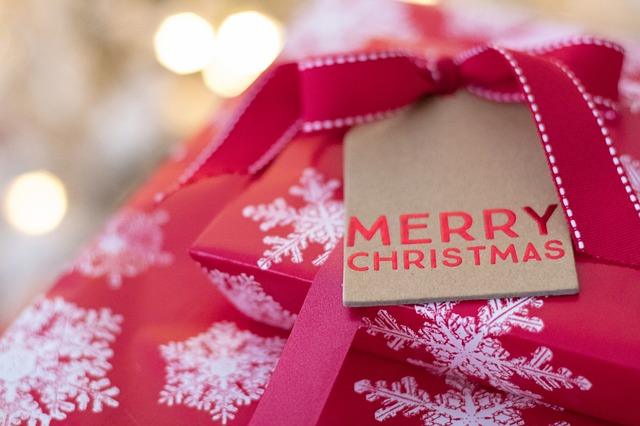 I've been doing this for years and wouldn't ever go back to normal.  We've all been there.  Everyone is eagerly waiting their turn to open their next present and then the 2-year-old opens his new Batman Playset that requires 4 D batteries in the main hub and 2 AAA batteries in the remote, and has 82 twisty ties securing Batman to the cardboard backing.  The Joker is suctioned into the plastic so tight that you have to use pliers to pry him out of there, and then you realize the remote has to charge overnight.  The 2-year-old is now screaming, everyone else is ticked that they have had to wait this long to open a present, and Christmas is now ruined.  As much as I'd like to say that's a  great time for kids to learn patience, again, I'm gonna be real.  Christmas morning isn't the time for lectures.  Just do everyone a favor and do the work when you're wrapping the gifts.
Things to prepare ahead of time:
Disclaimer – if you are uncertain your child will love a certain gift, you may not want to do this.  Doing so may take away the option of returning an item.  For instance, I don't wash any of my girls' clothes (except pajamas) before wrapping them, because you never know!  But our younger boys?  All the time.  They just don't care.  They love everything.
Toys – Unwrap, unpackage, unhook, untangle, put together, assemble, load with batteries, charge, and learn how every single toy works before wrapping.  Be sure to turn the toy "OFF" before wrapping.  If there isn't an OFF button, remove the batteries and tape them to the toy somewhere so they are ready to pop in Christmas morning.
Electronics – If you get your kid a new iPad, remember it takes a while to set it up.  You'll also need to decide if you are going to log in under your iTunes account or create a separate one for your child, etc.  Try to get all the boring stuff out of the way BEFORE Christmas morning!
Movies – unwrap them and take that annoying little sticky strip off
Clothing – Remove tags and wash all clothing so they can wear their new clothes right then if they want!
Side Benefits to Preparing Gifts Before Wrapping
Not only will this make for a much happier and smoother Christmas morning, but it also gives you a chance to try everything out without interruption.  I've put a couple things together and decided they were too junky to keep, so instead of wrapping them, I packaged them back up, taped the receipts to the boxes, and put them in my trunk to return before Christmas even came.
It also makes for a fun date night once kids are asleep to bust out all the Christmas presents and try them out with your spouse.  One of my best memories with Tyler was a couple years ago, playing with a remote control dinosaur, having a Nerf gun war, and testing out some motorcycle crash guys.  You've already spent the money….might as well get a free date night out of it before giving it to the kids!  Bonus: You get help wrapping all those presents!
#2b – Prewash Christmas Eve Pajamas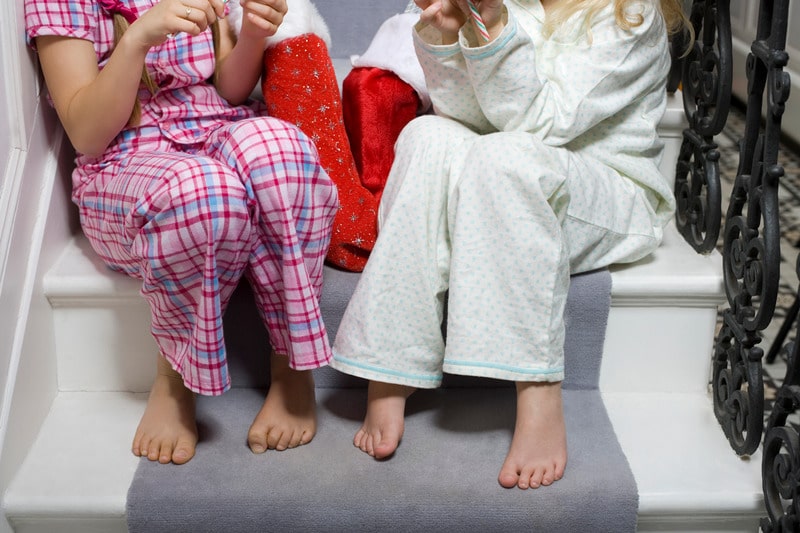 Maybe it's just me, but I wash new clothes before wearing them.  It kinda grosses me out to wear clothes before washing them.
Number one, they always have that new clothes smell, and it's gross.
Number 2, what if someone else tried them on before you, and they were gross and nasty and hadn't showered in 3 days?
Number 3, new clothes are crunchy.  Washing them makes them soft.
So if you have the tradition of giving your kids new pajamas on Christmas Eve, remove all the tags and wash them all before giving them to them.  Then they're sleeping in freshly laundered, yummy smelling, soft and cozy pajamas!
#3a – Give Them Things They "Need"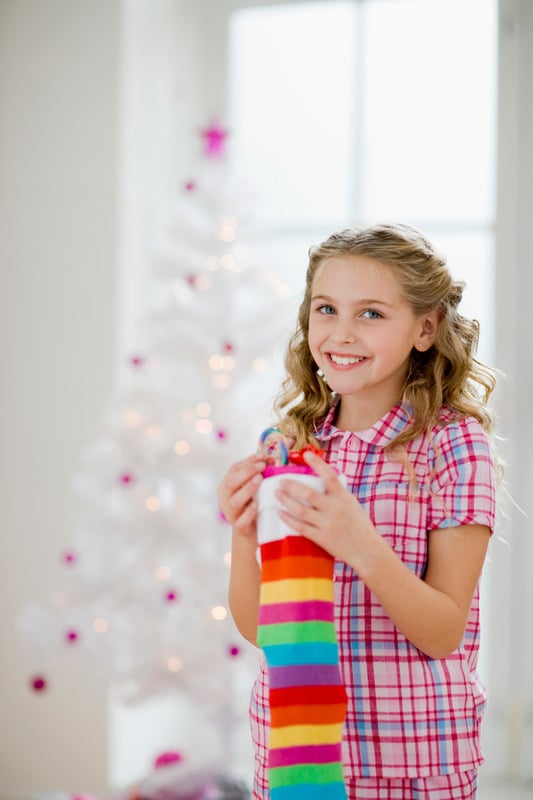 Christmas gifts don't always have to be toys.  I always sneak in a few "needs" that can double as presents and/or stocking stuffers.  The trick is to make them super fun.
Toothbrush – These make great stocking stuffers…and an electric spinny Ninja Turtle one feels like a real gift instead of a lame extra!
Socks – Not lame white socks.  They need to be fun socks!
Bedding – A couple years ago we got all of the kids new bedding for Christmas.  It was time.  I had a 10-year-old sleeping in Thomas the Train bedding and my youngest was using my old bedding from when I went off to college.  It needed to happen.  Instead of dropping hundreds of dollars on new bedding randomly during the year, we got them all fun bedding they would love, and it was part of their Christmas.
Shoes – My tween daughter has nothing but clothes and boots on her Christmas list this year.  Let's be real.  I'd be getting these things for her anyway.  But now they can double as her Christmas gifts!  These are her AND my favorite boots!
Clothes – If your kids are young, give them clothes they would be excited about, like a Ninja Turtle sweatshirt or Trolls pajamas.
Sporting Equipment (new baseball glove or a new bat) – Look ahead to the next sports season.  Baseball comes soon after Christmas for us.  Cleats may not be the most exciting gift, but a bat or a new glove sure are!  And those things are EXPENSIVE.  If you're going to have to buy them anyway, do it early and let it be part of their Christmas.
Luggage – Will your kids be needing luggage this summer for a family trip?  Get them luggage that they'll love!  That way you don't have that expense when you're getting ready to travel next year.  I remember asking for luggage my last year of high school because I was planning on going to South America after graduating.  It was a practical gift that served me until this past summer, actually, when I overloaded the largest suitcase and Tyler had to bust the zipper to get it open.  That Christmas gift lasted 17 years!!!!  Talk about a good investment!
College/Mission Stuff – If this is the Christmas before someone heads off to college or goes on a mission for your church, look ahead and get them a couple things for their future adventure (like luggage).  It not only spreads out your spending, but it also allows you to double-up on some expenses by having them be part of that kid's Christmas budget as well.  After getting Tyler's oldest ready for a mission, I can personally attest that it costs THOUSANDS OF DOLLARS.  I am not exaggerating.  Spread it out.  You will be so glad you did.  Even if it's just one big-ticket item like luggage or a cool messenger bag.  Every missionary needs it.  Knock it out now.  (And what better time to do it than on Black Friday?!)
#3b – Give Books!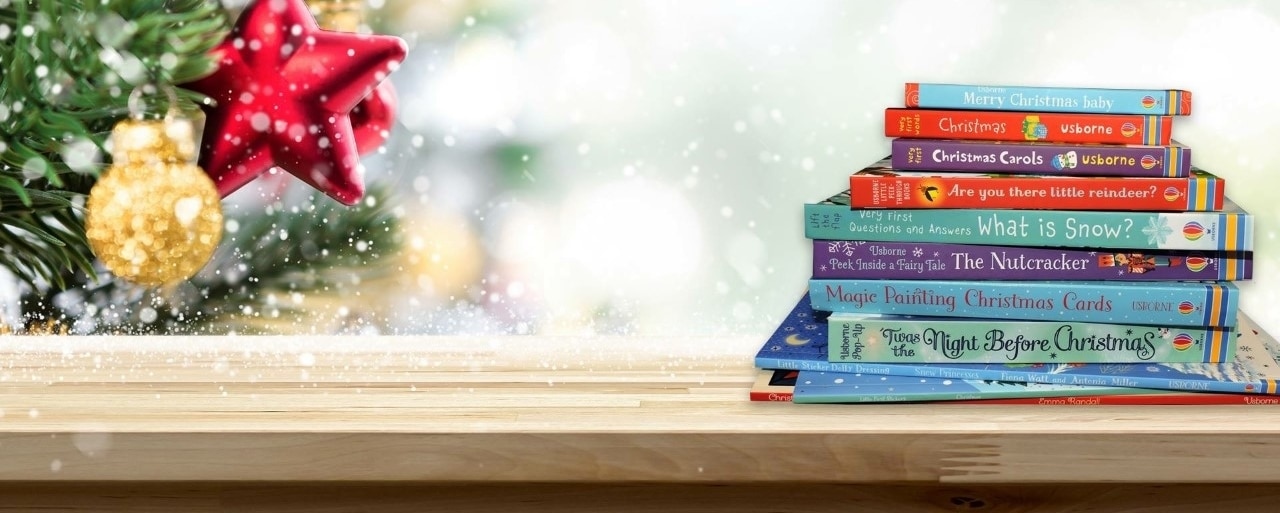 We never have a Christmas go by without giving each kid at least one (or TEN!) new books.  If you make at least one of those books an Activity Book, it provides entertainment on Christmas Day.  Check out my ALL TIME FAVORITE BOOKS!
#4 – Manage Your Receipts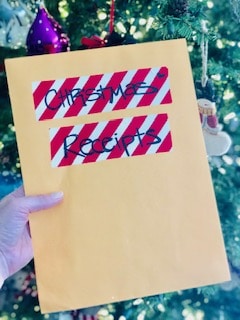 The first Christmas purchase you make, designate an envelope for all your Christmas receipts.  I would recommend a large manilla envelope so you can fit packing slips in there for packages that come in the mail.  And then save.  EVERY. SINGLE. RECEIPT. AND. PACKING. SLIP.
This makes after-Christmas returns a breeze.  It really does.  Even if your card is linked to your purchases…TRUST ME!  Case in point: I would say Target is one of the easiest places to make returns at.  You just stick your Target Red Card in the slot and it brings up all your purchases for them.  Even if you bring a receipt, they don't want it because the card is faster.  I shop with my Target Red Card 100% of the time.  BUT!!!!!!  If it's an online order and the store doesn't carry it, sometimes you need the packing slip and/or email order #.  JUST SAVE EVERYTHING.  It won't feel like a pain if you have ONE envelope to keep EVERYTHING in.  Just slip it in there and forget about it until January.
**Super anal, organization-freak tip for people like me: If you anticipate a lot of returns, or if you just can't put a bunch of random receipts in an envelope without any sort of order or method to the madness, feel free to write the item(s) at the top of the receipt for easy searching.  Receipts are kind of a pain to weed through, but if you have a hand-written item or two at the top of a receipt, it will be really easy to find which receipts you are looking for when return time comes.**
The only exception to this is if it's a gift not for someone in your immediate family.  If it's a gift you're giving to a friend, a cousin, a parent, etc, then TAPE THE GIFT RECEIPT TO THE GIFT IMMEDIATELY before wrapping it.  Then it doesn't get lost and you don't have to worry about finding the gift receipt when you are wrapping it later.
#5 – Christmas Cards & Addresses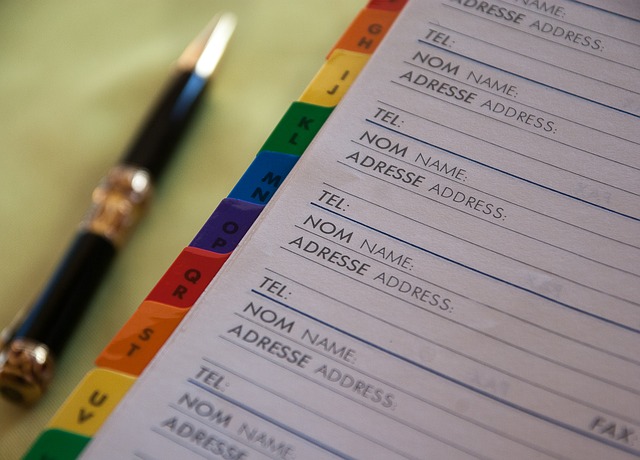 Every time you get a Christmas card in the mail, compare the return address on the envelope with the address you have listed for that person in your address book.  Update it if it's different.  This is just a simple way to keep your address book updated.  I usually hang the picture on the fridge and put the envelope (and letter if there is one) on my computer desk, so I remember to check the address before throwing the envelope away.  If you have a physical book, you could even stick the envelopes in there as you get them, and update your address book at the end of the season.
**Another tip from a reader: she snaps a picture of the person on their Christmas card and updates her contact photo on her phone with it. I love this idea!**
#6 – Hot Glue Gingerbread Houses Together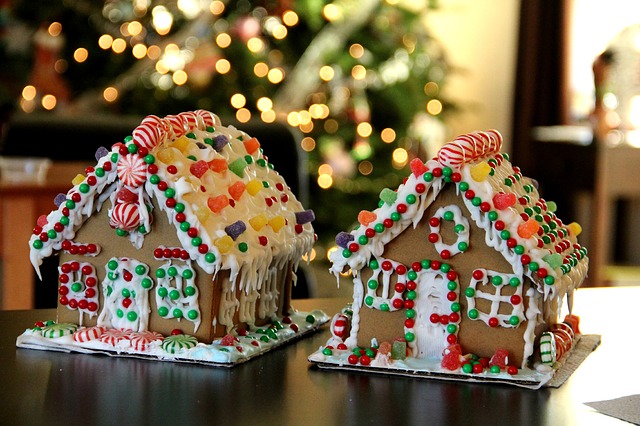 Every year I let my kids have some friends over to decorate gingerbread houses.  Last year was the biggest group, with 34 kids total.  We had to do it in the garage, and even then we did it in shifts while the rest of the kids played in the backyard.  I didn't want to mess with kids trying to get their houses put together and having them fall and be frustrating.  And we couldn't let them dry in between to set, because we had too many kids we needed to cycle through.  So I made 34 gingerbread houses the day before.  I just hot glued those puppies together and it worked like a charm.  No one eats the graham crackers anyway – they just want to decorate a prebuilt house!  It was perfect and saved tons of tears and frustration.
Well, that's a wrap!  Comment below with which hack you plan on implementing, and any others you do!  I'd love to add to this list!!!!!!!
And be sure to pin this post for future reference!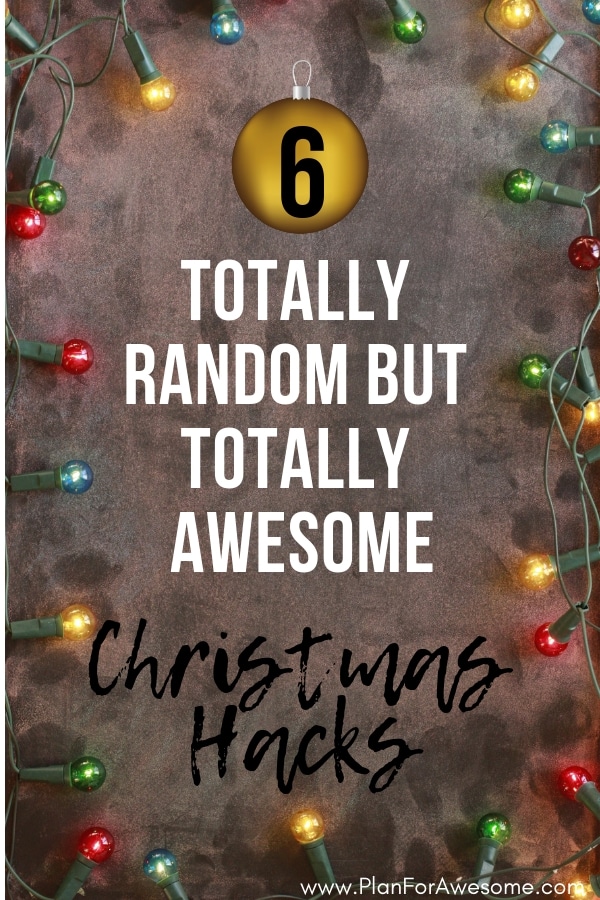 For awesome stocking stuffer and unique gift ideas, check out The One Website I Wouldn't Do Christmas Without (And It's Not Amazon)!
If you are considering hosting a White Elephant party, be sure to check out this post with FREE PRINTABLES!  How to Host an Unforgettable (White Elephant) Gift Exchange.
To see my Top 10 White Elephant Gag Gifts Available on Amazon, see this post.