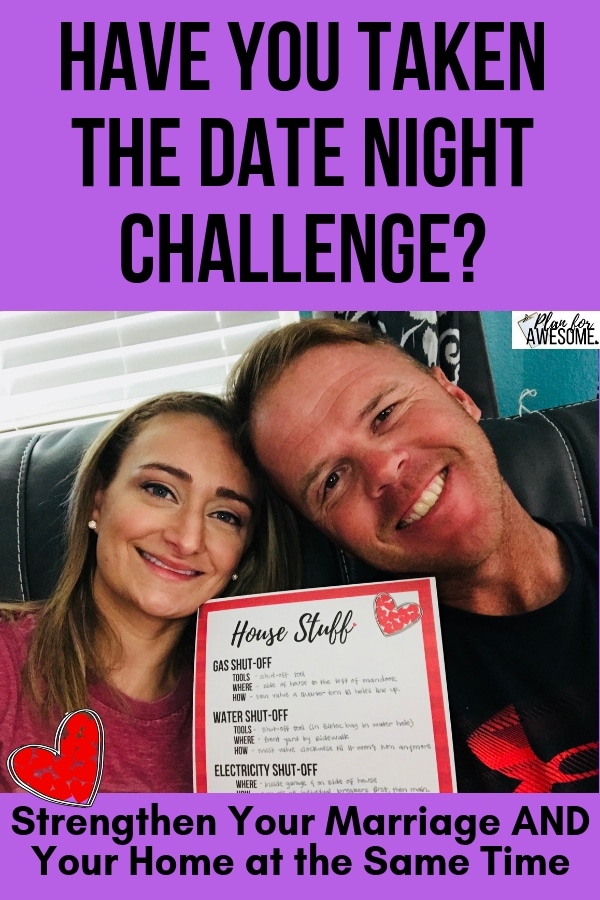 Just popping in to say HELLO and make sure everyone is making the most of National Emergency Preparedness Month! We are one week down in our Emergency Preparedness Date Night Challenge, and I hope everyone feels a lot more prepared after doing that first date night!
If you already did Date Night #1, PLEASE take a selfie with your "House Stuff" sheet and post it in the comments on Plan For Awesome Facebook Page, Instagram, or your own social media accounts and tag Plan For Awesome! Also, comment either here or on the original Date Night Challenge post, and let us know how it went!
If you got the download but haven't done it yet, no worries! Get it on the calendar sometime this week!
If you are just joining us, check out the post that explains what we're doing, subscribe to the blog right now (if you're on a desktop, go to the top right of the webpage and if you're on your phone, scroll to the very bottom), confirm your subscription (a confirmation email will be sent to you as soon as you subscribe), and print out the FREE first date night from the link on the confirmation page!
The first date night was all about getting to know your house; having the right tools and knowing where and how to shut off your gas, water, electricity, how to operate your garage door manually, being prepared for power outages, etc. We covered a ton of ground in just 2 little hours, and it feels so good to finally know how to do those things! Not only that, the printable file is completely free and walks you step-by-step through every single thing. There is even a form at the end to fill out information specific to your own home, that you can post somewhere in your house (we hung ours in the garage) when you're finished, for future reference.
And now…DATE NIGHT #2 has arrived! This date is all about house fires. I did not realize how many people have been affected by a house fire. I'm not even talking about wildfires that end up consuming neighborhoods. I'm talking about single house fires. The statistics are shockingly higher than I expected. This is a life and death situation that could happen to ANYONE.
Think this would never happen to you? Check out Melissa's story from MyMommyStyle.com. Just a normal family, in a normal house, living a normal life.
NO ONE thinks it will happen to them. Until it does. I'd rather take a couple hours to get prepared for the possibility than be regretting my lack of preparedness the rest of my life. Wouldn't you? Good! Then let's get going on Date Night #2!!!!!
If you're already a subscriber to this blog, you have received the download already.
If not, you know what to do! Go subscribe and get your free date nights!