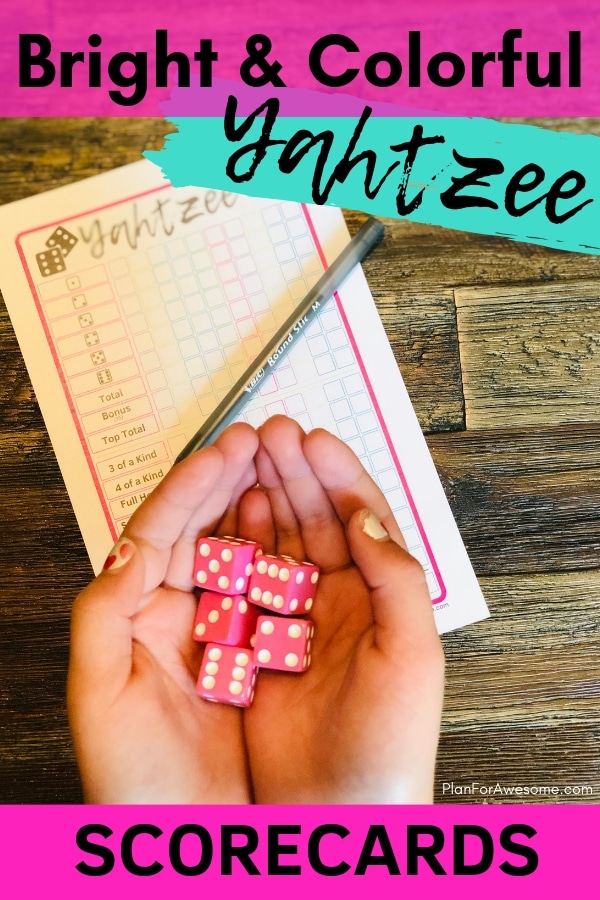 One of the best things about having kids is being able to teach them the same things that I learned and loved when I was a kid.
I'm a gamer. Always have been. I remember playing games hour after hour with my brother every summer. From the legions of faces in Guess Who to the brutal battlefields of Stratego and Risk, we played our summer days away.
One of our favorite games to rival each other in was the timeless classic: YAHTZEE! What was so cool about it was that both of us could play at the same time. In fact, I remember having competitions within competitions. Not only were we battling for the highest score, but we were also fighting to be the first one to fill out our entire scorecard (often 30 or more rounds).
We spent hours making our own scorecards on graph paper. Of course, mine were bright and colorful, spanning the entire spectrum of the rainbow. My brother's usually weren't comprised of nearly as many colors as mine, but they were just as detailed. In fact, I think I remember some instances of shading on his…
Needless to say, I am flooded with a certain sense of nostalgia every time I hear the word, "YAHTZEE!"
Yahtzee and 72-Hour Kits
As I was revamping the FUN BAGS for my kids' 72-hour kits last month, replacing rattles with Rubix Cubes and little matchbox cars with brainteasers, I was thinking of small, compact items that I could easily put in each bag. Of course! Yahtzee! You can't beat the size of dice for small and compact. It was perfect!
While even my youngest (age 6) is able to play the game, creating his own scoresheet at this age would be a challenge. So I decided to include pre-done scoresheets with the dice, so they were ready to play.
The Best Yahtzee Dice
I bought THIS PACK OF DICE on Amazon (this is an affiliate link; using my links helps to support my blogging and my family at no extra cost to you).
We have a large family and I was adding a set of dice and some Yahtzee sheets to each of our 72-hour kits. I am also making 4 new kits for wedding gifts this spring. This set of dice will cover it all. We also had plenty leftover to stick in a couple Get Well Soon Gift Baskets!
And bonus: they're COOL! My kids were so excited to see all the options when they came. They each got to pick their own set to put in their kits. It was magical.
Oh, and it gets better. This set comes with 10 dice of each color. You only need 5 dice for Yahtzee. So you can get two sets for Yahtzee out of one color. That's 20 sets of Yahtzee dice, which is less than $1 per person!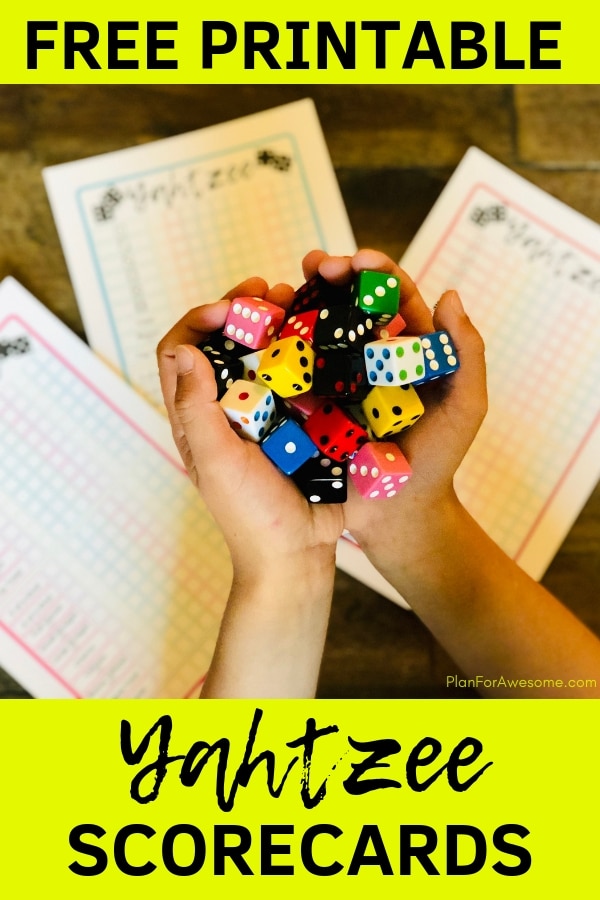 Free Printable YAHTZEE Scorecards
Here are the downloadable and printable Yahtzee scorecards, available in 3 color schemes.
**These printables are free! All I ask for is a kind follow on Instagram / Facebook / Pinterest     or a share/pin of this post.  Also, don't forget to subscribe so you don't miss another free printable like this one!  Thank you for your support!**
Here is a link to click on if you'd like to brush up on the official rules of Yahtzee. (I printed this out, folded it up, and included it with the scorecards in each 72-hour kit)
If you don't have time to print these out now, pin this post for later! Be sure to pin it to your 72-hour kit board on Pinterest, so you don't forget to include this in your kits!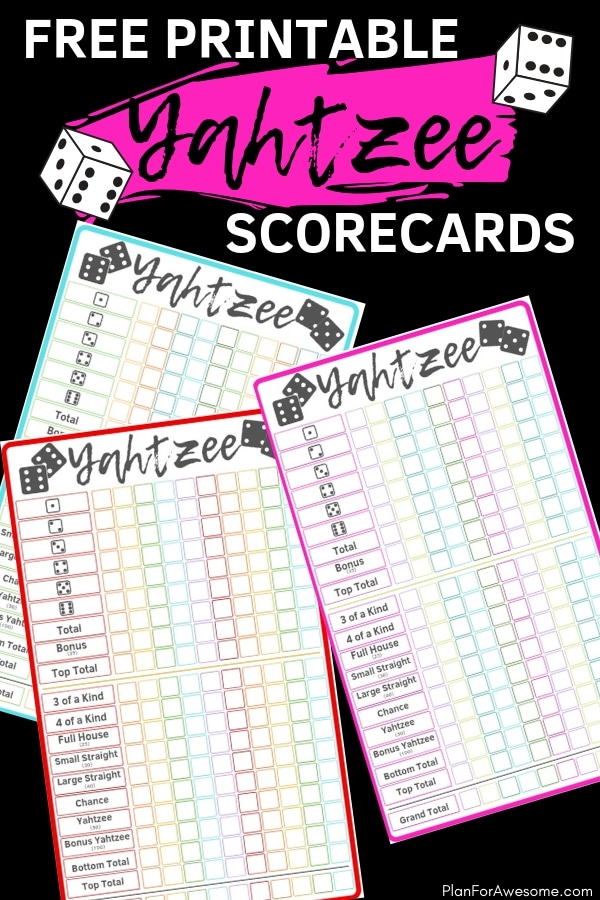 For more FREE PRINTABLES, just click on the category.
For more ideas of fun things to do with KIDS, click here.
Click here for a step-by-step guide on building your 72-hour kits (whether starting from scratch, or just updating what you already have).
And don't forget a 72-hour kit for your pets!