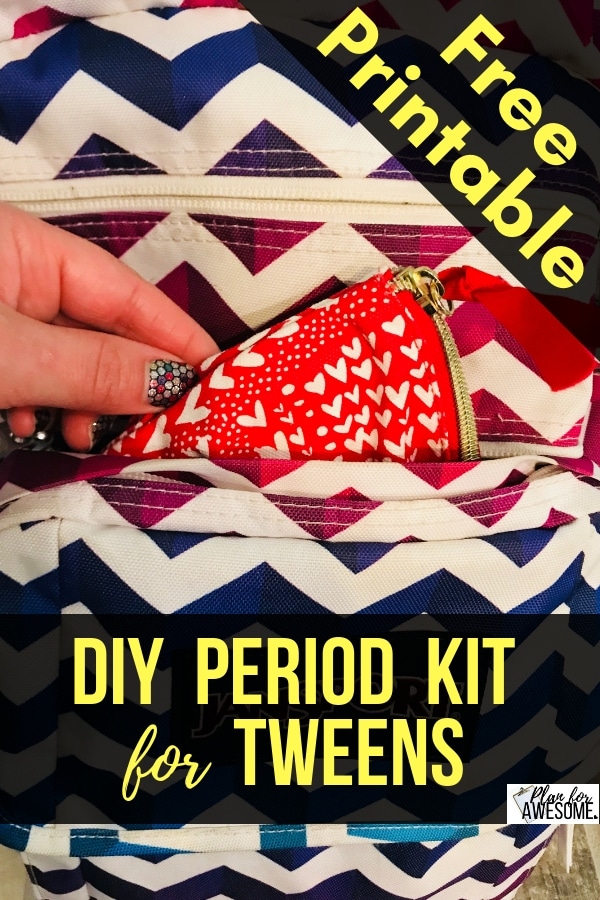 This may not be the first thing you think about when you hear the words, "EMERGENCY PREPAREDNESS," but that's why I'm here; to make sure you don't look past the little things like this.
I can think of very few things that could be worse to a 12-year-old girl than to start her period at school and not have any supplies with her.
This post is all about preparing a period kit for her backpack (and I would recommend making an extra one for her to keep in her purse or whatever she takes with her when going babysitting or to a friend's house or wherever she may go).
So…1 for her backpack and 1 for her purse. This means you will want to make 2 of the exact same kit!
Of course, what you put in there is totally up to you, but here is a list of items to consider.
**This post contains affiliate links; using my links helps to support my blogging and my family at no extra cost to you.**
1. A BAG to put it all in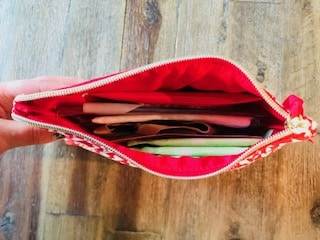 You need a little bag. This may seem like a very inconsequential purchase, but let me tell you…it's extremely important! There are so many things you'll want to consider when choosing a bag.
NOT CLEAR – for obvious reasons
Not too small – you don't want to be limited in what you can put inside the bag – don't sacrifice necessary items because you have too small of a bag.
Not too big – if this bag is too big, it will stand out, which is exactly NOT what we are going for here. You want it to be able to be shoved in a pocket in her backpack, never to be discovered or noticed by anyone. For the one that goes in her purse, size is of particular importance. You don't want her entire purse to be taken up by a huge period kit.
I got this bag because I happened to buy a bra at Victoria's Secret and they had a freebie promotion going where you got this bag and a pair of hideous one size fits all underwear with any purchase. So that's where this bag came from. The other kit I made is in a little mini toiletry bag. I swear I have at least 20 little random bags and I don't even know where they all came from. Anyway, don't think too hard on the bag. If you don't have one, just go to Target. Heck, a pencil pouch would work great! I'm just sayin'…
2. Pads / Tampons
If she hasn't started her period yet, don't put tampons in there! You'll want to broach the tampon topic at home. Stick to pads for beginners…
3. Flushable Wipes
If she wasn't expecting a period, things could be a little messy. These FLUSHABLE wipes can be lifesavers. Each box comes with 20 individually packaged wipes, meaning there are 2 boxes of 20 wipes each. There is an option for different amounts of boxes, and you save a little money the more you buy. Just to give you an idea, one box of 20 was $5.99 at Walgreens, so this price on Amazon is definitely fair. If you wanted to just put a few of your own from home in a little Ziploc bag, that works too!
**UPDATE! I just read that these Always wipes are NOT flushable??!! That's kind of crazy to me. I have flushed them before…but just thought I'd put out that disclaimer. The ones I put in the Ziploc bag are Cottonelle and they are most definitely flushable.**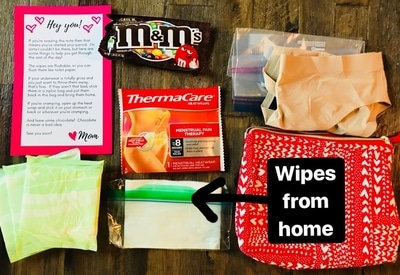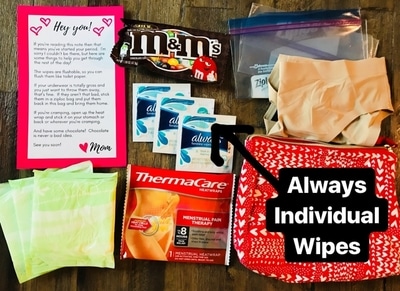 4. Underwear
There is a good chance she'll need to change her underwear, so be sure to include a fresh pair of underwear in the kit. I love the idea of these, that prevent leaks. I have researched several different brands and types, and I like these for the amount of coverage they offer. All of these leak-proof types of underwear are pretty pricey, but they vary greatly in the amount of coverage they provide. Just keep that in mind when you're looking at different brands/cuts of underwear.
5. Ziploc Bags
I say bagS because she may need a couple…if her underwear is salvageable, she'll want a Ziploc bag to pack them home in. If they are beyond repair, I say just give her the green light to chuck them. Something about packing around bloody underwear just seems demoralizing for a young girl, but maybe that's just me. If for some unknown reason the bathroom doesn't have a place for sanitary napkin disposal, she can stick her trash in a Ziploc bag and drop it in the trash can on her way out. Or if that is too humiliating, a Ziploc bag for trash would give her the option to tuck it away in her backpack to dispose of it at home. There are lots of different scenarios here, but with most of them, a Ziploc bag or two would be crucial.
6. Hand Sanitizer
Because…gross. If she already has some hand sanitizer easy accessible in her backpack and/or purse, you may not need to take up space in her period kit with this. But if she doesn't always have one in her backpack/purse, I'd stick one in this bag. Because again…you just never know. What if the bathroom soap dispensers are out of soap?!? Ew.
7. Heatwraps

While not as necessary as the other items, having a couple of these or these in there makes me feel better. I just hate the thought of my girl dealing with this in a school bathroom alone. If she's cramping, I'd like to offer some sort of relief for her until she gets home. These are super easy to use and super small. They are activated by air, so all she has to do is open it and stick it on her abdomen or back, or wherever she is cramping.
**Price note on the Thermacare ones: this link takes you to the normal-priced one. Click on the link to see what they are so you are sure to get the correct kind, but if you get it through Amazon Prime Pantry, they are way cheaper. Of course prices can change, but to give you an idea, today this 3-pack is $11.89 on Amazon. Through Amazon Prime Pantry, that same 3-pack is $5.94. Walgreens is in the middle at $7.79. We use a reusable heating pad for home, but these can be lifesavers for school and other places away from home.**
8. Chocolate
Because if she has opened this bag, she has now entered the realm of chocolate on a whole new level and it just wouldn't be right to not immediately induct her into the club.
9. This Printable Note of Encouragement From Mom
*Don't download this picture – use the PDF link below – it is wayyyyy better quality!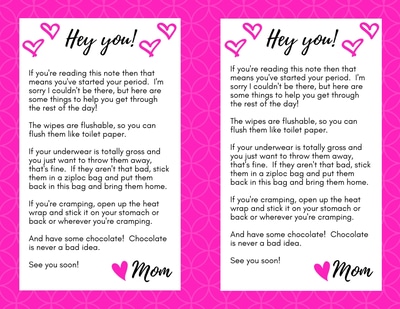 This PDF has two copies of the same note, so you can stick one in each kit that you make. Just cut it straight down the middle.
If you don't like what it says, here is a blank one for you!
**My Printables are always free! All I ask for is a kind follow on Instagram / Facebook / Pinterest or a share/pin of this post. Thank you for your support!**
A little side note…there are a few things you could have ready at home if you so desire.
Plenty of pads
Heating Pad
Midol/Advil
Tea
More Chocolate
Do your tween a favor and make these ASAP! You never know when they might need this!!! And just like with any other emergency, you don't want to wait until it's too late!
Comment below with any other tips or tricks you have for your tween daughters and their lovely time of the month.