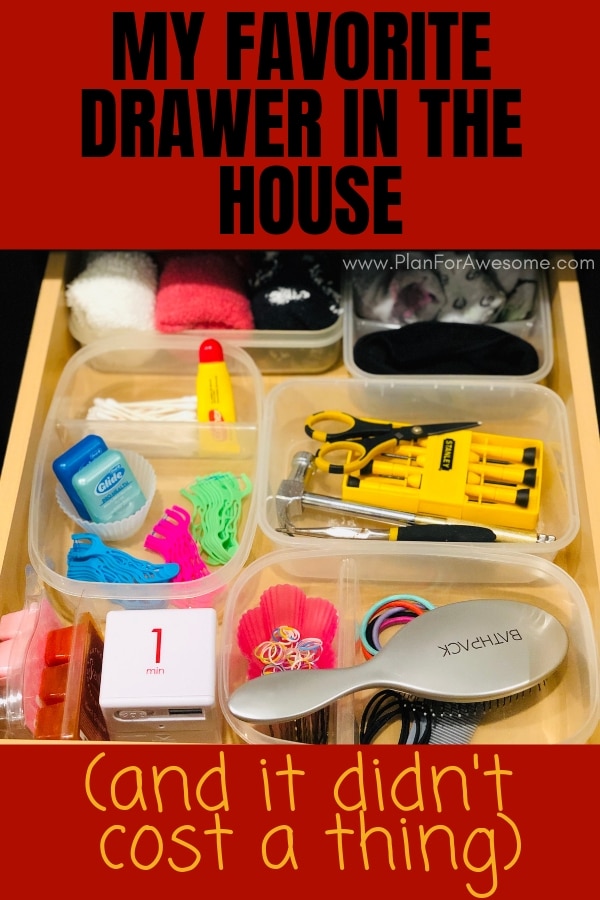 I think I spend 80% of my waking hours in the kitchen. At least it seems like that anyway. Anyone else feel me?!
I have had a really hard time feeling at home in the kitchen in our new house. We've lived here for two years now, and I am still finding solutions to make our kitchen more functional.
One thing I have done and LOVED has been to have a useful, functional drawer for a few non-kitchen-related items that I am constantly running upstairs for. I'm not talking about a junk drawer; we have one of those too. I am talking about a USEFUL drawer for the most random things you wish you had in your kitchen on a daily basis.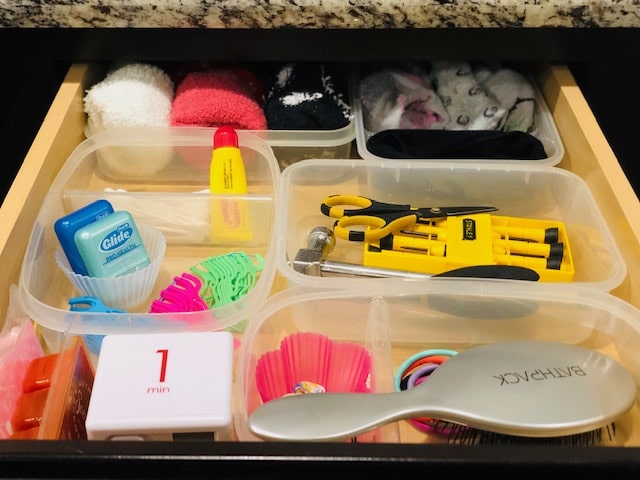 Let me explain.
**This post contains affiliate links; using my links helps to support my blogging and my family at no extra cost to you.**
Tools
It all started when I decided to get myself a little set of screwdrivers. I was sick of having to go out to the garage every time a toy needed a new battery. So I got on Amazon and ordered myself a little set that was MINE. All MINE.
This set is awesome because it is teeny tiny. Not only are the screwdrivers themselves teeny, so they take up hardly any room at all, but the actual ends are tiny, so they fit in those teeny tiny little screws in teeny tiny little toys.
Anyway, I needed a convenient place to put them that was inside the house, where I would always know where to find them. I decided to stick them in the drawer that had our placemats in it. We use our placemats about once a year, so I figured it would give that drawer a little more action.
Floss
A month or so later I decided it was time to keep some floss downstairs. I have a couple teeth that need to be flossed just about every time I eat. I keep floss in our cars and in my purse; why not my kitchen?!
The floss was not only for me, but for the kids. If they are watching a movie or a show that is going to go until close to bedtime, I usually have them brush their teeth during a commercial so if anyone falls asleep, they at least didn't miss brushing their teeth that night. Every once in a while I would go get the floss and hand them each a piece and let them floss while they were still watching. That way they could brush during a commercial and make it back on time for the show. #priorities
So I decided it would be much more convenient if I kept floss and flossers downstairs so they were easily accessible (I was used to a single story home, so these stairs have been a killer).
Hair Stuff
Then came the ponytails. I mean, what girl doesn't need a ponytail when she's cooking dinner on a hot summer day? And I swear my girls don't remember they need a hair tie until they have put on their shoes and are literally walking out the door. At that point, you can kiss them going all the way upstairs for one goodbye. So I stuck a few ponytails in the drawer.
A few months later I decided, why stop at ponytails? So I brought an extra brush (THESE are THE BEST BRUSHES by the way, and they are only $5!), a comb, and some bobby pins downstairs too. This certainly does not take the place of a bathroom for getting ready. I keep these things in the kitchen not for me, but for my girls.
I have found that the absolute best time to braid my girls' hair is while they are eating breakfast. That way they can't really complain that doing their hair takes too long, because it isn't taking any extra time (for them). Having everything I need to braid their hair right there in the kitchen has been super convenient.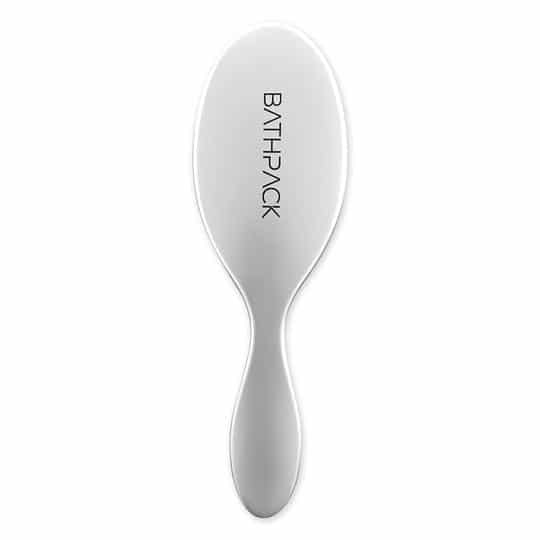 The Full Drawer Concept
At this point, the drawer was getting a little crowded. I hated getting into it because it was overflowing and everything had to be arranged just right to get it to close.
So I decided it was time to retire the placemats to a top shelf in one of the kitchen cabinets. We had only used them once in the last year, so it felt like the right thing to do.
Then I had a WHOLE DRAWER! Talk about exciting!
Use What You Have
I took some old plastic Snapware containers whose lids had busted and that I just hadn't had the heart to throw away, and used them to organize my new favorite drawer. I made a hair container, a teeth container, a mini tools container (to which I added a few things: needle nose pliers, a hammer, and some sweet scissors), and then…
Then came the socks. This is hands down the best thing I have decided to put downstairs. I keep fuzzy socks to wear around the house as well as different types of socks for different types of shoes, all in the drawer.
I can't tell you how many times I have been sitting at the computer and freezing and all I want is a pair of socks. But the struggle is real. Do I go all the way upstairs and into my closet just for a pair of socks? Nope. I'd rather freeze.
Same with socks on my way out the door. Nothing's worse than already running late, going to put your shoes on, and realizing you need to go all the way upstairs just for a pair of socks. I'll be the first to admit that I have worn flip-flops on more than one occasion for this reason.
Not anymore!
Now when I do laundry I put a few pairs of each type of sock in the pile with my kitchen towels and put them away in the kitchen.
Weird? Maybe. Functional? Absolutely.
Timer
I had a little bit of space left so I put my favorite timer in there that we use for homework all the time. Now it has a permanent home right there where we do homework every day.
I also put a couple Scentsy refills in there.
So there you have it.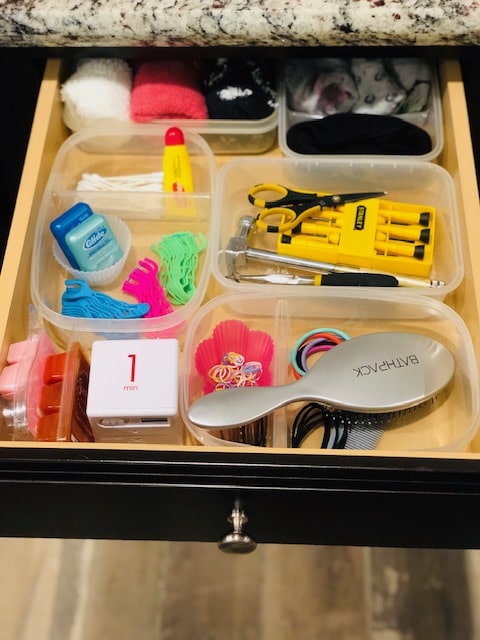 My favorite drawer in the house. I would highly recommend making one for yourself.
Take one drawer that is full of something you never use, stick it up on the highest shelf in the kitchen, and put that drawer to good use.
It will go from your least-used drawer to your most-used drawer overnight. And your life will be so much easier! Promise ♥
Yours may look a little different than mine, but that's the best part. This is your non-junk drawer. It is your highly functional, random, beautifully personalized drawer.
Here is a list of ideas for your random drawer, but really, the sky is the limit!
For more tips on how to make your life easier, check out these articles.
Plan for Awesome and Unload a Costco Run Like a Freakin' Boss
2 Must-Have Organizing Products for Your Medicine Cupboard
The ONE Thing Every Single Person Should Have on Their Keys
This ONE Travel Hack Will CHANGE YOUR LIFE – The Travel Tote