His & Hers 72-Hour Kits: A unique wedding gift idea for a newlywed couple to get started on their Emergency Preparedness. I would have LOVED to get this for a wedding gift when I got married!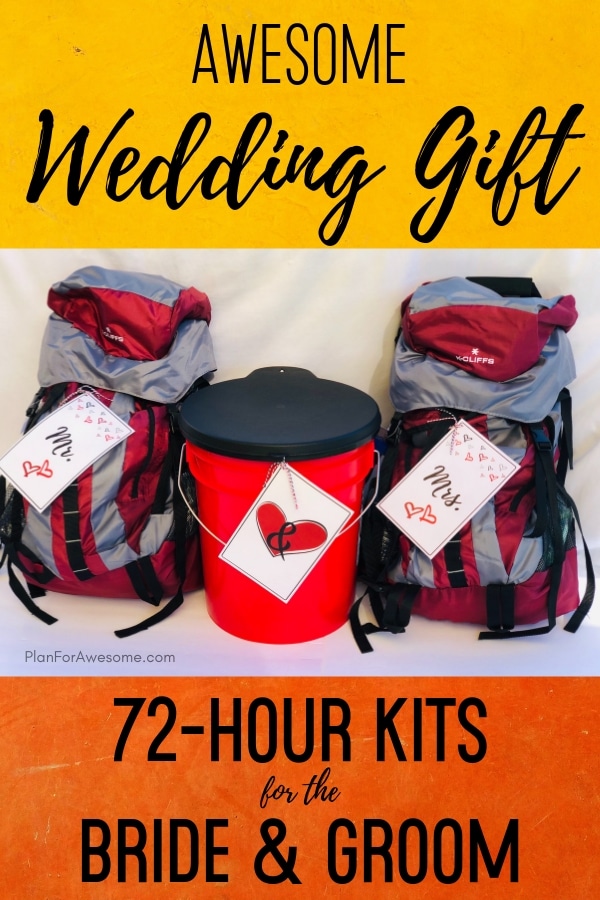 'Tis the season to get married! Between all the graduation and wedding announcements, our refrigerator looks like Christmas all over again.
And with these blessed events comes the pressure of picking out the perfect wedding gift for each of these newlywed couples. With online shopping and gift registries, it is really easy to buy a wedding gift online and call it good. But what about the extra special brides and grooms in your life?
My stepson just got married last month and my niece got married last week. We wanted to do something a little more personal than clicking "Place Your Order" on Amazon and having a gift delivered to our doorstep. Or even worse, their doorstep. How impersonal can you get? Don't get me wrong. I'm not judging. I have done that for plenty of wedding gifts. But when it's your own kid, or someone who means the world to you, you want the gift to be perfect. You want it to come from the heart, but you also want it to be useful. And toilets are useful.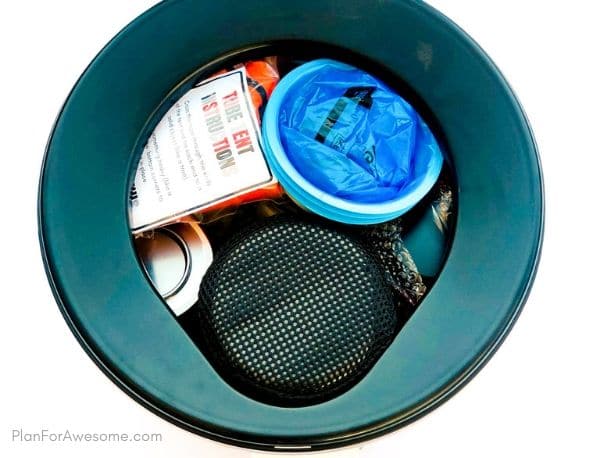 As I have been focusing so much of my time these past few months on helping families get their 72-hour kits put together, it hit me. What newlywed couple has the time or money to put these kits together for themselves? I can't think of many. They are expensive, time-consuming, and incredibly overwhelming. This type of project doesn't scream NEWLYWED MATERIAL to me. But it is just as important for them to have these kits as it is for a seasoned family of 9 to have them.
I am going to refer you to my post, 72-Hour Kits for Adults, for links and lists of things to pack in the kits. That's where you will find all the instructions on building these kits.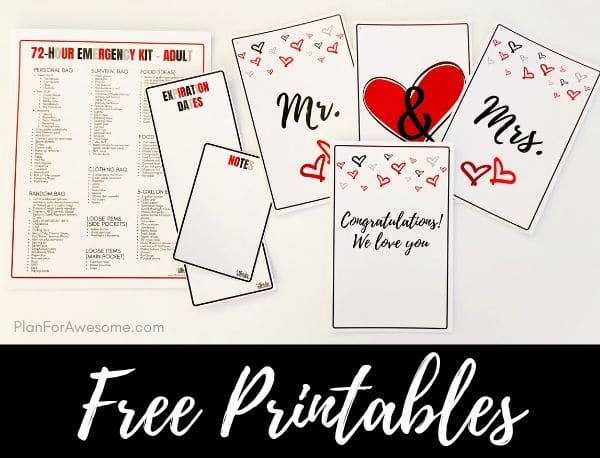 Today I just wanted to share some cute free printables to go along with the kits if you're going to use them as wedding gifts.
I designed them to each take up a half-sheet of paper. I wanted them big enough to stand out on the backpacks and bucket toilet seat.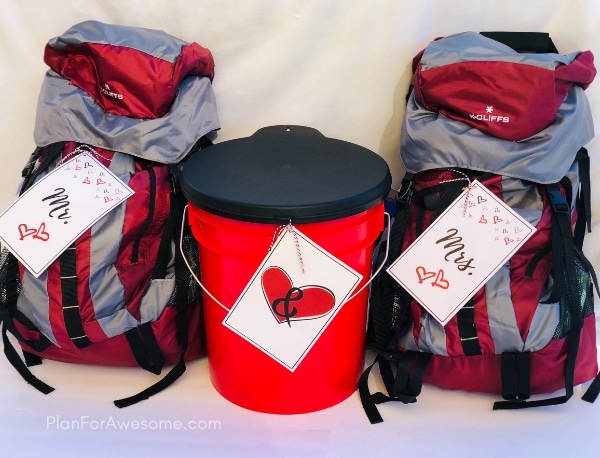 I also packed things a little differently and changed the checklist a little bit from my original Adult 72-Hour Kit List. For instance, for a newlywed couple, I decided they only needed one "Random/Fun Bag" between the two of them. So only one of them has that bag in their pack.
I also combined some things and packed a lot of stuff in the bucket that can be for both of them.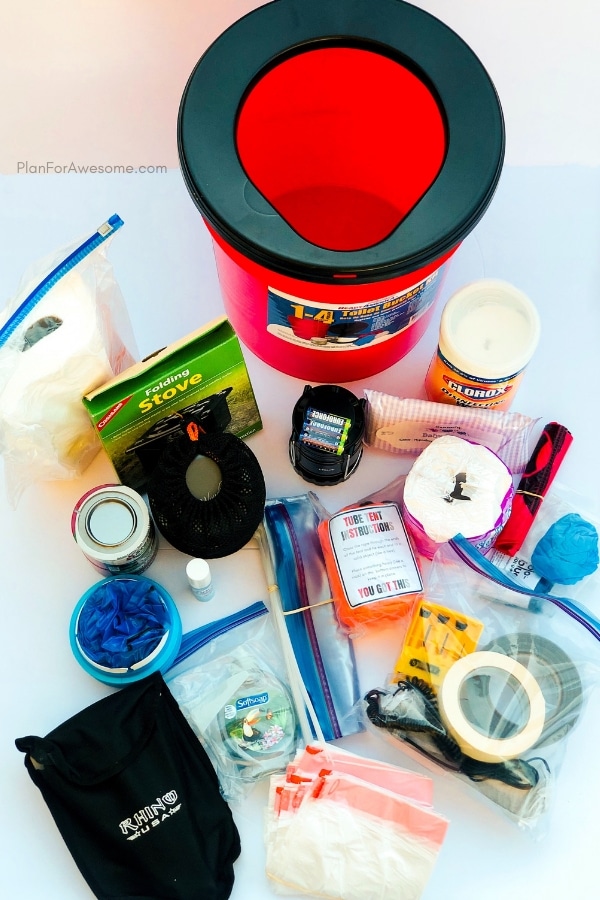 So I am also providing the printable list that I tweaked to match the kits I gave as wedding gifts, in case you don't want to use the original list I provided in the other post.
On the note page (the one that says "Congratulations! We love you"), I explained that I had not included some things in their kits. Some things weren't possible for me to include (many of which were in the Random Bag…like copies of important documents, etc). So I included the printable checklist in the packs, and put checkmarks next to each thing that is in the pack. That way they know what they should work on adding to their kits as time and money allow.
Well, that's it! Grab your free printables below, and for links of different things I put in the packs, see 72-Hour Kits for Adults.
**These printables are free! All I ask for is a kind follow on Instagram / Facebook / Pinterest or a share/pin of this post. Also, don't forget to subscribe so you don't miss another free printable like this one! Thank you for your support!**
By the way…feel free to use these tags for something else – I can't think of anything off the top of my head, but I'd love to hear if anyone uses these for something different than I intended them for. If you'd rather pin them just as free wedding printables, rather than associating them with 72-Hour Kits, here is a pinnable image for ya ❤️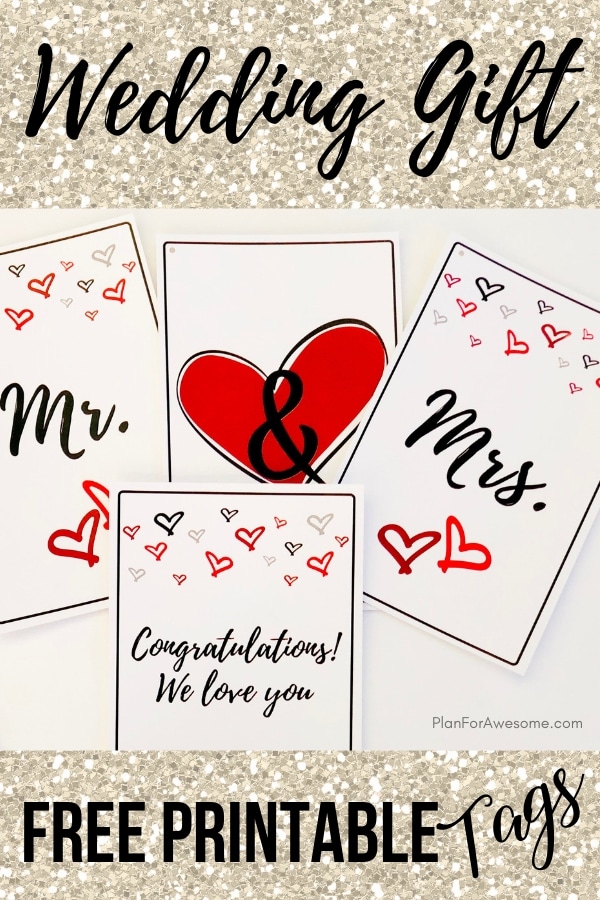 To get help with building 72-hour kits at a slower pace, check out A 16-Week Printable Schedule to Actually Finish Your Family's 72-Hour Kits.
Looking for ONE resource with ALL the things you need?
If you want a step-by-step guide that walks you through every single step of building your 72-hour kits, from preparing a functional space to store your 72-hour kits, all the way through to a rotation guide for when they're done, click here. This is a COMPLETE GUIDE to 72-Hour Kits for families. And when I say complete, I mean COM-PLETE! It is kind of insane how much I put into this thing. No more having to come back to the website, or subscribing and finding your free printables in the resource library, and clicking around the website. This is ALL in one spot. One PDF with all the kid tips, budget tips, pretty much every tip/hack imaginable with 72-hour kits. It comes with 25 supporting printables that are updated and amazing. This guide takes you through all of the steps in the schedule I outlined above, and more. Much more. Click on the picture to learn more and even see sample pages 🙂