Use this free printable checklist to build your Home First Aid Kit for your family. This article has helpful tips for making a first aid kit, medical product comparisons and links, and free printable labels for your family first aid kit!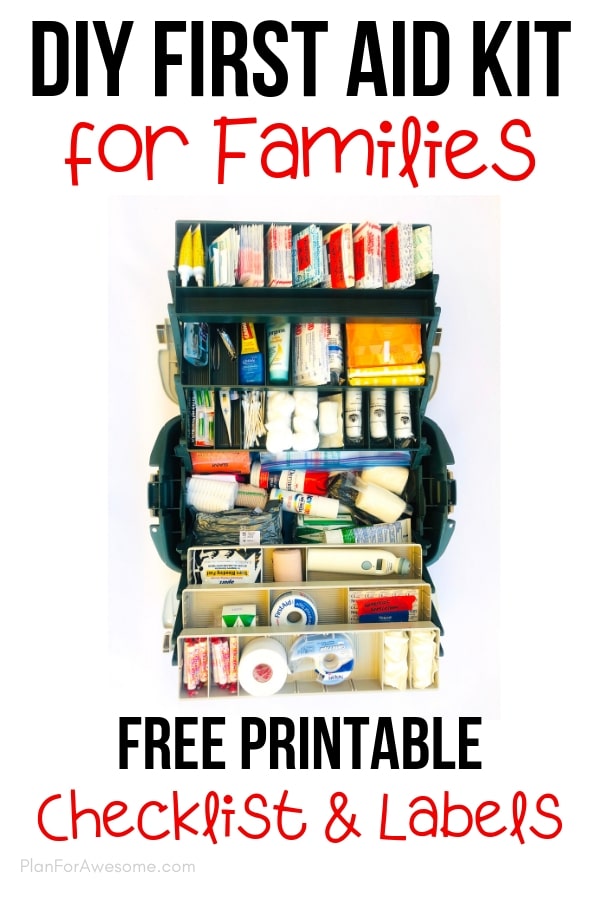 Why Have a First Aid Kit in Your Home?
Having a first aid kit in your home is SO IMPORTANT for so many different situations. I'm talking about a little more than a box of band-aids and a tube of Neosporin, although those things are great. I'm talking about all the other stuff. The alcohol pads to clean cuts with, the gauze and tape, ACE wraps, gloves, splints, trauma pads, etc.
I realize that if something requires more than a band-aid, there's a good chance you'll be going to the Emergency Room. And they have all that stuff, so why do we need it in our homes?
Because we should be prepared for emergencies. What if something is so severe that it can't wait for the ER? What if someone gets injured during a major earthquake (or other natural disaster), and it is impossible for you to get to the ER?
It is ALWAYS a good idea to be prepared with a few basic things, just in case. I'd rather spend a few bucks on Amazon and know that we are prepared and equipped to handle a few things on our own if the need arises.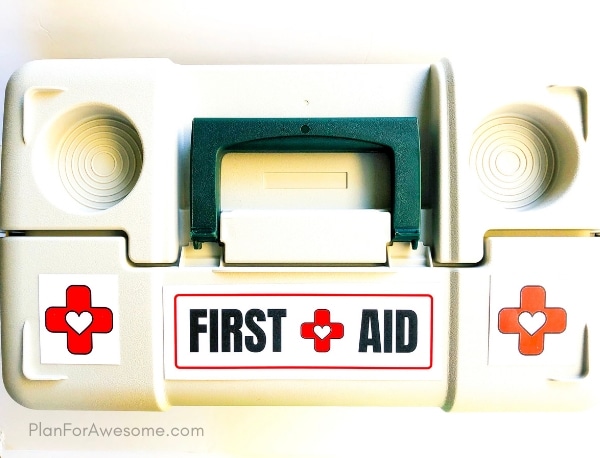 **This post contains affiliate links; using my links helps to support my blogging and my family at no extra cost to you.**
Where Should You Keep Your First Aid Kit??
You should keep your first aid kit somewhere that is:
Cool
Dry
Easily accessible for all family members
The cool and dry part is to keep all of the stuff inside the kit functioning how it should. You don't want things to lose their stick or dry out or lose their potency due to temperature or humidity.
Keeping your kit in an easily accessible location in your home is SO DANG IMPORTANT! If you have the need to access anything in this kit, chances are you will be in a BIG HURRY! You don't want to have to dig around looking for it, or have to move a bunch of stuff to get to it.
You also want to make sure all family members can get to it. If a child is severely injured, you want to be able to send another child to get the first aid kit for you! Also don't rule out the possibility that it may be you who is the injured one and you may be unable to get it.
Some Tips Before You Get Started on Building Your First Aid Kit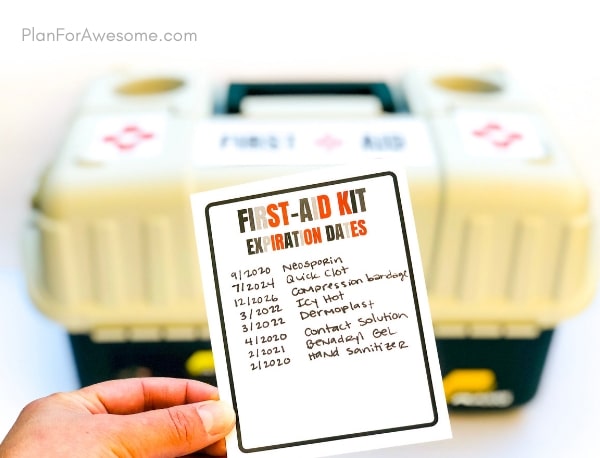 Expiration Dates
Just as I suggested with your 72-Hour Kits, it is really nice to have a list of expiration dates of all the items in your kit handy. I have included a space for you to keep track of expiration dates on the printable list of items. Just jot down the item and its expiration date as you collect things and put them in your kit. That way you can check your list periodically and replace things as needed, without having to empty out your whole kit to look at all the expiration dates.
Backup Items
To keep the size of your first aid kit down, you will only want to put a few of each item in your kit. However, it often makes sense to buy things in bigger quantities. I have an overflow tote where I keep all of the extras of things from our first aid kit. That way I don't have to cram every single bandage or alcohol wipe into its designated compartment. I have plenty for one (or more) incident(s) in our actual kit, and then I can restock our first aid kit from our backup tote.
What Should You Pack Your First Aid Kit In?
I have struggled and struggled with this one. I am still in shock that I haven't been able to find a box that does exactly what I want.
I had ours in a duffle bag for years, but I hated how unorganized it was. I often resorted to dumping the whole bag out all over the living room floor to find what I needed. That was not productive.
All the boxes I've found that are specifically for first aid kits are too small, or don't have enough compartments. They just don't hold enough stuff! I also don't like how a lot of them have a removable lid and/or tray – I want it all to be contained in one thing. I don't want any loose lids or loose pull-out compartments.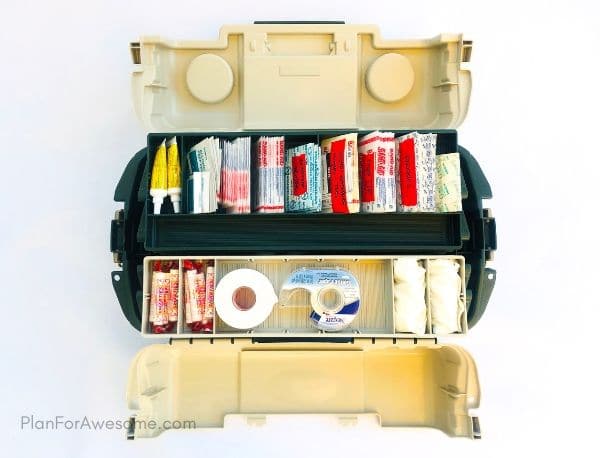 I resisted the tackle box idea for years, but finally succumbed to it, and I have been pleasantly surprised. It's not perfect, but it's the best thing I've used thus far. The teeny tiny compartments are definitely annoying, but I found a way to make them work, and I don't have too many things in the big bottom section. Sure, I'd like for the big bottom part to feel a little more organized, but there's only about 10 items in that section, so there's not much to dig through when it comes to finding something down there.
I actually ordered 3 different tackle boxes on Amazon so I could compare them and narrow in on what type worked best.
Here is a video showing the pros and cons to each of them. I've linked to each of them below the video.
This is the first tackle box in the video (the one with drawers) – my least favorite of the 3.
This is the second tackle box in the video (the one with drawers that turn into an expandable compartment thing) – not sturdy enough for my taste.
List of Items to Include in Your Home First Aid Kit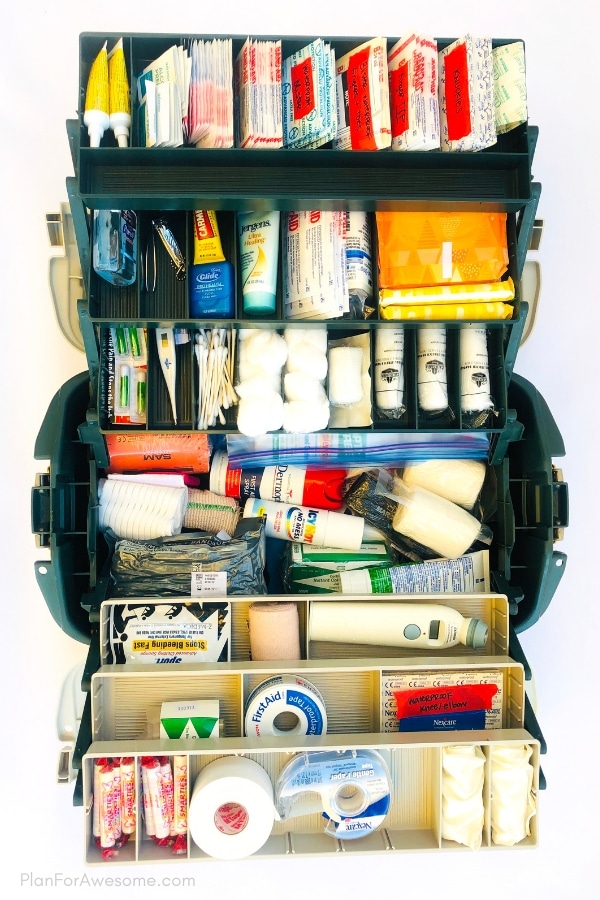 No one can tell you exactly what to put in YOUR first aid kit. But here is a list of things that I am comfortable with having in mine. These are the things that I feel are worth the money and make me feel better prepared to handle emergency situations with all of these humans in my family.
Hand Sanitizer
Gloves
Assorted Band-Aids including Knuckle Band-Aids – these things are so cool! Do you have them? I use them all the time now.
Steri-Strips – these function like butterfly band-aids.
Liquid Bandage (or superglue)
Contact Solution – this is basically just a saline solution and it comes out fast. This is a great way to clean out a wound quickly!
Cotton Balls / Q-Tips
Scissors – at the very least, a pair of normal scissors is essential. But if you are going to buy a pair of scissors, Trauma Shears are great because they act as normal scissors do, but they also have the blunt, rounded tip to be able to cut clothes off quickly in an emergency.
Nail Clippers & Tweezers
Floss
Coband (Self-Adherent Cohesive Tape) – this is the stuff they wrap around your arm when you give blood to keep the cotton ball in place. And this link is to a pack with assorted fun colors 🙂 I've never thought to get some of this for my house, but I will say, it's been a convenient little thing to have here! Instead of using a big (and expensive, since the bigger the band-aid, the bigger the cost) band-aid, put some gauze on it, wrap some of this around it, and you're done. Not only is this a cheaper option, but then you don't have to deal with trying to get a band-aid to stick in an awkward place, and you don't have to deal with ripping the band-aid off. Kids love the fun colors, so this option is just as fun as putting a Star Wars band-aid on their owies!
Dermoplast – antiseptic / pain relief spray
Burn Cream / Burn Jel
Plastic Bag – for trash or for puking (I bought a pack of these and split them between our first aid kits, our cars, our 72-hour kits, and our travel tote.
Lollipops – for the victim, of course
Sam Splint – these things are awesome. They are sturdy and pliable and can be bent to conform to any arm or leg you would need to build a splint for. You can roll them up and store them in a small, compact space, and they are re-usable too! For $10, I love the versatility of this!
Sling – I haven't purchased any slings – I have just always kept whatever stuff my kids get from the doctor over the years. We have some crutches, a boot, a few slings, a splint, etc. ?
CPR Mask – this isn't just so you don't get cooties from the person you are doing CPR on. These actually have a more functional purpose that most people don't realize, and make the rescue breaths you are giving much more effective. These little guys create a seal around the recipient's mouth that is really hard to do effectively with your own mouth. They also have a handy valve that prevents anything from going into your mouth (including vomit). So while these are not necessary, they are great to have in your back pocket, should the situation require CPR.
Compression Bandage – this is pretty much like gauze and an Ace Bandage all in one. If you have a large wound you need to cover fast, this is my favorite option. This link has a 4″ option or 6″ option. If only getting one of the sizes, I would go with the 6″ because it would cover a larger wound.
Celox – this is a great and safe way to stop the bleeding in an emergency
Diapers/Pads – these are designed to absorb fluids! And they are a lot cheaper than trauma pads.
Tampons
Vent Chest Seal – I know this one may be a little over-the-top. But when I was researching first-aid kits, I came across this, and then my mind went to the worst. What if someone was shot or stabbed? This could save their life. This little contraption prevents airflow into the chest cavity during inspiration while allowing air to escape through the vent channels during exhalation. Kind of amazing. I just decided that for under $20, I'd like to have this in my kit. Just in case.
Acetaminophen
Orajel
Allergy Medicine (like Benadryl)
Anti-nausea
Anti-diarrheal
Cold Meds
Antacid
Cough Medicine / Drops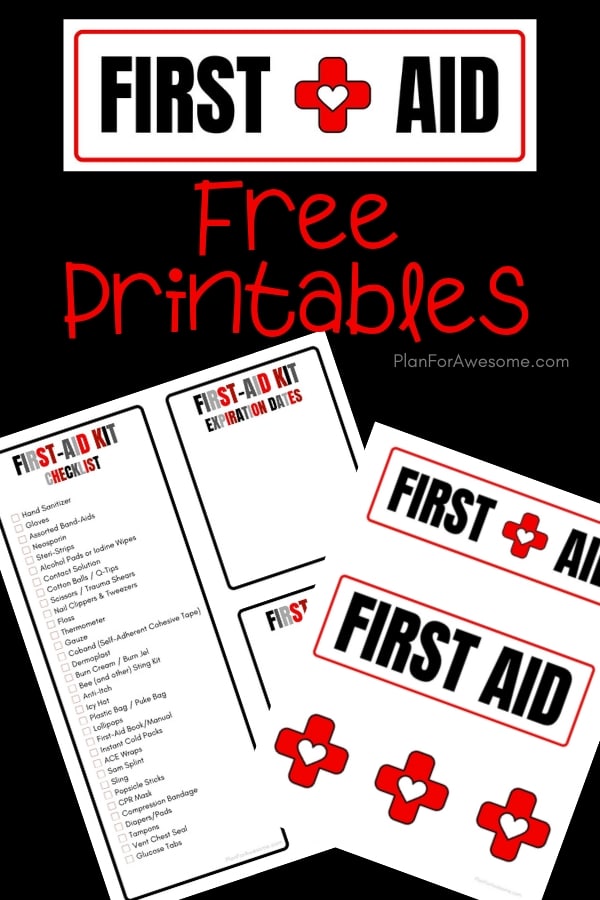 To download your free printable checklist, expiration date tracker, and notes section, as well as the cute little labels to put on your tackle box or whatever you put yours in, all you have to do is subscribe to this blog (it's free!), and the printable PDF will be on the confirmation page. Subscribing to this blog gives you access to free printables that are only available to subscribers. You will also receive occasional emails (just from me – no one else) that will no doubt help you on your journey to preparedness, so it's a win-win! ♥ Scroll down to the bottom of this page to subscribe and get your free printable. If you are already a subscriber, it is available in the Resource Library that is linked in every email.
I hope this has been helpful to help you put together your very own DIY first aid kit for your home and family. Comment below with anything I've missed!
And don't forget to pin this on Pinterest for others to see!