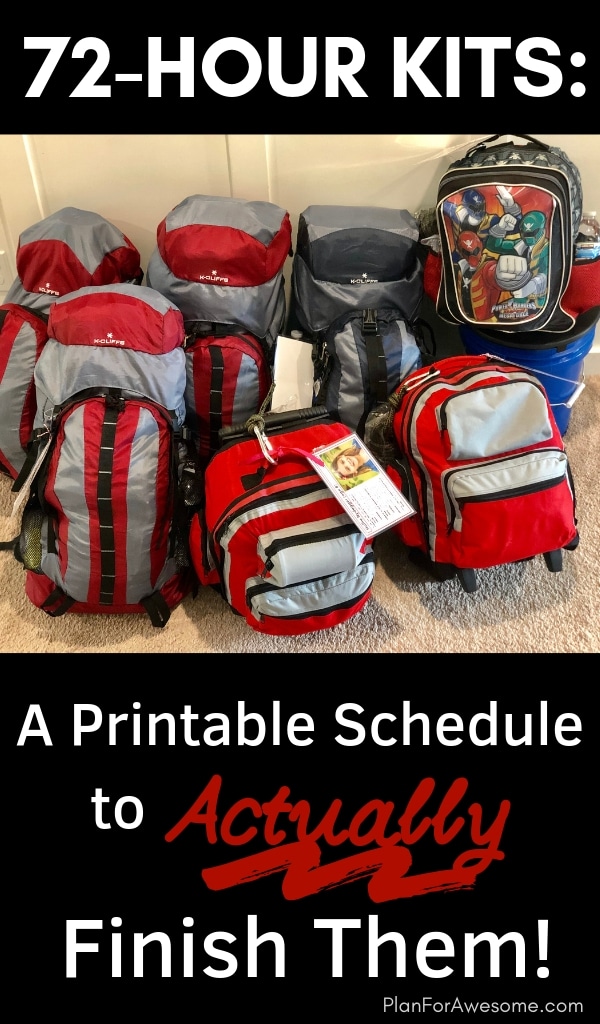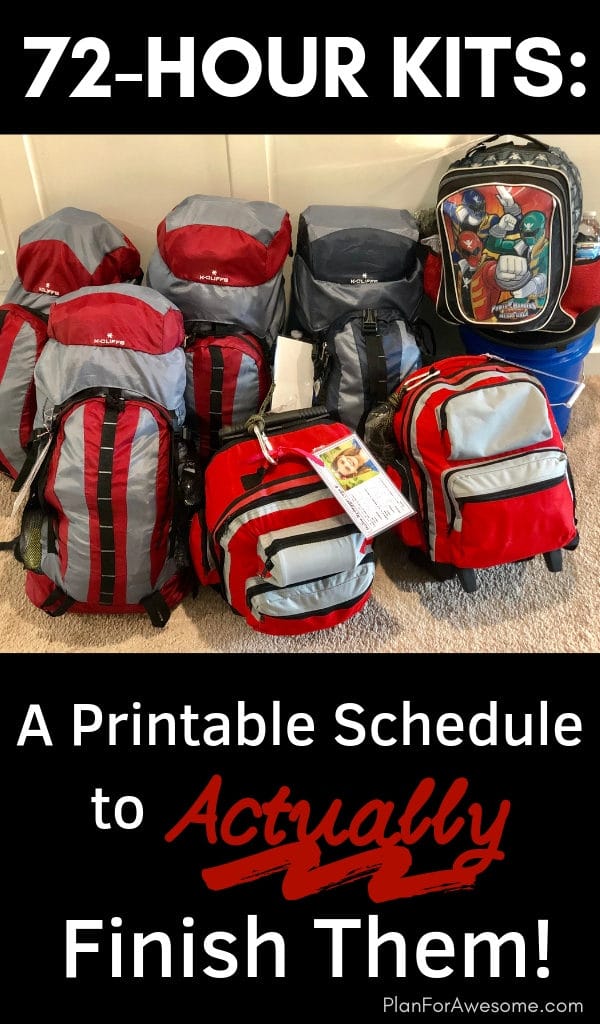 Most people see the value in having 72-hour kits for their families, but putting them together and actually finishing their 72-hour emergency kits is another story.
This is Part 6 of 72-Hour Emergency Kits for Beginners. We have covered all of the major components of a 72-Hour Emergency Kit in the previous steps, with lots of tips, tricks, organizational suggestions, and printable checklists.
But what if you are starting with nothing? What if you have never even attempted this massive undertaking? If you have read Parts 1-5, you are probably a bit overwhelmed by now.
When I started this blog, my main objective was to be able to REALLY HELP people who were overwhelmed with things like this. I love making lists, breaking projects into steps, organizing tasks logically, and most of all, I love the sense of accomplishment when all of those things pay off with a beautifully executed finished product.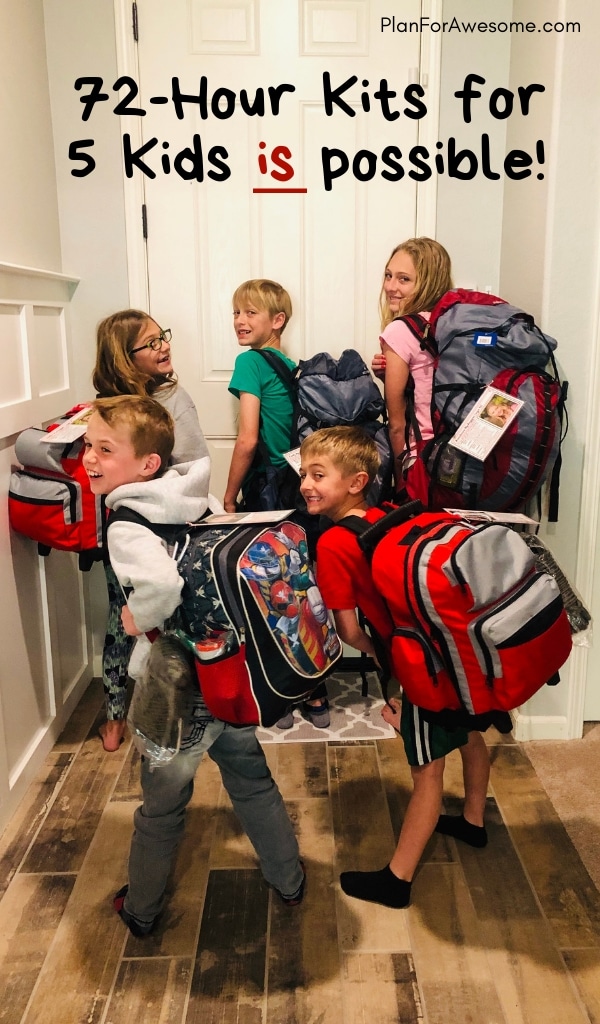 So I decided to make a structured schedule for people to be able to use to actually start AND FINISH this vital task. I broke this process into weekly tasks to span the course of 16 weeks, or 4 months.
If that seems like too long of a timeframe for you and you think you may get burned out and not finish, then you can work quicker than this schedule. On the other hand, if the weekly tasks in this schedule are not feasible for you to complete in one week's time, do each week's task in order, taking as long as you need.
The most important thing is that you start and eventually finish.
**This post contains affiliate links, which means if you click on a link and make a purchase, I may make a small commission at no extra cost to you**
**IMPORTANT NOTE BEFORE YOU BEGIN**
It can be very frustrating to have random stuff laying around your house all the time. So once you have completed a step, put it away. This is important so you don't feel like your life is being taken over by this overwhelming project. Do your task for the week, celebrate, put it away, and move on with your life!
The 16-Week Schedule to Actually Finish Your Family's 72-Hour Kits
Week 1: Prepare Your Space
We hardly have any storage space in our house. It's one of the things that drives me most crazy about this house. So we decided to turn our coat closet into our Preparedness Closet (plus a vacuum and a steamer, because we didn't have anywhere else to put them).
To make this work, we emptied out our entire coat closet and my husband installed 4 crazy strong hooks at the very tippy top of the closet for our 4 large backpacks to hang on. This allows us to utilize just about every square inch of the closet up to the far corners. The younger 3 kids' backpacks fit on the top shelf underneath the hanging larger packs.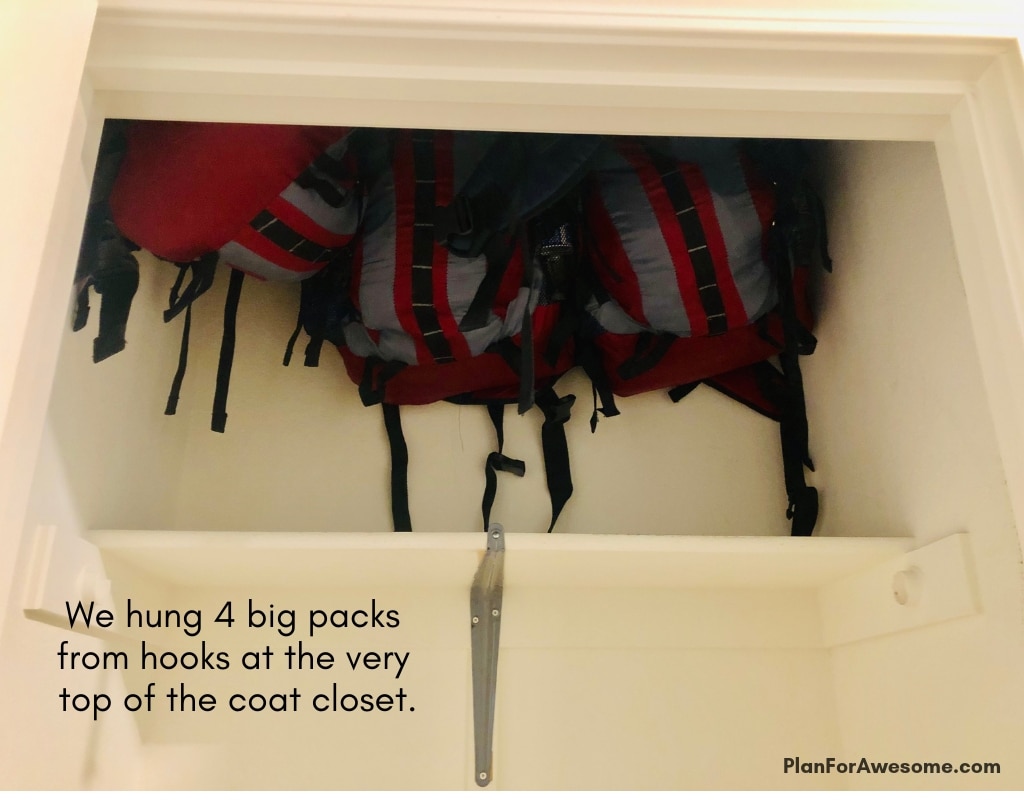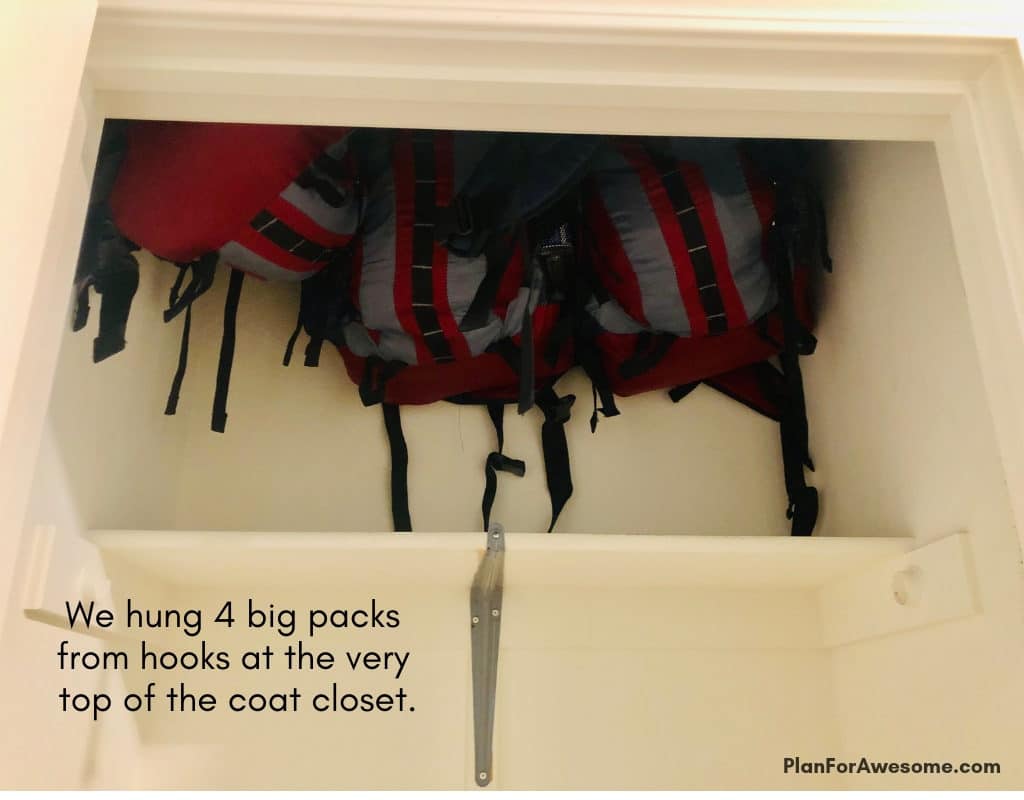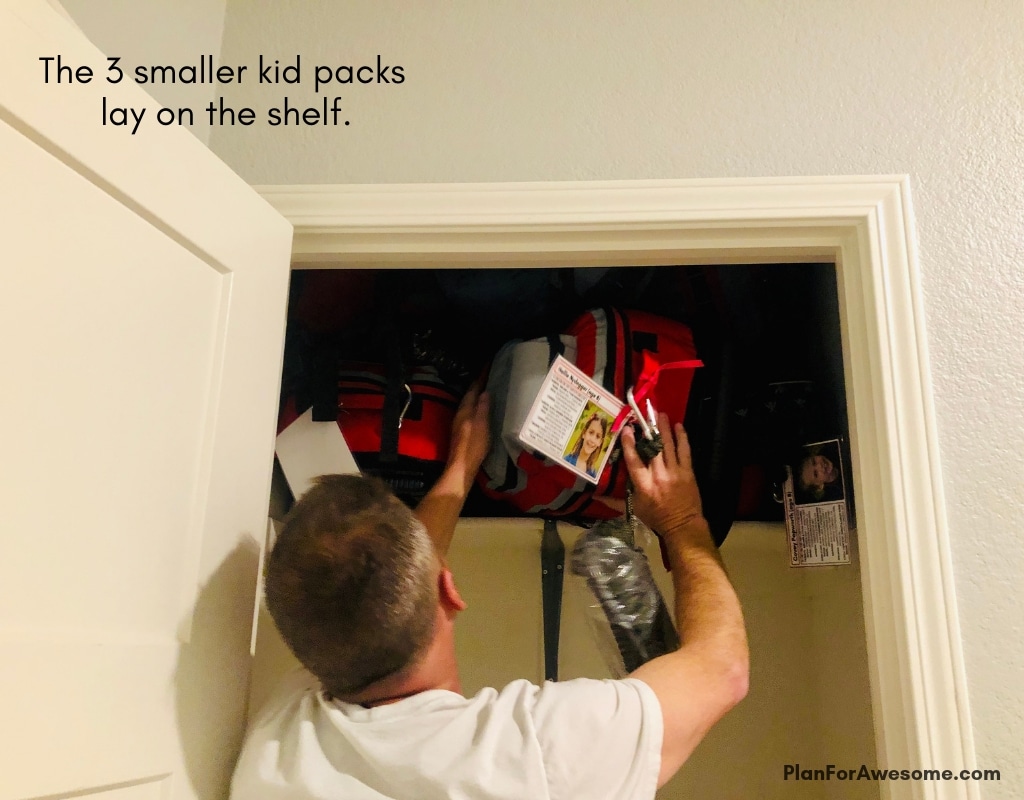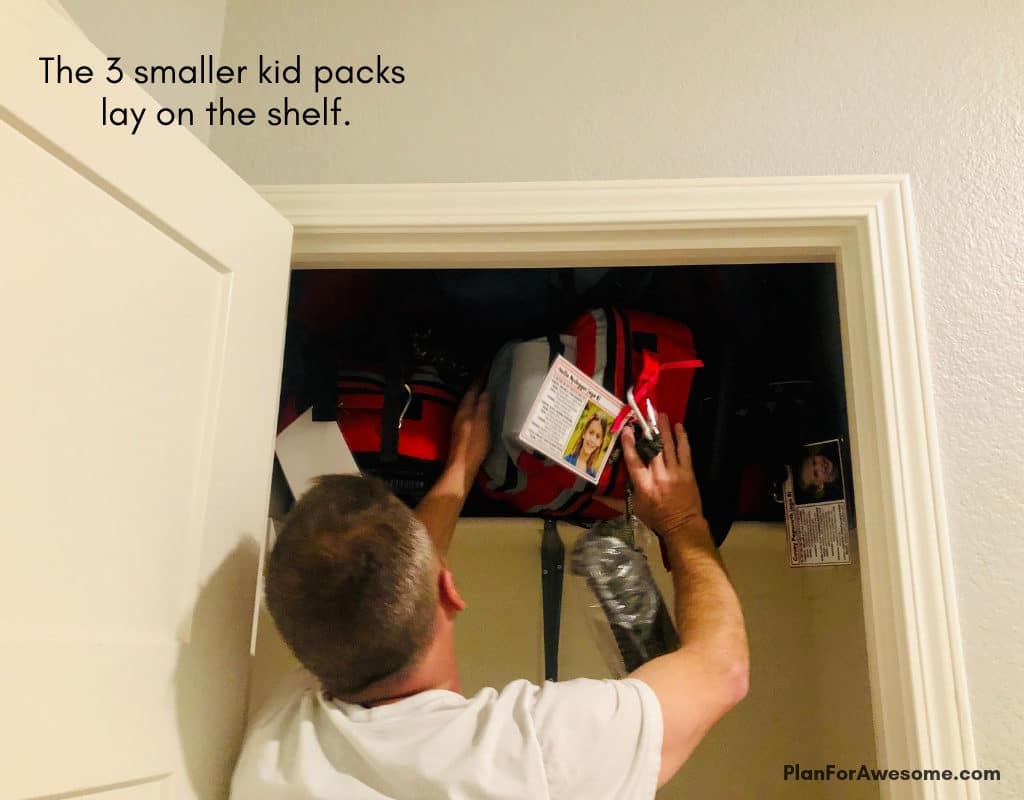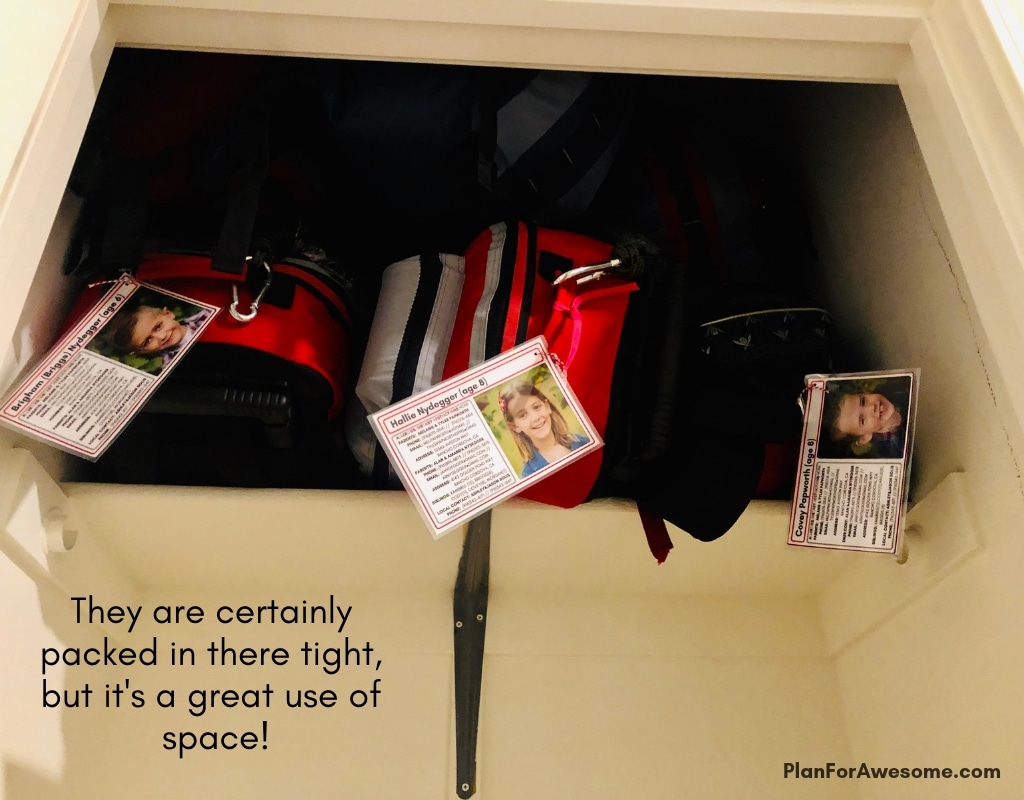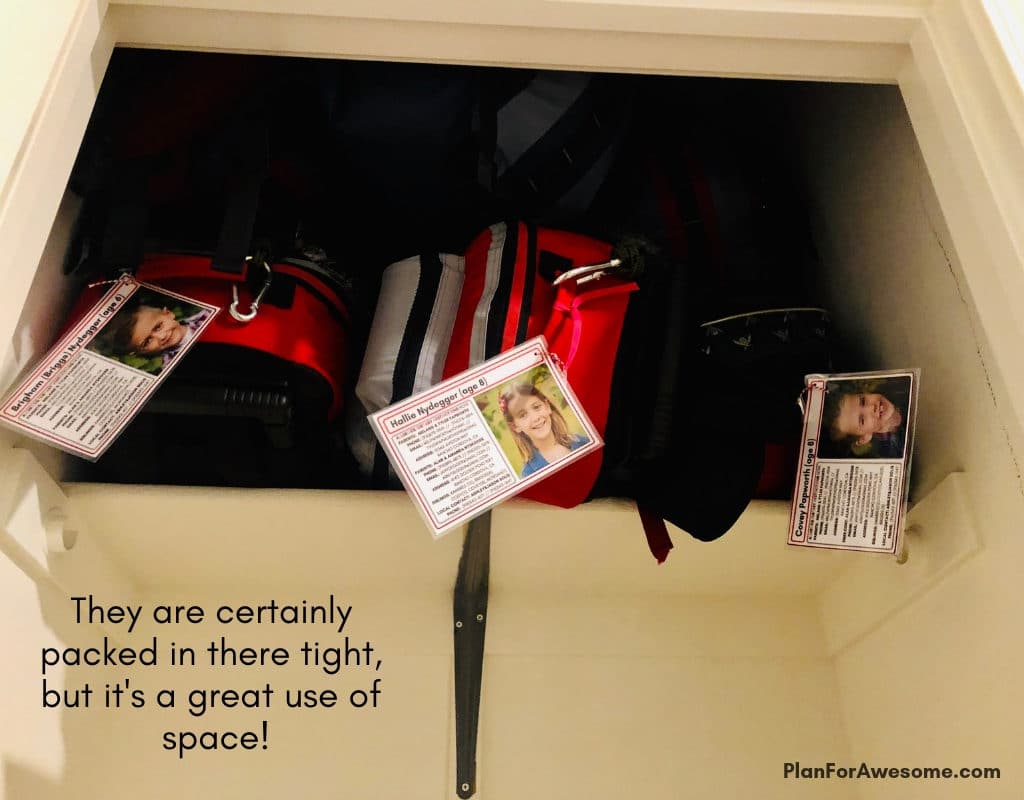 Then my husband put up a simple shelf (found a piece of scrap wood and painted it white) to extend about halfway across the closet, since I wanted a ladder inside the closet. This shelf is large enough for our toilet bucket, First-Aid Kit, food bag, and Grab List bags.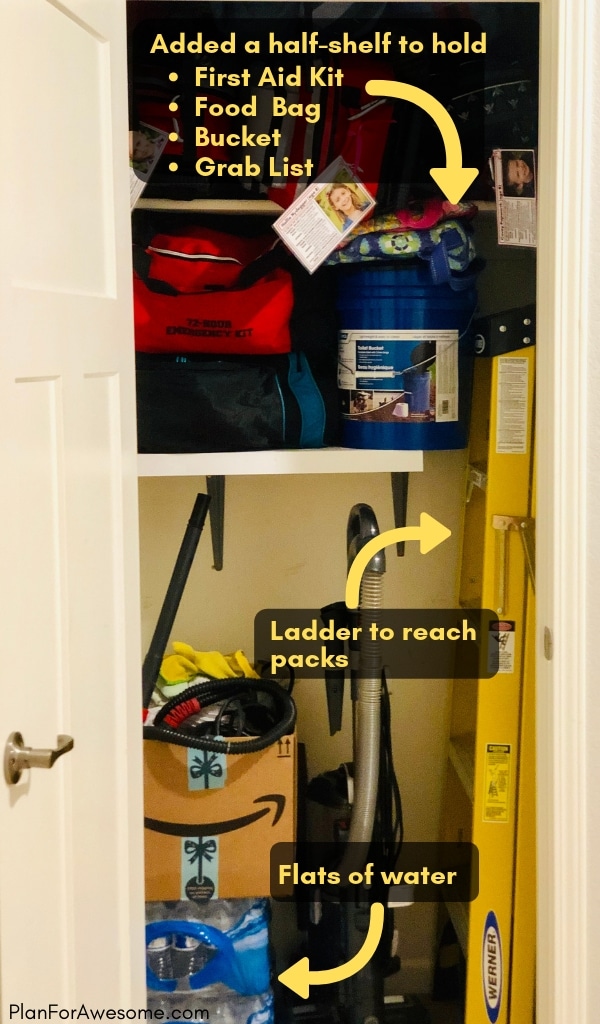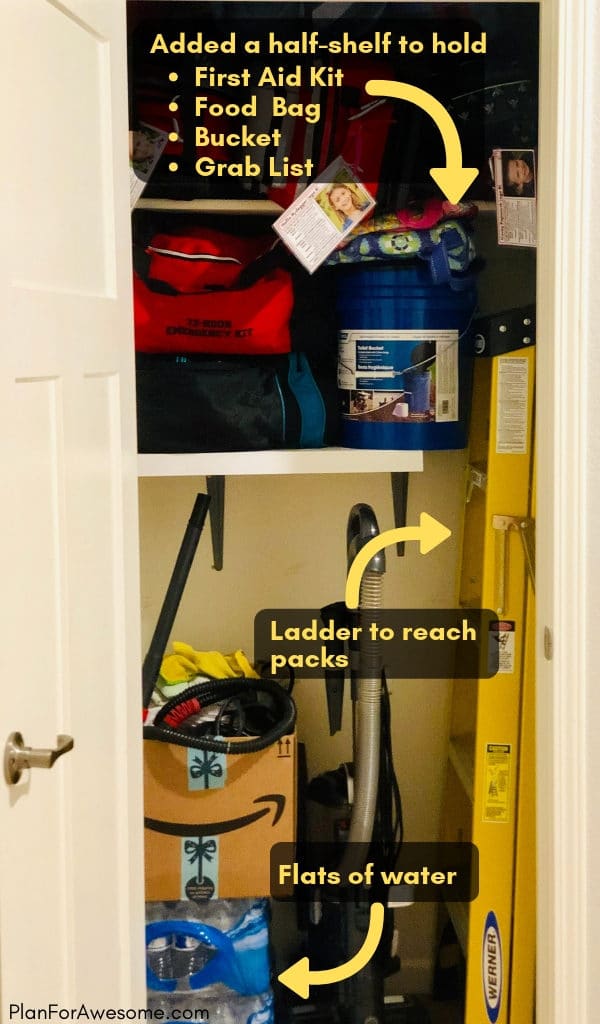 Then we put a few flats of water underneath our steamer, and the ladder on the side. Do I love it? No. Does it work? Yes.
Determine a place in your home where you will keep your entire family's 72-Hour Emergency Kits and Grab List.

It is best if you can keep these inside your home because things like medicine and food can be affected by extreme temperatures.

Do whatever is necessary to empty/prepare that area in your home. Whether this means cleaning out a closet, building shelves, purchasing shelving, purchasing hooks to hang things, etc, get it done!
Week 2: Decide & Purchase What You Will Pack Your Kits In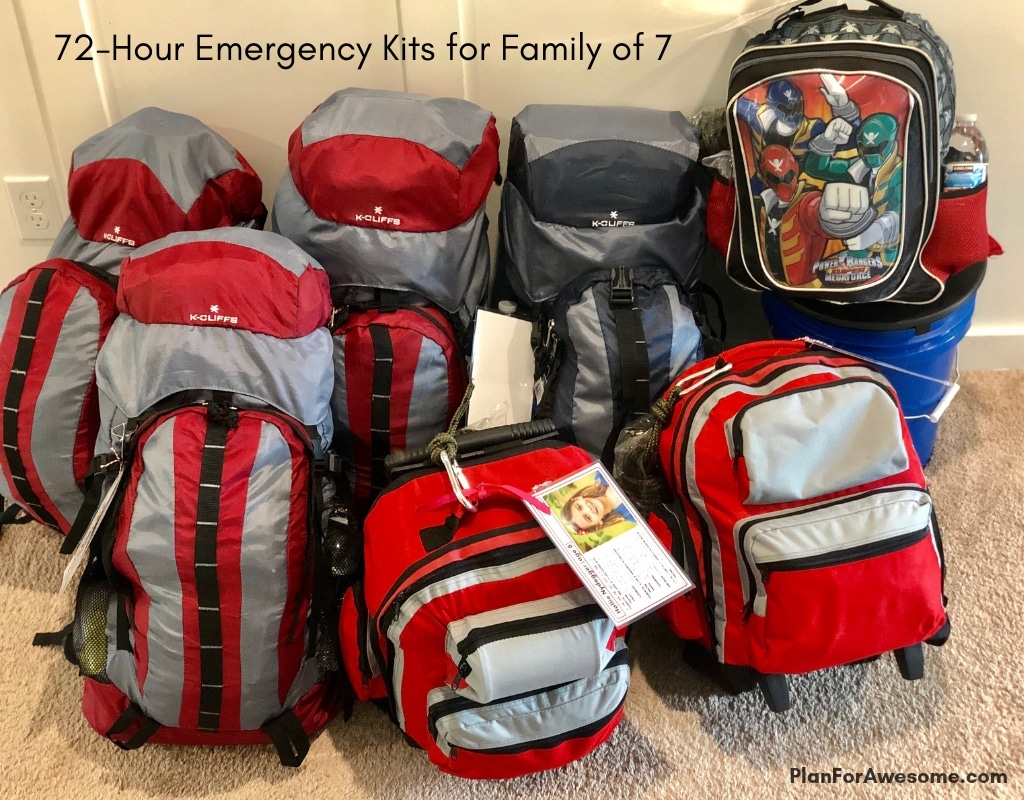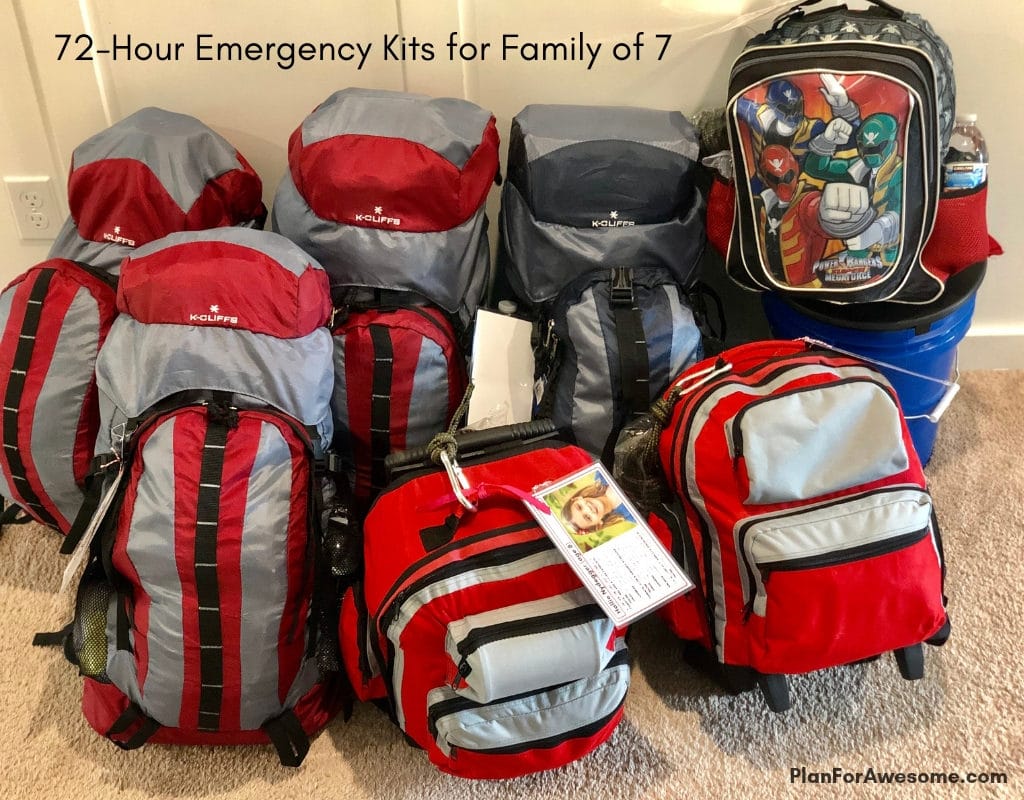 Decide what you will pack your family's kits in. The most common things to pack individual kits in are backpacks, but if that doesn't work for you, then decide what makes sense for you and your family.
Purchase/order/acquire whatever "things" you will be packing "in."

Don't worry about your pets yet. Just people here. If you are pregnant, include your future baby in this entire process.
Money-Saving Tip: use old backpacks, buy backpacks at garage sales, thrift stores, or post on Facebook.

Label each person's pack (or other container) with their name. If you purchased brand new packs, just write their names on the tag. It doesn't need to be fancy – it's just a way to keep them straight for now.
Put the packs in your prepared space in your home, so you don't go crazy having these packs lay around your house all week. Once you get them, put them away.
Week 3: Ziplocs and Sharpies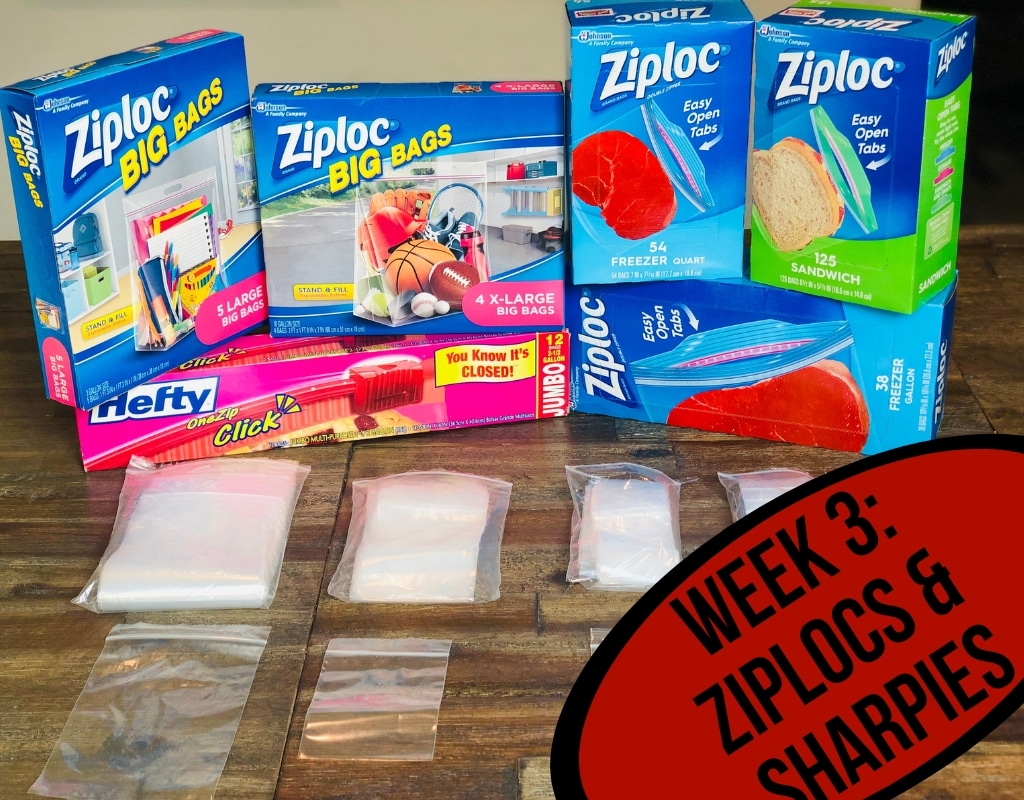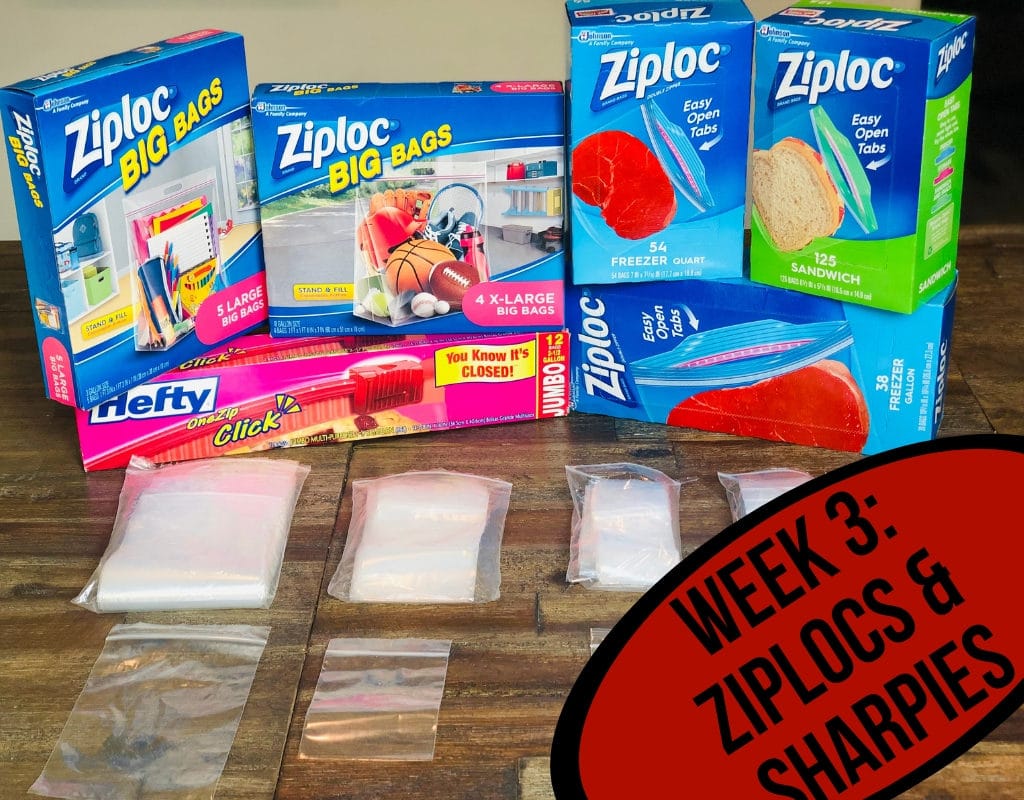 Week 1 and 2 were quite possibly heavy in the money category, as well as time. So this week is easy and cheap.
Purchase at least one box of gallon-sized Ziploc bags and one box of the Jumbo-sized bags or Big Bags (affiliate links). Other sizes are nice too.

Don't get the cheap brand of the jumbo bags. I got the Target brand and half of them ripped as I was zipping them up. It isn't very often that I say go for the more expensive brand, but on Jumbo bags, go for Hefty or Ziploc (these Ziploc ones are cool because they have a bigger base and stand up).
Money-Saving Tip: There is only a few cents' difference in the price of a box of Hefty Jumbo bags at Target versus Amazon.

I would highly recommend purchasing sandwich, quart, and mini zipper bags (affiliate link) as well, but gallon and jumbos are essential.

Money-Saving Tips:

I purchase my gallon, quart, and sandwich Ziplocs at Costco when they are on a coupon.
I purchase mini zipper bags in the craft aisle at Walmart for $1.00 or $2.00 a pack, depending on the size. The link above is to Amazon, and is a couple dollars more than Walmart.

Get a couple of Sharpies to have for labeling things as you put your kits together.
Put all Ziplocs and Sharpies in your designated 72-hour kit space, out of the way of your life.
Week 4: Get Your Lists Ready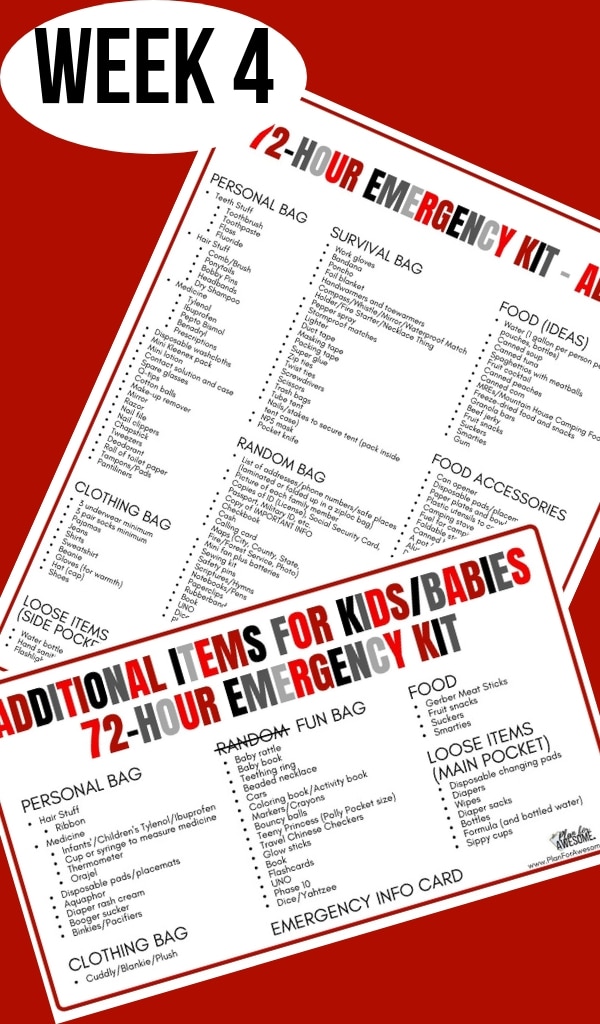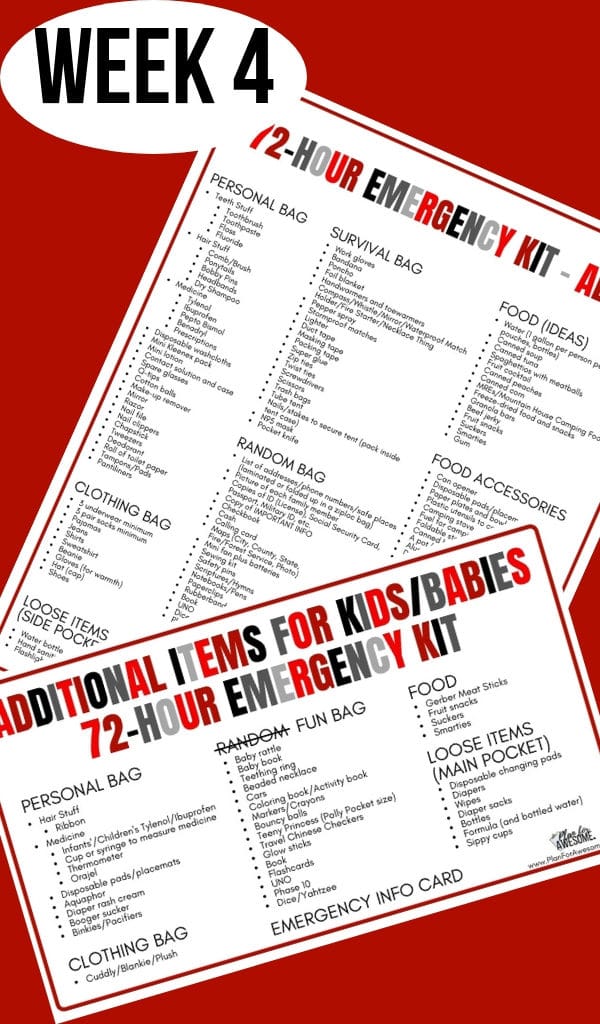 This week is absolutely FREE!
Print out one checklist for EACH person in your family from Part 2. If you have kids or babies, print out one checklist for each of them in addition to the checklist from Part 2 and staple it to the back of the original list. Write everyone's name at the top of their individual checklist(s).
Go through the checklists and cross off anything you do not intend on including in that person's kit. Add anything that has come to mind that you would like to add to each list.
Week 5: Make Personal Bags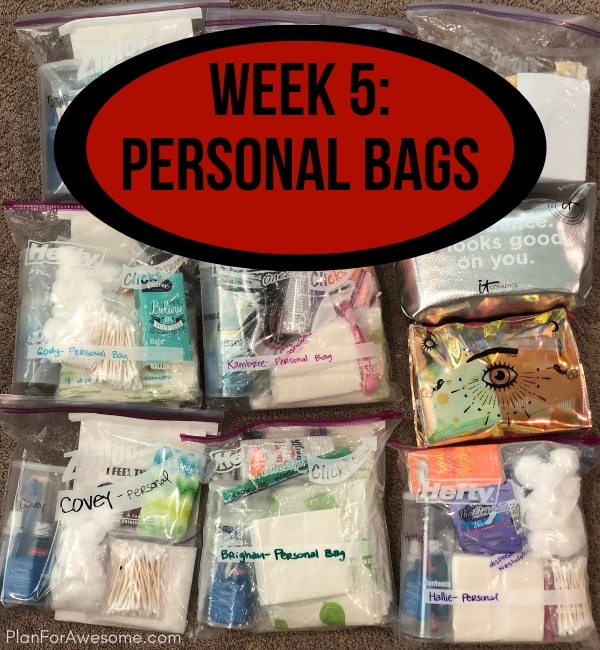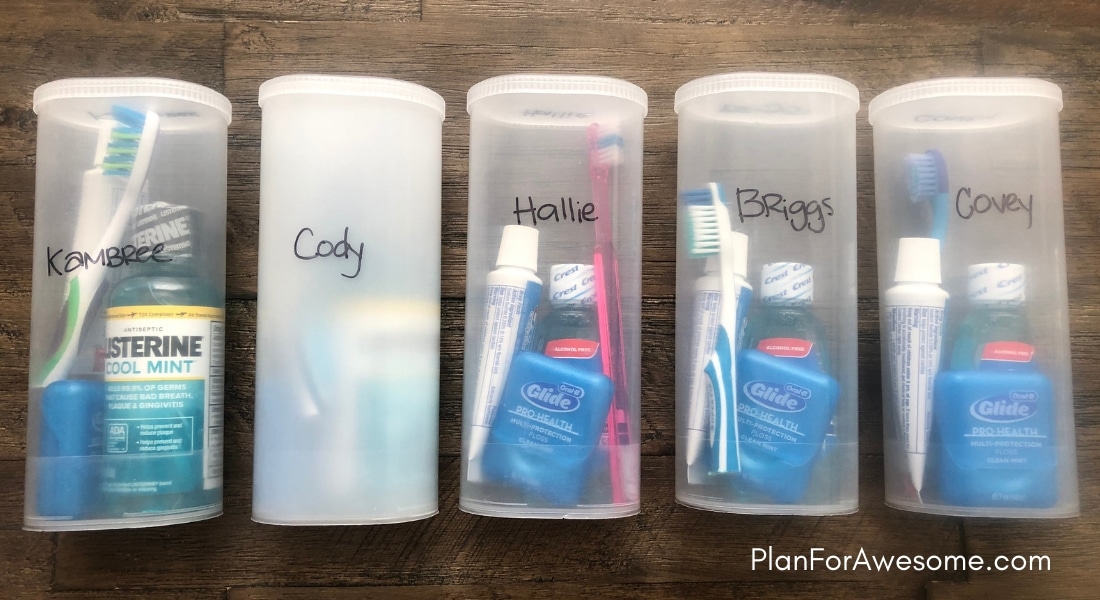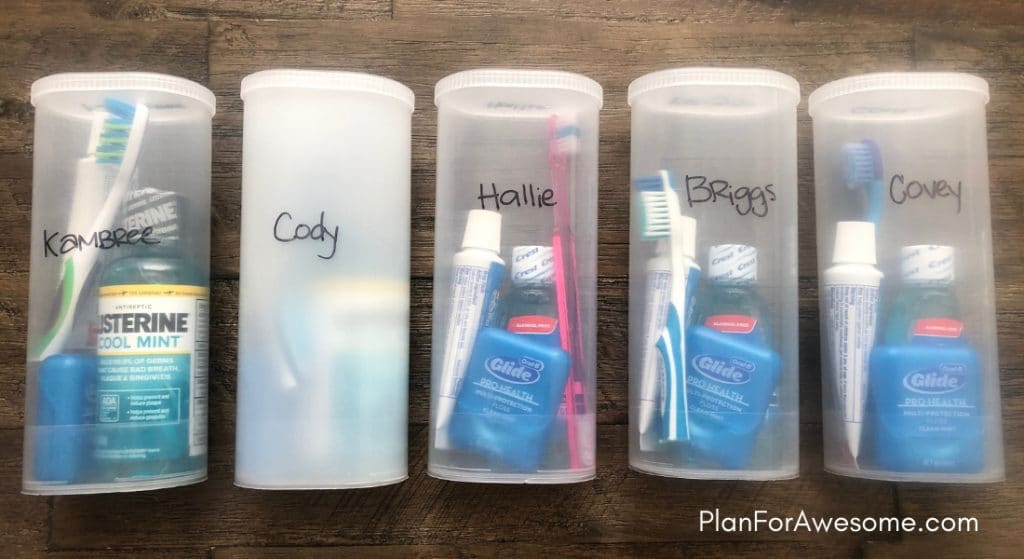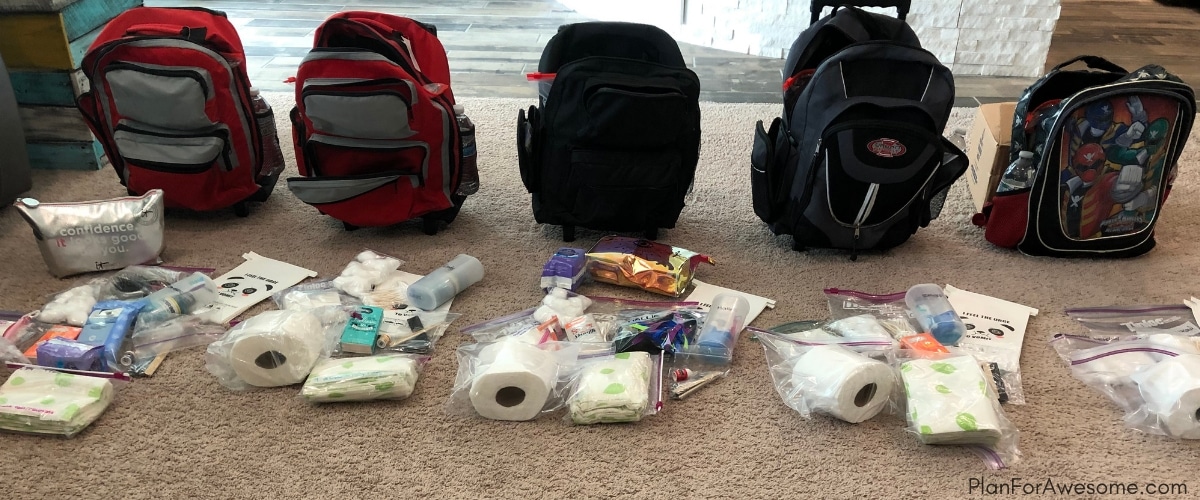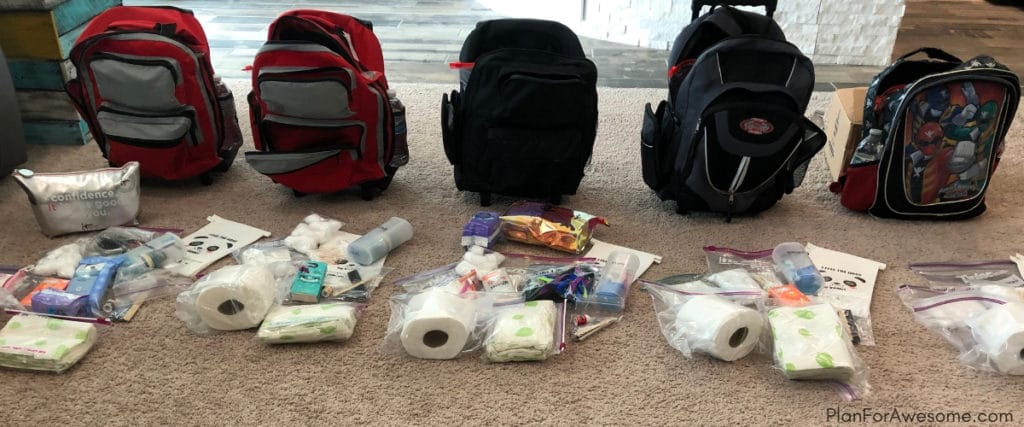 **TWO IMPORTANT NOTES BEFORE CONTINUING**
If you need to skip something due to finances or lack of availability, either HIGHLIGHT the skipped item, or WRITE DOWN the skipped item in the "NOTES" section of the Expiration Dates printable.
Track all expiration dates as you go. Anything you are putting in your kits that has an expiration date should be listed on the printable.
Label one gallon-sized Ziploc bag for each person in your family.
Purchase all items for the Personal Bag for each person, found on the lists that you printed out for Week 4. For direct links to items, see the list in Part 2.
Record all expiration dates before you start packing it up!
Assemble all Personal Bags. It will be easier if you assemble all of the bags at the same time. Once you have all of your supplies, lay out the Ziploc bags in a row on the floor, and just drop one of each item in front of each Ziploc bag.


Money-Saving Tips:

Get travel-sized toothbrushes, toothpaste, and chapstick from your dentist or orthodontist. I realize this may be weird to just show up and ask for some toothpaste and toothbrushes, so find your next dentist appointment on your calendar and make a note to remember to get extras the next time you go to the dentist.
Get samples from a doctor's office (Aquaphor for kids, lotion, baby wash, etc)
Compare expiration dates before purchasing. If there are two different brands of mini hand sanitizer for the same price, get the one that has the later expiration date. This extends the amount of time you have before you should rotate that item, for no extra money at all!
If you need to purchase an extra of something, consider putting your old one in your kit, and purchasing the new one for your daily use. Example: If you have a crappy brush that you hate, throw it in your personal bag for your 72-hour kit. You may go your whole life without ever having to use it, and even if you do, it will hopefully only be a couple of times total. Then it won't feel like such a "waste" to buy that new brush you've been hearing about (affiliate link), because it will become your daily brush.
If you are putting medicine in your kit, put just a few capsules in a mini zippered bag, rather than a whole bottle, or even rather than a travel size, as those can add up too. Be sure to write the name of the medicine, the dosage info, and expiration date on the bag with a sharpie.
Utilize the travel section at Walmart or Target!
Include a disposable razor rather than a full-blown one.
I lucked out at Walmart and found a little package that had a nail file, nail clippers, a wood cuticle pusher thingy, and tweezers for $.97! It was in the makeup section. Total score!
Buy an entire package of something and bag smaller portions in Ziplocs for each person (example: ponytails, bobby pins, medicine, Q-tips, cotton balls, feminine products).
Use random bags you have gotten from random places to keep things in. I prefer to keep almost everything in Ziploc bags; I like that they are clear and you can see everything. But I decided my daughters would probably appreciate a little bit of concealment for feminine products. I have made a few purchases from Ulta/Sephora online where I have gotten a free bag full of samples. They each came in a nice bag; too nice to throw away, but I haven't found a good use for them. This is perfect! Add a little joy to a probably hard situation, and put feminine products in a fancy bag that is collecting dust in your house.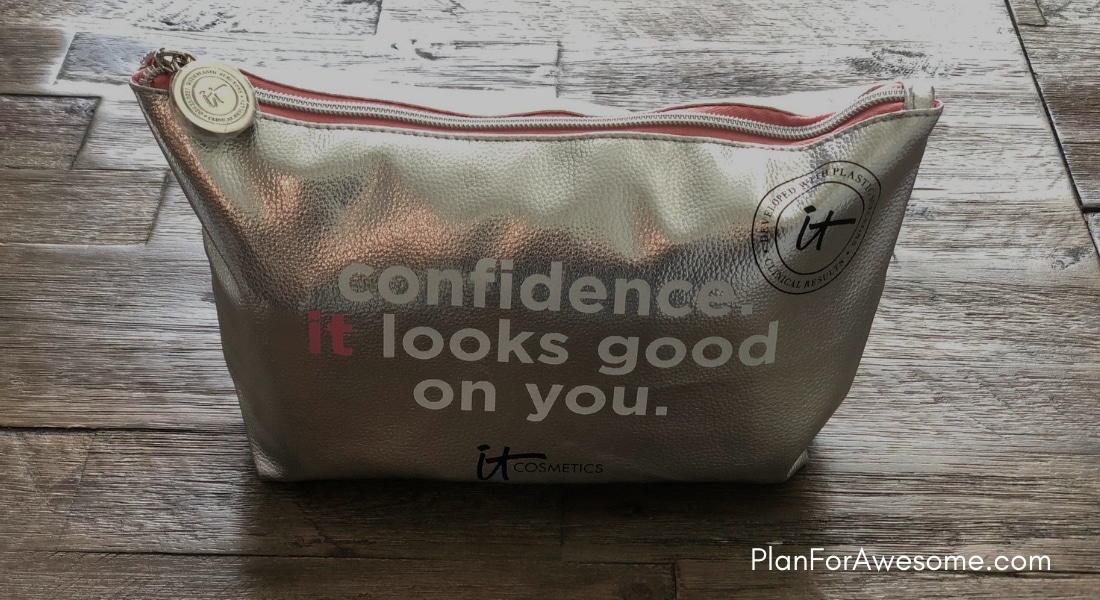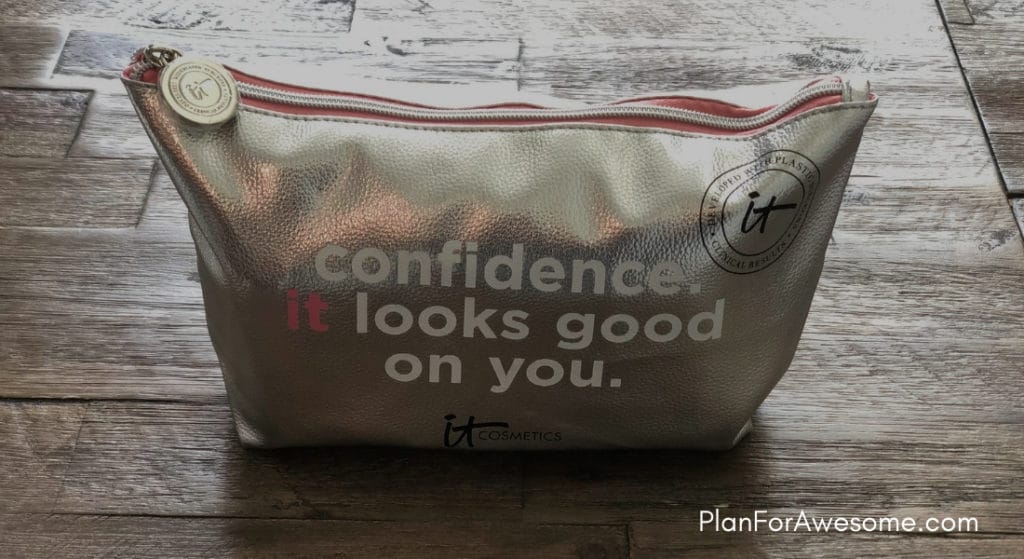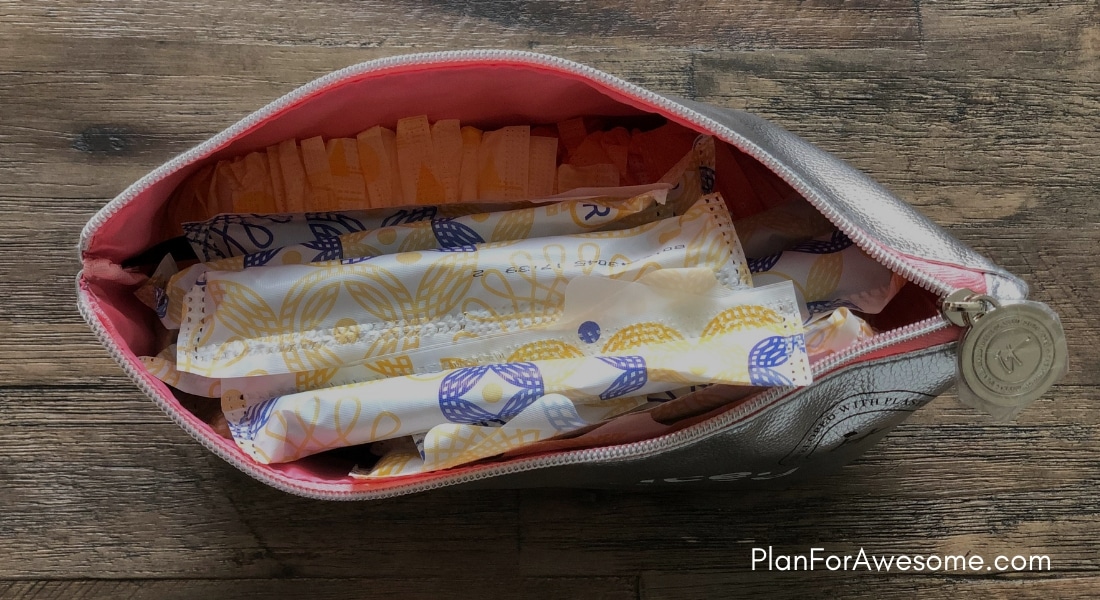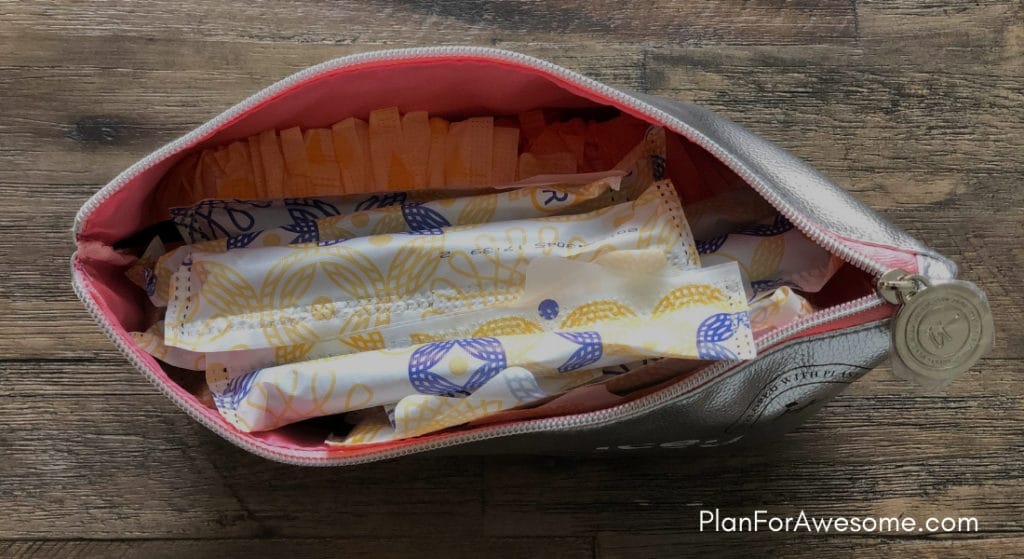 Week 6: Make Survival Bags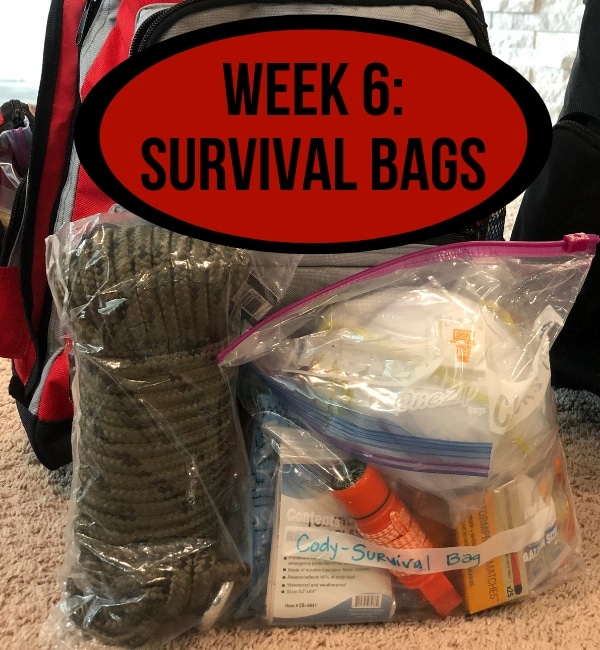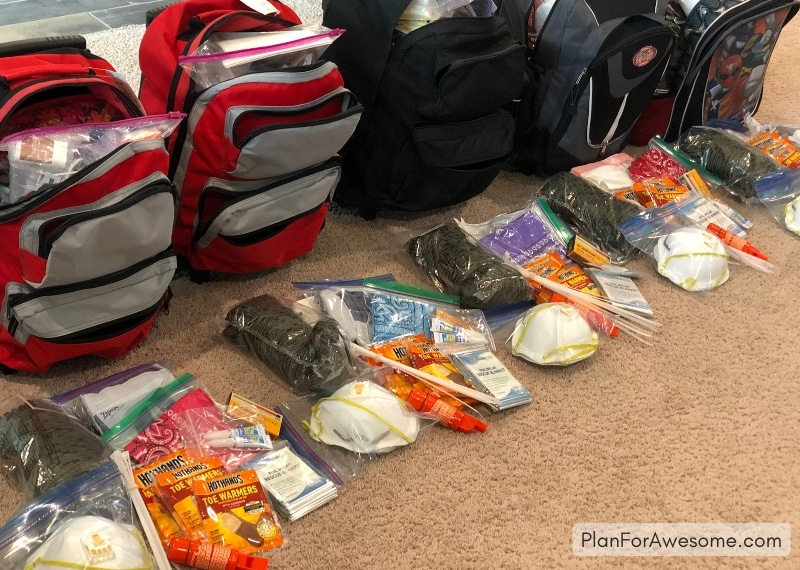 Label one gallon-sized Ziploc bag for each person in your family.
Purchase all items for the Survival Bag for each person, found on the lists that you printed out for Week 4. For direct links to items, see the list in Part 2.
Record all expiration dates.
Pack it all up. Like the Personal Bags, these will be easier if you assemble all of the bags at the same time. Once you have all of your supplies, lay out the Ziploc bags in a row on the floor, and just drop one of each item in front of each Ziploc bag.

Money-Saving Tips:

BUY IN BULK! Most of these items are cheaper to buy a pack of 4, 8, 12, etc. So figure out how many you will need and then decide which money-saving pack would best serve you. Don't be afraid to ask a neighbor, friend, or someone from church if they would be interested in splitting a pack of something with you! Also consider making survival bags for EVERY person in your family, even if it seems silly at the time. For example, if you have a baby right now, put together a Survival Bag for him/her because in a few years you will need to do it anyway, so you might as well get the bulk price on everything now (with the exception of things with expiration dates).

Work gloves – here is a link to the ones I got (affiliate link). There are 12 pair, making them each just a little over $2 a pair. I found the same exact gloves at Walmart for $1.97, so if you are going to Walmart, check there!
Bandanas – if you buy a dozen bandanas (affiliate link), they are less than $1 a piece.
Ponchos (affiliate link) – I go cheap on these and buy disposable ones, but I did decide to spend a little more money and get ones with sleeves and drawstrings to help them stay put and actually keep you dry. This set has 4 adult and 4 kid ponchos (affiliate link), and I really liked that I was able to cover our whole family with this one set. If you are looking for an all-adult money-saving pack, this 10-pack (affiliate link) is a good deal and has sleeves and drawstrings. (I used a few extra ponchos from the pack to put in our Baseball Wagon).
Foil blanket (affiliate link)- cheaper in bulk
Handwarmers and toe warmers (affiliate links) – these 40-packs are the best value for sure! I have 5 packs of each in each person's survival bag, as well as a few in our Baseball Wagon.
Compass/Whistle/Mirror/Waterproof Match Holder/Fire Starter/Necklace Thing (affiliate link) – Sometimes they will have a 30-pack available. Right now the largest pack I see is a 3-pack. This 3-pack still saves a good chunk of money per item, so definitely buy the 3-pack. These make fun stocking stuffers…
N95 Masks – This 10-pack (affiliate link) makes them each about $1.50. This 20-pack makes them less than $1 a piece. ***UPDATE***For some reason those N-95 masks have jumped a TON in price. But here is a link for some that are more the price range that the 3M ones were when I posted this. These are still N-95 masks (affiliate link) with an exhalation valve – just a different brand!

This set of screwdrivers (affiliate link) to open battery compartments on anything that requires batteries in your pack was the same exact price on Amazon as at Walmart, FYI.
Scissors – I love the Scotch ones that go on coupon every once in a while at Costco. They are really good scissors and a great price. So keep your eyes peeled for those, or follow me on Instagram or Facebook, and I will let you know if I ever see them on a coupon. I also let subscribers know about any sales that I know of that week in my newsletter, so don't forget to subscribe!
Week 7: Make Clothing Bags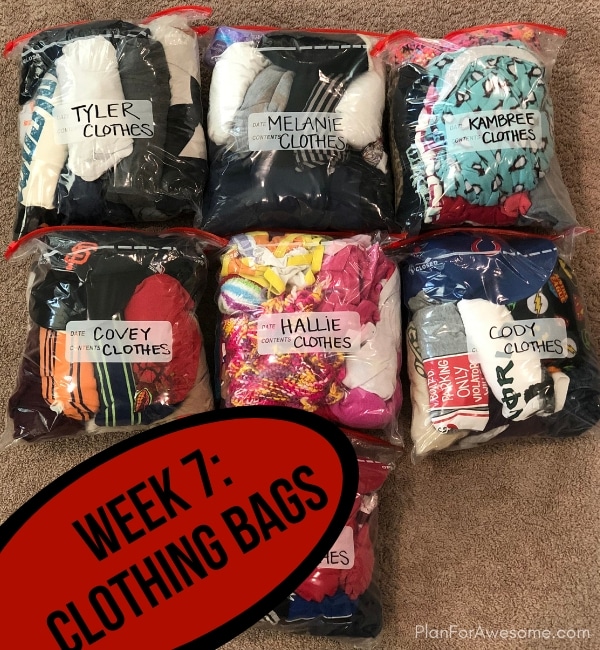 This step may end up being completely free for you. If it's not free, it shouldn't be very expensive.
Depending on how many kids you have and how organized each person's closet is, you may want to take more than one week to do this. When I updated our Clothing Bags this last time, it became a total closet clean-out for each person. This isn't a bad thing, but it may end up slowing down your progress on this step; I just thought I'd warn you 🙂
Label one JUMBO zip bag or Big Bag (affiliate links) for each person in your family.
Unlike the other bags so far, putting the Clothing Bags together will be easier if you do one bag at a time. Put together an entire Clothing Bag for one person before moving on to the next. Find the list of recommended items on the lists you printed out in Part 2 and Part 3.
Money-Saving Tips:

If there is something that rarely/never gets worn, pack that! It's free and you certainly aren't going to care what you look like – you will just be thankful you are alive.
If you don't have ANY extra clothes you can spare in your closet, go to a thrift store, garage sale, or a trusty Facebook garage sale group to find something that fits. Fashion is not a top priority here. The goal is to pack something that will be clean and that will fit you.
If you only have room for either pants or shorts, or either long sleeve or short sleeve shirts, go with the long. You can always cut off jeans and make them shorts and cut off long sleeves to make them short sleeves.
Consider packing a size up for kids so you don't have to rotate clothes as often.
For socks and gloves: go to your mismatched sock pile! This is the perfect way to use those socks that are NEVER going to have matches again, but that you just can't seem to throw away for some reason. Find two socks that are the same size, fold them up, and stick them in the bag. If it makes you feel better, you can take a few extra seconds and at least attempt to get the mismatched socks to be the same color or style. My point is, if you have a mismatched socks pile anywhere close to mine, you should not need to purchase any new socks for your 72-hour kits. If you are local and you don't have a mismatched socks pile, come on over and I'll gladly give you some of ours!
If purchasing gloves for this purpose, this money-saving pack (affiliate link) is a great deal! I put some in our 72-hour kits and some in our Baseball Wagon.
Week 8: Make Random/Fun Bags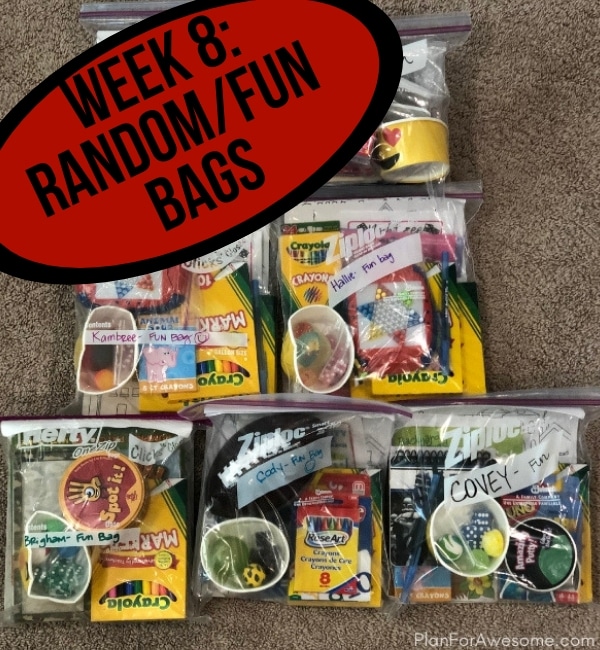 Label one gallon-sized Ziploc bag for each person in your family.
Purchase all items for the Random/Fun Bag for each person, found on the lists that you printed in Week 4. For direct links to items, see the list in Part 2 and Part 3.
Notice that the kids just have things to entertain them in this bag, while the adults have some fun mixed with mainly paper items like phone numbers, important info, etc. After you have made your purchases, focus on the paper items listed in the Random Bag. If you haven't made an Important Information document yet, that's okay. Gather what you have ready to go and get it copied and packed. Remember: Something is better than nothing!
If you haven't organized your Important Information, write it in the "Notes" box. You can tackle this before moving on to Week 9, or you can leave it til the end. Just make sure it makes it on your to-do list for later if you are going to skip it right now!
Assemble the Random/Fun Bags.

Like the Personal and Survival Bags, these will be easier if you assemble all of the bags at the same time. Once you have all of your supplies, lay out the Ziploc bags in a row on the floor, and just drop one of each item in front of each Ziploc bag.
Money-Saving Tips:

Scriptures/Hymns – get these books CHEAP! Don't go for nice or even new. If you have an old set, use that!
Go to a Welcome Center for your state and get some free maps! I went to the California Welcome Center in my area and it was a goldmine of all the maps I wanted – and they were all FREE!
Use toys that never get played with at your house.
Utilize the Dollar Store here!
Don't forget to print out your Free Printable Yahtzee Scorecards – you can't beat Yahtzee with the hours of entertainment it can provide based on how little room it takes up and how inexpensive it is!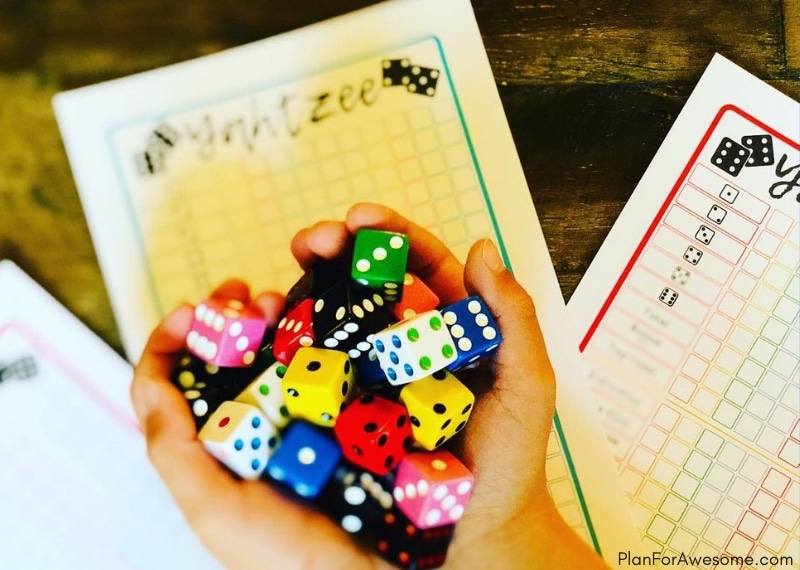 Week 9: Gather Loose Items for Side Pockets and Main Pocket
This is the week to take care of all the little extras that you'll put in the little pockets of backpacks/duffel bags.
Purchase and place items in the main pocket or any little pockets in each person's pack. If you would prefer to pack something in a separate area in the pack, go ahead and stick it in the appropriate bag (for example, I wanted hand sanitizer in an outside pocket, but you may want to put it in your Personal Bag).

A water bottle (or 2)
A mini hand sanitizer in a Ziploc bag
A flashlight – be sure to pack the correct amount and size of batteries in a Ziploc bag, and then stick that and the flashlight in another Ziploc bag.
Tarps – this is something I only put in the adult-sized packs, so the little kids don't have any tarps in their packs
Comfort Foods (this is not the main source of food for each person – this is a favorite freeze-dried snack, and if you decide to do one meal in a Ziploc bag like I did and showed in the Kits for Kids Post (Part 3).
Disposable Changing Pads/Diapers/Wipes/Diaper Sacks
Bottles/Formula/Sippy Cups

Record all expiration dates.
Print out and complete an Emergency Info Card for each child.

Print out a recent picture of each child to tape to the card
Laminate the card or put it in a Ziploc bag
Punch a hole in the corner and tie it to the loop of the backpack with a string if you want the card visible to the outside world. This one is tricky for me. While I wouldn't want a stranger to know my kid's name, the whole purpose of this card is to help you be reunited with your child should circumstances separate you. So you just need to make the decision for yourself, as far as whether to display this information or not. I decided to go with the assumption that my children will be with me, and if they're not with me, then they will be lost, and I would want whoever found them to be able to contact me ASAP.

CELEBRATE! Your KID and BABY PACKS are DONE!!!!!!
Put the kits away!
Week 10: 5-Gallon Bucket Toilet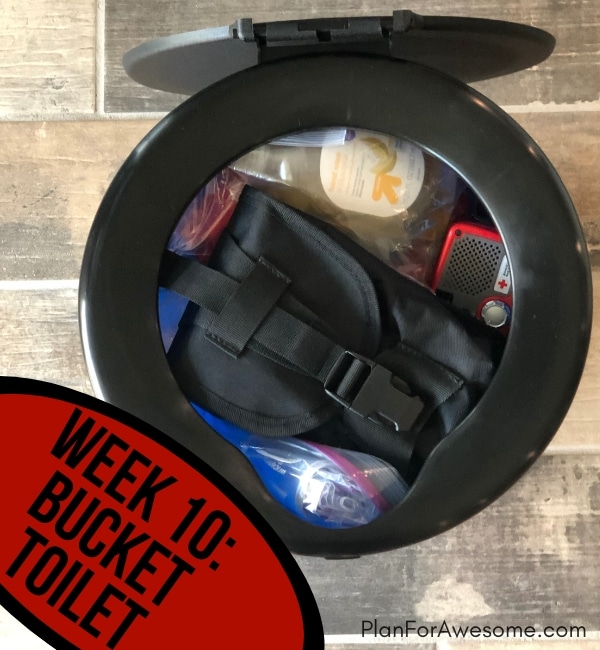 Purchase a 5-gallon bucket with a toilet seat.
Purchase anything on the printable list that is listed under the 5-Gallon Bucket Category.
Record all expiration dates.
Pack it all up in the bucket! Anything that doesn't fit in the 5-gallon bucket should fit in your adult packs if you have a larger sized pack.
Put the bucket away with your kits.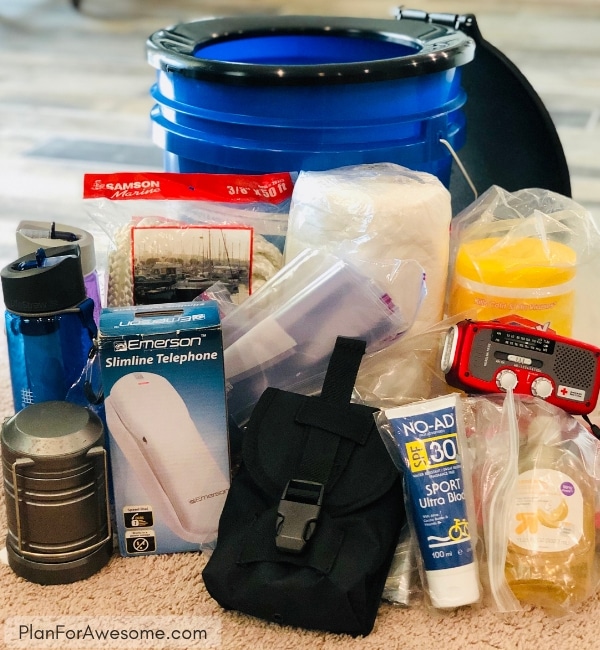 Week 11: Water
You've earned a BREAK! These past few weeks have been incredibly time-consuming and fairly expensive. This week is easy and super cheap.
Calculate how much water you need for your entire family.
Buy enough flats of water to cover everyone.
Record expiration dates.
Place them in your 72-hour kit designated place in your home.
Week 12: Food
This week we're knocking out all things food. You covered the comfort food item a couple weeks ago, but this week is for the stuff that will keep you alive.
Make a meal plan for your entire family.

Things to Consider:

Will everyone actually eat it?
Will it fill everyone up?
How much preparation does it require?
What kind of paper goods/utensils will it require?
How much water do you need in order to prepare it?
Does the water need to be hot or boiling?

Purchase whatever food is on your list
Purchase/gather all food accessories.
Record all expiration dates before packing it up!
Once you have all of the food and accessories in one pile, determine how you want to pack it. If your adult packs are the same size we have, you should have some room for some of your food items. Once you have filled the rest of the adult packs with food, find a way to pack the rest of the food AND accessories. We used an old duffel bag for our food, plus the bucket that all our Mountain House food came in.
Week 13: Pets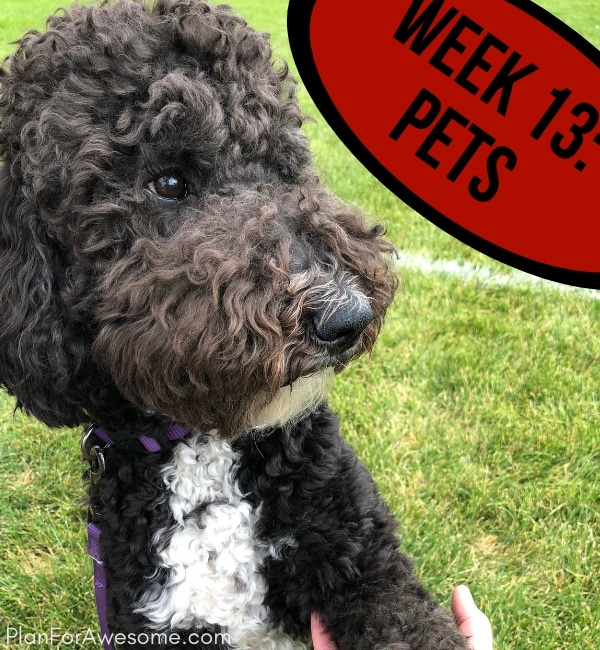 Print out the free printable checklist.
Put together a 72-hour kit for your pet(s).
Week 14: Grab List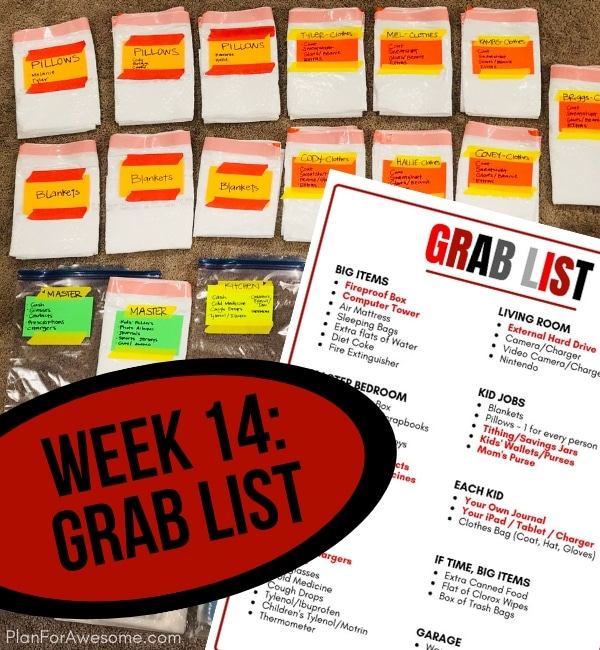 This week is free and SO IMPORTANT!
Print out the Grab List printable from that post.
Sit down and make your own Grab List.
Do a walk-through of your house and add to your list.
Ask family members what they would like to add to the list.
Decide how to order your Grab List.
Decide how you will pack your Grab List and collect all the bags you will need.
Prioritize your Grab List, whether by highlighting the absolutely essential things you could get in 5 minutes or less, or having a few different lists for different scenarios.
Make a final copy of your Grab List and stick it in your 72-hour kit designated place.
Do a practice run to see how long it takes you to actually get everything loaded up and in your car.
Adjust your Grab List if needed.
Put everything back and put your final Grab List away with all respective bags.
Week 15: Fireproof Waterproof Box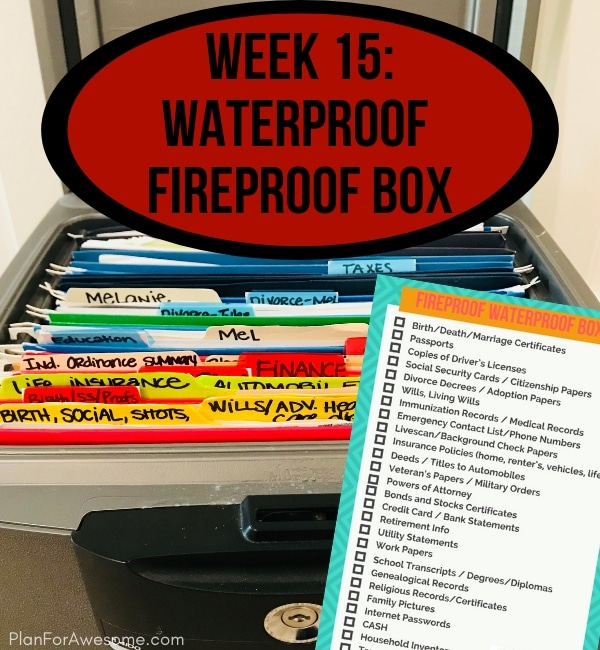 This is the week to get all of your papers in order.
Purchase a fireproof waterproof box (affiliate link) and file folders.
Print out the free printable list.
Gather all the documents you would like in your box.
Organize all of your documents.
Find a place for your fireproof box and tuck it away!
Week 16: First-Aid Kit
Put together a First-Aid Kit. See this post for a free printable list of things to include in a first aid kit for families!
That's it! See how easy it is?! 🙂
YOU CAN DO THIS!
How to get your FREE PRINTABLE
I have two different printables here for you.
Printable Option #1:
The first one is this entire 16-week schedule on one page. It tells you what you will be focusing on each week at a glance.
To get your free printable checklist for this post, all you have to do is subscribe to this blog (it's free!), and the printable PDF link will be on the confirmation page. Subscribing to this blog gives you access to free printables that are only available to subscribers. You will also receive occasional emails (just from me – no one else) that will no doubt help you on your journey to preparedness, so it's a win-win! ♥ Scroll down to the bottom of this page to subscribe and get your free printable.
If you are already a subscriber, these printables are available to you on the subscriber-only printables link that is included in every email.
Be sure to hang it somewhere visible to remind you to keep plugging away at this!
If you are looking for a handout to be able to hand out at church, or to a neighborhood group, etc, click here. It follows this free schedule, and refers them back here for the steps.
Printable Option #2:
This is much more than a printable. This is a COMPLETE GUIDE to 72-Hour Kits for families. And when I say complete, I mean COM-PLETE! It is kind of insane how much I put into this thing. No more having to come back to the website, or subscribing and finding your free printables in the resource library, and clicking around the website. This is ALL in one spot. One PDF with all the kid tips, budget tips, pretty much every tip/hack imaginable with 72-hour kits. It comes with 25 supporting printables that are updated and amazing. This guide takes you through all of the steps in the schedule I outlined above, and more. Much more. Click on the picture to learn more and even see sample pages 🙂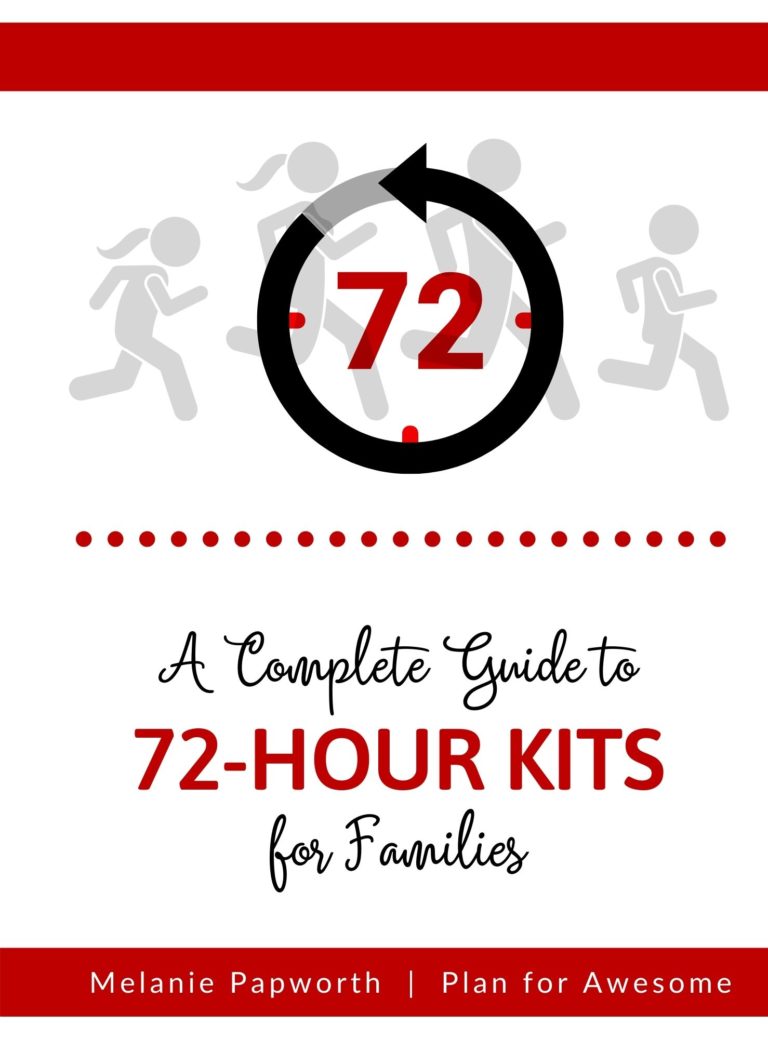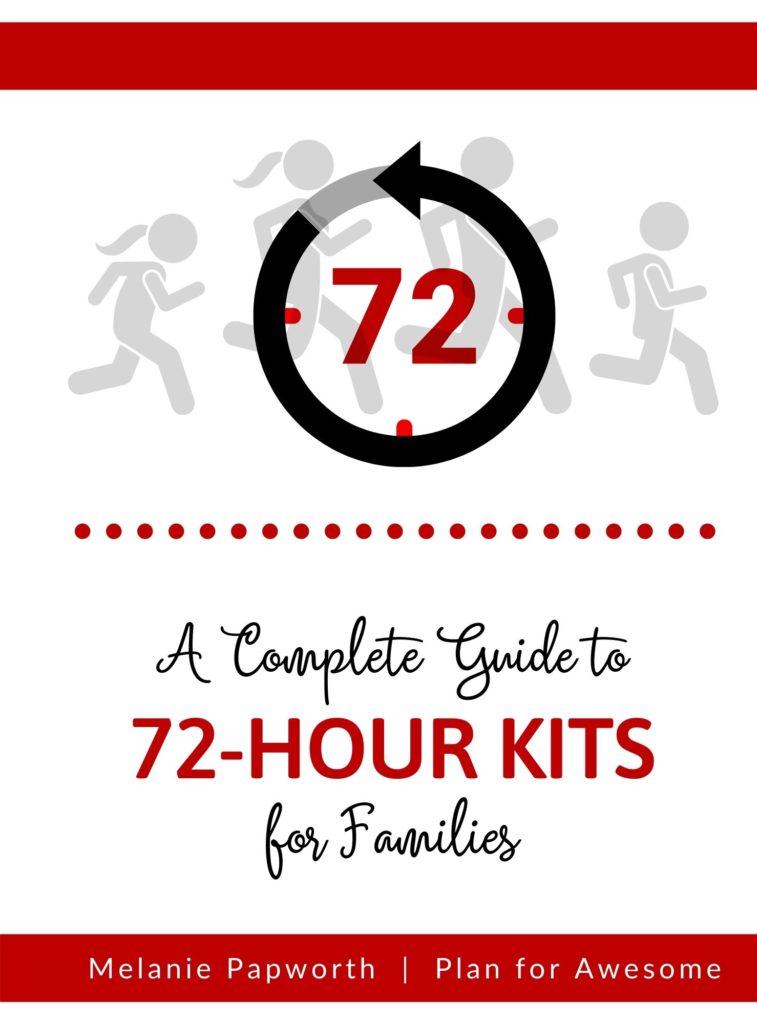 If you missed Parts 1 through 5 to 72-Hour Emergency Kits for Beginners, check out the links below.
Part 1 – 72-Hour Kits for Beginners – this has all the general tips, tricks, and things to think about before beginning to put your kits together.
Part 2 – 72-Hour Kits for ADULTS – this has a free printable list of things to include in your 72-hour emergency kit (bug out bag).
Part 3 – 72-hour kits for KIDS / BABIES – this also has a free printable list of things to include in a 72-hour kit for kids and/or babies.
Part 4 – 72-Hour Emergency Kits for Pets – this post has a free printable checklist for pets.
Part 5 – 72-Hour Emergency Kits: GRAB LIST – free printable to help you think through what you would grab in addition to your pre-packed kits.
To see other topics under the category of Emergency Preparedness, click here.